Oct 1 (Reuters) - Hurricane Joaquin could hit the New York metropolitan area as a tropical storm on Tuesday, potentially following the destructive course of Hurricane Sandy in 2012, weather forecasters said on Thursday.
Joaquin is a powerful Category 3 hurricane with maximum sustained winds of 120 miles per hour (195 kilometers per hour) located in the Atlantic Ocean near the Bahamas, according to the latest report by the U.S. National Hurricane Center (NHC).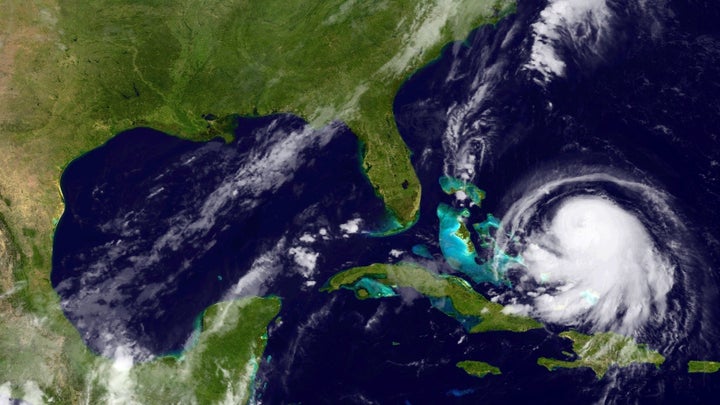 The storm is expected to strengthen into a Category 4 storm with winds reaching 140 mph Friday as it turns north toward the U.S. East Coast. Joaquin is expected to weaken over the next few days before making landfall possibly as a tropical storm with maximum winds of 70 mph on Tuesday, according to the latest NHC forecast.
It could hit the U.S. coast anywhere between North Carolina and Massachusetts, but the center of the NHC's latest storm track shows it hitting the New York metro area. That region is home to the energy infrastructure in the New York Harbor that was severely damaged by flooding from Hurricane Sandy three years ago.
U.S. energy companies said they had learned lessons from Hurricane Sandy and have used the last three years to "harden" their oil, natural gas and power infrastructure to better withstand another storm.
New York power company Consolidated Edison Inc, which supplies power, gas and steam to more than three million customers in the New York City area, said it is three years into a four-year $2-billion plan to gird its energy infrastructure after Hurricane Sandy shut down the Big Apple.
Sandy, the worst storm in Con Edison's history, left about a million of its customers without power, with outages lasting a couple of weeks in the hardest-hit areas. Some customers of other utilities were without power for much longer.
The U.S. East Coast has nine refineries with an operable capacity of about 1.3 million barrels per day, according to government data. (Reporting by Scott DiSavino; Editing by Bernadette Baum)
Calling all HuffPost superfans!
Sign up for membership to become a founding member and help shape HuffPost's next chapter