Across the country, kids are donning backpacks and making the journey back to school, but for children in the path of Hurricane Harvey, lockers and lunchrooms have been forgotten amid the reality of evacuation boats and emergency relief supplies.
Students in Houston public schools who were scheduled to start classes Monday won't go back to school until Sept. 5 at the earliest. However, the effect of the hurricane on children's education will likely stretch much longer.
Consider the consequences of Hurricane Katrina, which battered the Gulf Coast in 2005, followed closely by Hurricane Rita. New Orleans' public education system was struggling even prior to the hurricanes, as it worked to provide for high-need students and overcome a lack of investment in public education. In 2005, before Katrina, Orleans Parish was ranked 67th out of 68 Louisiana parishes for student achievement. In 2004, 38 percent of New Orleans children lived in poverty, compared with 23 percent of children living in poor families in all of Louisiana. After Katrina, an already vulnerable school district was completely upended. More than 160,000 Louisiana and Mississippi children were displaced. Children missed weeks, months, even a year of school. 
"I can't stress enough how critical it is that kids not lose out on their schooling and how important it is that they get back to school," said Alice Fothergill, a professor of sociology at the University of Vermont. She and a fellow sociology professor, Lori Peek of the University of Colorado, Boulder, studied more than 600 children over seven years in the aftermath of Katrina.
"We met a lot of kids whose life trajectories really changed completely as a result of losing out on a great deal of time in school, and then for a lot of kids, never returning," Fothergill told HuffPost.
One element that contributed to the effect of Hurricane Katrina on New Orleans' children was their situation prior to the devastating storm. Fothergill and Peek found that children who were in more vulnerable situations prior to the hurricane, perhaps due to finances or an unstable family situation, were more likely to drop out of school after Katrina (even in the absence of a disaster, there is a strong correlation between poverty and dropout rates). They also said that students who have to move frequently are more likely to drop out of school.
Fothergill noted that many students affected by Hurricane Harvey in the Houston area are also likely to suffer the effects of "cumulative vulnerability" and will have a difficult time recovering from the disaster ― the Houston Independent School District alone has more than 210,000 students in 283 schools, and more than half of its students are considered economically disadvantaged.
Many Katrina victims, especially from more vulnerable populations, were displaced. By 2010, the population of New Orleans had dropped by 29 percent from a decade earlier. The children who enrolled in schools in host communities faced struggles, including bullying and homesickness, as "Katrina kids" tried to adapt to their new environments. Many of the students Fothergill and Peek studied ended up relocating to schools in Houston, whose students may soon face similar struggles after Hurricane Harvey.
Many children, the researchers said, were desperate to return home, but then were disappointed when home was not as they remembered it. Fothergill explained that families were eager to go back to the normality of their homes in Louisiana, but when they returned, they realized "there's no back, there's no going back."
"Everybody's not back yet, and when you get to certain parts of New Orleans, you still see the streets all messed up, you still see trailers and everything all messed up. So nothing is the same anymore," Mekana, a young Katrina survivor, told Fothergill and Peek in their book Children of Katrina.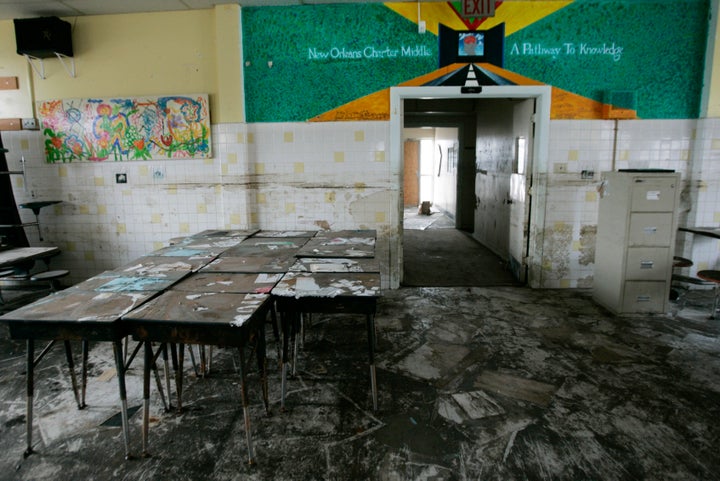 For the families who stayed in New Orleans, attending school still posed a challenge. After the hurricane, New Orleans fired its thousands of public school teachers, many of whom were black women, when the school system was turned over to a state-run charter program. They were replaced by teachers with less experience, and the turnover rate of teachers in the public schools increased. In 2012, test scores in the city had risen since Katrina, but Fothergill and Peek warned that it is difficult to obtain reliable data in such a dynamic situation, with large population disruptions. After the storm, the Recovery School District took over 100 public schools and converted them into independent charter schools.
Houston students who stay in the city will likely face the difficulties of rebuilding and reestablishing a school district. Fothergill predicted that, just as in New Orleans, Houston teachers and staff will face losses and rebuilding, complicating the process of sending students back to school. Meanwhile, many students will be living in shelters.
In the aftermath of disasters, Fothergill said, it is important for host schools to provide support and resources, including services like school social workers and counselors. The researchers also suggested that host schools help accommodate displaced students by waiving school uniform fees and being flexible with requirements for proof of immunization, two barriers that can hinder parents from re-enrolling their children in a new school after a disaster. It's hard to provide immunization records when family records are gone and the doctor's office is underwater.
Peek agreed, adding that it was crucial to provide school transportation for students who stay in the affected area. Alluding to New Orleans' firing of its public school teachers, she also said that keeping as many familiar teachers as possible could help provide stability for children coping with disaster.
But, however hard Houston works to provide continuing access to education for children in the path of Hurricane Harvey, full recovery will be a years-long process, one that New Orleans is still undergoing a dozen years after Katrina.
"It was a disaster of such a magnitude that I think the effects are going to have to be measured not across the years but really across generations," said Peek, "because children lost so much in that storm. It occurred, just like Harvey, at the beginning of a new academic year. We know that sometimes when children miss large segments of their education, that that is very difficult, if not impossible, for them to make that up."
REAL LIFE. REAL NEWS. REAL VOICES.
Help us tell more of the stories that matter from voices that too often remain unheard.
BEFORE YOU GO
PHOTO GALLERY
The Schools Hurricane Katrina Left Behind