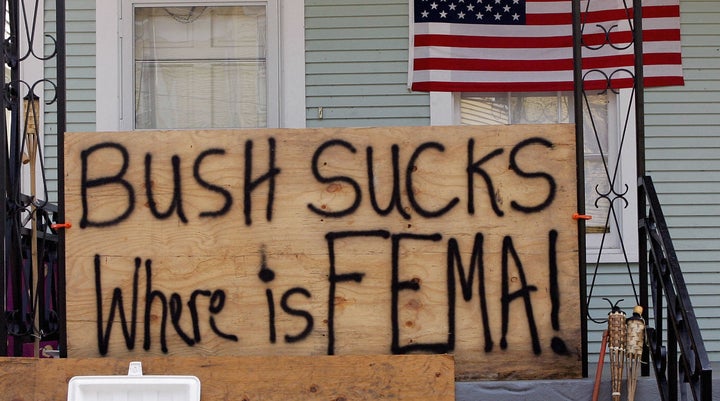 "Brownie, you're doing a heck of a job." Those infamous words from President George W. Bush praising a key federal official in charge of Hurricane Katrina relief have never found much support in Louisiana.
Just 10 days after Bush spoke, Michael Brown, the director of the Federal Emergency Management Administration, resigned amid claims that his agency was ineffective in getting help to hundreds of thousands affected by the storm. Ten years later, Louisiana residents still say the government failed storm victims.
Sixty-two percent of New Orleans residents think the state of Louisiana didn't receive enough federal funding to recover from the storm, according to a new poll from the Public Policy Research Lab at Louisiana State University. Fifty-nine percent of New Orleans residents think their community didn't receive its fair share of the funding that was available.
Residents of the surrounding areas -- which include Jefferson, Plaquemines, St. Bernard and St. Tammany parishes -- are a bit more positive: 45 percent say the state didn't get enough funding, and 38 percent say the same of their community. Statewide, 45 percent say funding levels were insufficient.

Time has eroded some of the negative views. In two polls from 2006, LSU found that slightly more than half of Louisiana residents felt there was not enough federal money coming in for recovery. The 2006 polls did not break out numbers for New Orleans and the surrounding areas since flooding from Katrina had displaced more than a million people living along Louisiana's Gulf coast, and many hadn't returned home.
A 2008 poll conducted by the Kaiser Family Foundation found that 77 percent of New Orleans residents thought the federal government sent too little money to the region. Seventy-two percent also said the money had mostly been misspent.
In the new poll, LSU asked whether the government did all it could to help these displaced residents return home and whether the government should have done all it could to get people back home. A staggering 86 percent of New Orleans residents say the government should have done all it could, but only 27 percent think it did. Thirty-seven percent of residents in the surrounding parishes say the government did all it could, while 80 percent think the government should have done everything it could.
People in Louisiana distribute the blame for the state's post-Katrina problems almost equally among the local, state and federal governments. Statewide, around 25 percent say local governments were most to blame, another 25 percent point mainly to the federal government, and 29 percent hold the state government most responsible.
A 2005 survey of evacuees found that 28 percent blamed the federal government the most, 12 percent blamed the state and 19 percent blamed the city of New Orleans. Twenty-two percent said all levels of government were equally at fault.
The good news is that most people in New Orleans and the surrounding area think that local disaster preparedness is better than it was 10 years ago before Katrina hit. Fifty-six percent of New Orleans residents and more than 60 percent of those in the nearby parishes think their communities are better prepared to cope with a natural disaster.
But nobody wants to test that.
Calling all HuffPost superfans!
Sign up for membership to become a founding member and help shape HuffPost's next chapter