It's been ten years since Hurricane Katrina barreled down on New Orleans, breaking the levee systems, flooding the city, killing over 1,800 people and leaving everyone else in a major state of devastation that has taken every moment of the past decade to re-build, person by person, home by home, business by business.
The 10 year anniversary this month marks a milestone for looking back... and still looking ahead; as the city hasn't completely repaired or healed, but it has strengthened in many positive ways.
Right now the feeling for many people here is a mix of emotions. This 10 yr. mark stands as a symbol of many changes and improvements to the city. The city government has transformed and the education system is under reform. For some people this illustrates great change and the sentiment communicated is excitement and accomplishment. On the other hand, some neighborhoods aren't nearly back to where they need to be. They may only be 50-70 percent back.

While the city is working on a big day of service to mark the anniversary and to have a unified front, there are some who still feel under served and their day to day reality is difficult. Overall though, everyone seems to look back on the day with reverence. Collectively, there is a new outlook on life held by people who came back. We've changed the way we do business, the way we engage with each other here as well as engage with other cities in the region and the nation as a whole. Priority has shifted toward better government and demanding better for yourself and your local community. Non-profits have also become more prevalent and more effective, now working collaboratively toward a common goal.
Here's a look back from two multi-generational New Orleans family run businesses on how they dealt with the disaster and re-built with even stronger roots and dedication to their community:

Coleman Adler Circa 1899: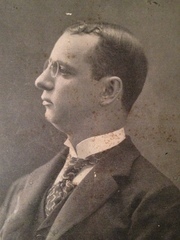 How much notice did your family have before evacuating?
It wasn't until maybe the last 24 hours before the storm made landfall that there was any realization that this storm might be different than the other 20 or so named storms to hit the city in my lifetime. None of those had any real consequences so we were conditioned that it was all going to be ok. When we realized this could be worse, all we could really do was lock up and leave. Then, we all sat back and watched, as the entire Nation did, on CNN. The first morning reports were that New Orleans had dodged a bullet. Then the reports of levees breaking and water pouring into the City started coming in. That night fires were breaking out all over the city.
A particularly stark memory to me was a reporter on the corner of Bourbon Street and Canal Street reporting that there was a fire in a building with a shoe store on that corner. My family owns two of the four corners at that intersection and both of those had shoe store tenants. Those buildings are just a couple of stores over from our 117 year old historic flagship store. As it turned out, the fire was not in either of our buildings, but in a building owned by our cousins, which also had a shoe store tenant.
How long was it before you could come back and check on the stores?
It wasn't for another nine days that we were able to get back to the city to attend to anything. We had large value items that needed to be protected. Family members came with armed guards, duffels and wading boots. Merchandise was recovered and transported to secure locations in other cities for accounting, damage remediation and disposition. Given the time we could be in the city then, all we could do was patch with plywood any gaping holes made by vandals. Two of our four stores were secure, one was flooded and looted and one store was in a mall that burned down.
Adler's Jewelry store circa 1910: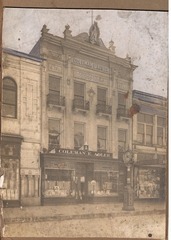 What were the first steps taken to protect what was left standing?
Protecting the business, in a broader sense, involved making sure our data was secure, which it was, and beginning an outreach to employees, vendors and customers. In the early days after Katrina, communication was difficult because anyone with a 504 area code couldn't make calls to each other, so we spent a lot of time communicating through one of our family members on the West Coast and via quickly set up Yahoo email accounts since our server was down.
The hardest part of the time immediately following the storm was the things that you couldn't do because the disaster was still slowly unfolding, the city was continuing to be evacuated and we were dealing with limited resources in an environment with limited support. We did as much as we could under the circumstances.
Once you surveyed the damage, how did you begin to rebuild?
In retail, rebuilding means literally rebuilding the premises so you can get the stores opened. After Katrina, however, we faced additional challenges. First, there were no people here and many businesses or city services were entirely shut down. So one faced doing things alone, driving long distances to and from where you were staying, living in construction sites both at home and at work, few places to find food, gasoline or anything else and then, once the store was ready to open -- which was in a matter of weeks actually -- your employees were scattered and there were no customers to serve.
As a family, we were certainly all working very closely together, in many cases cohabitating, with the days blending into weeks, weeks into months of dealing with one thing after another for what seemed like 24 hours a day. What we went through was a monumental undertaking. But I say this with the caveat, that we were no different than anyone else, and I feel very, very fortunate. We did not have a family loss of life as many did. We ultimately made reasonable insurance recoveries, as many did not. And to me one of the most incomprehensible things about Katrina is the scope.
Our story is just one. Add those of a hundred people I know and then multiply that by ten thousand and you will be getting close to getting the picture of the more than a million people with dramatic stories from this massive disaster. I find that New Orleanians don't wear their Katrina badges on their sleeves. We actually don't talk about it much except to the extent that the event is a demarcation of time: "before Katrina" or "since Katrina" is just about the only reference you hear, but that is one you hear regularly.
What was the response from your business partners outside of New Orleans?
One of the touch points that you will find, I believe, common to all of us who went through Katrina is that we were overwhelmed by the support we received as we began the recovery process. It came in from every direction; vendors, customers and strangers. I will never forget being evacuated in Montgomery, Alabama, with my wife and four kids and being in line at the movie theater. When it came up in the movie line that we were Katrina refugees, I was offered a job, we were offered places to stay and a local school principal offered her swimming pool for my kids to use during the day and immediate enrollment in a school. Business‐wise, I would be remiss if I didn't mention that Rolex literally wrote a substantial assistance check and sent it with the only instruction being to 'take care of your people.'
Vendors of ours at every level were generous with anything we needed. We have a lot of regional customers, and our personal outreach, at least to the ones that weren't dealing with their own disaster issues, were exceptionally supportive and willing to work with us remotely. This continued for many months through the recovery process. Making it though those months required so many things all working together: tireless work, perseverance, diligence working on our physical premises and overcoming substantial daily inconveniences that are usually taken for granted. We were constantly meeting, talking and strategizing about all things big and small.
The discussion related to the lack of a gift buying population in New Orleans led to us having a special retail event in Baton Rouge that fall. We focused retail efforts in our Metairie store, a suburb of New Orleans that was not as badly damaged. We just kept working, planning and executing whatever came next.
What was the point when you finally felt you had 'returned?':
When you are never in doubt that you will come back, that you will rebuild and that you will make it through the storm, literally and figuratively, it is hard to identify a point we felt we had 'returned.' For us, if there was going to be a New Orleans, we were going to be in it and we were going to make it. It was shocking to me to hear people from far away saying things early on about not rebuilding New Orleans. The image in my head of the place my family has called home for over 100 years turning into some kind of ghost town, or more likely a low, inland sea punctuated by church spires and office buildings piercing the seascape, would get called up when those suggestions were being made on TV.
Then the next morning we would get back to work and not think about such things; one day then leads to another and here we are ten years later. Certainly there are many, many people and businesses that did not return -- the tasks and what lay ahead too overwhelming and too intimidating to contemplate. That is a point of "no return." But, from the minute we put on our shrimp boots and rubber gloves, and started mopping the sludge out of our premises, once we started moving forward and getting our hands dirty, it was not a matter of if but when.
When did you feel that the community had come together again as a whole?
There was a moment, a moment that I think all New Orleanians will identify as a key moment in our collective return, and the emotion of that moment will still bring people to tears. When the Superdome reopened in the fall of 2006, the stage was set by U2 and Green Day.
Then, in the first quarter with the game scoreless against our arch rival Atlanta Falcons, Steve Gleason blocked a punt and the Saints scored a touchdown. Time will always stop for us in that moment. That moment actually keeps getting bigger and bigger. The year leading up to it can't be compared to any other year in anybody's experience and then when it is put in the context of being a landmark of time that led up to the Saints winning the Super Bowl after the 2009 season and Steve Gleason turning into a true hero of humanity with the work he has done to help people across the globe in dealing with ALS through his own example, what that moment means is beyond description.
Looking back, was there a silver lining for you?
There is not just one silver lining. The Steve Gleason Foundation is one. Today, there are so many, many things for which we are grateful after Katrina. Yes, New Orleans seems to be on fire. The city is doing great; real estate values have never been higher. I think people nationally appreciate the special character and culture of New Orleans in a way that didn't exist before Katrina spilled it out on TV. We have such a huge amount of civic pride in our Saints, in our culture and in how far we have come. We are attracting young people and new businesses at a rate above most other places in the country.
We have had an explosion of new restaurants in the city such that even though our population is still significantly lower, we have almost twice as many restaurants as we had before the storm.
We love to celebrate life here in New Orleans and we do so in such a vibrant and exuberant way that this place gets inside of you and fills you up. Today, having had to contemplate at one time the potential loss of all of that, New Orleans has raised the bar on the appreciation and celebration of life and culture.
With regard to our business, we are benefiting from the groundswell of our community re‐prioritizing the celebration of life here. Adler's is integrally tied to the history and culture of New Orleans and our core mission is to serve people in the celebration of life events and to deliver happiness in the form of luxurious products and service.
What is your sentiment about being fully back in business in New Orleans now?
Rubenstein's is a family run men's clothing store that began in 1924. Here is Q&A with current owner, Kenny Rubenstein: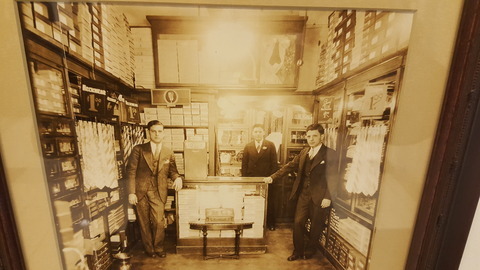 Describe your first days after Hurricane Katrina:
It took a few days to really understand what had happened in New Orleans. The first priority was getting everyone safe, which included my father, mother, uncle and aunt who were stuck in New Orleans, as they did not evacuate. It took about a week to get everyone together in Houston. The first step was to discuss the future and whether we wanted to re-open. Based on the information we had at the time, New Orleans was destroyed and there was no discernible timeline for a functioning city.
We knew we had to come together as a group to discuss the facts. We laid out a worst case scenario and a best case and stated that everyone should free to express their opinion and that nobody would be judged for their decision. Each of us were in different stages of life.
Did we want to just cash out and move on? Which owners wanted to stay in business? We had four owners at the time; my father, my uncle, myself and a CEO who had only moved to New Orleans less than a year before the hurricane. Fortunately, everyone was of the same mindset. We decided that we all wanted to come back and be part of a better New Orleans.
The next step was to figure out personnel. Our big questions were: Who would return? Would we pay them? How long until we could be back in business? What condition was the business in? We were getting mixed information, someone said our store was on fire while another told us it was okay. It took several more days to determine that the store was relatively unharmed. We verified that our building would be secure. Our friends who owned the hotels on either side would use their private security to guard the store.
Due to the state of the city and some damage to my home, my wife and three middle school children stayed in Dallas for six months while I returned home to rebuild. This meant I was traveling every other weekend to visit my family.
How did you begin to re-group the business?
We began contacting all of our employees, this actually took an entire week. We told them that we were planning to open in five weeks or so and asked if they were going to return to the store to work. If they wanted to return, we promised them full pay for the time that we were closed. The deal would be that they would continue to receive their paycheck every two weeks, but it would be for 3/4 of their usual pay. If they were back when we opened, we would give them the remaining 1/4 backpay. This was an option due to our great, long term relationship with our bank, who agreed to cover us.
Next, we began contacting our vendors. When we finally got the logistics together and our contractor was back in town, we began fixing up the store. Because customers had lost everything, we began selling clothes to them before we officially opened. There was a cement slab on the floor, drywall cut out four feet from the floor all the way around the store, it didn't matter, people needed clothes. For the entire season, we sold everything in the store at 30 percent retail price because it was the right thing to do.

The key about being a family business and rebuilding from a disaster is the relationships; not just with the family but the extended family of employees, vendors and business partners. The family atmosphere creates an environment that helps you develop these relationships with others that are not based solely on monetary or contractual reasons.

What was the level of support from your business partners?
Many vendors called us before we called them. We told them we were planning to re-open. The storm occurred at the very beginning of our fall season. The bulk of our goods are delivered at the end of August/beginning of Sept. So, we told our vendors that we would be open in about 4-8 weeks and ready to accept deliveries. Every vendor told us not to worry about paying them, they would ship the goods and we would pay when we could. Most also gave us discounts on our buys and many also offered to send merchandise for first responders, employees and customers who had lost everything.
You have such a strong sense of pride in your city. Did Katrina re-enforce this?
New Orleans is the best city with the best people in the world. We subscribe to the ideals of the individual. We encourage creativity, uniqueness and of course, a carefree attitude. We are all neighbors. This is why we not only survived but we are thriving now. We are committed to this lifestyle that you can't find anywhere else.
Hurricane Katrina made us and most of New Orleans' small businesses much better business people. We had to cut the fat, streamline the inventories and processes, generate cash flow and basically become great businesses if you decided to return. Most of the poorly run businesses wither did not return or collapsed under the weight of poor decisions and wasteful habits. Because of this, Katrina actually prepared us (or maybe jumpstarted) our recession before the national recession began so the New Orleans economy didn't suffer terribly during the recession because we had already been operating in that mode.
In addition, the storm awakened our soul to the problems with government corruption and the concept that 'We've always done it that way.' Young people moved into the city to help us. I remember one young couple that moved here a year after the storm and they mentioned the city's reputation for corruption, saying that it doesn't have to be that way. It was the first time someone had ever said that to me, challenging the 'old guard' way of thinking.
Now, new people with new ideas were coming into New Orleans. They had the audacity to think new thoughts and not accept the status quo. From that moment on, I committed to changing my attitude and that of others as well. I was determined to not just rebuild the city, but build a better city.
Journalist David T. Baker says:
It's hard to encapsulate all that has come about as a result of Hurricane Katrina, its a double edged sword. The storm exposed all of the inequities in the city, from wages, to social class and race issues. Even though many people knew about these issues, it wasn't always spoken about unless there was a current altercation. Katrina came through and the state of affairs was now shown for all the world to see; that this city known for beautiful jazz, food, art and people with robust spirit has crippling social issues that desperately need to be addressed. It was definitely an impetus for change.
Today, its a conversation that takes place everyday on many different levels. There is still disparity, but now there are more groups working together to improve the lives of this community. Non-profit organizations are an important part of any eco-system of business and post Katrina, non-profits have really come together to achieve a common goal. With businesses, neighborhoods and non-profits working together, people have become much more social minded in New Orleans. There's a better sense of civic engagement here now and it's skewing very young, and that is a direct result of Katrina. We have to be able to live here and live well. We have to have access to food, education, jobs, entertainment and recreation. The participation and activism in our communities makes me very proud. We are tenacious and resilient, that's our way!
As Mickal Adler noted, these are just two stories out of hundreds of thousands. But the more we get to know each small story the more connected we feel to the larger picture of the people and businesses of New Orleans. The city still needs help and support so that it's not another decade before everyone is back...or even better.
Calling all HuffPost superfans!
Sign up for membership to become a founding member and help shape HuffPost's next chapter