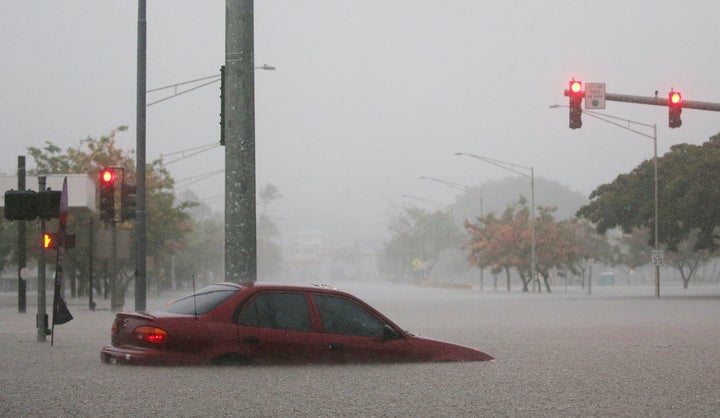 Hawaii faces its biggest weather threat in 26 years as Hurricane Lane barrels toward the islands, already lashing the Aloha State with rain and fierce winds.
By Thursday afternoon, gusts blew at up to 130 miles an hour in the storm's center and, in Hilo, on the eastern shore of the Big Island, more than a foot of rain fell. Landslides blocked parts of Highway 19, a thoroughfare cutting across the island's northern half, according to the state's civil defense agency. Gov. David Ige (D) signed an emergency proclamation in advance of an anticipated 30 inches of rain over the weekend.
While Hawaii is no stranger to natural disasters like volcano eruptions, the Category 4 tropical cyclone bearing down on the southeastern reaches of the archipelago is only the third major storm to make landfall there since the late 1950s. The last was Hurricane Iniki in 1992, preceded by Hurricane Dot in 1959.
Despite surging carbon dioxide emissions and the Earth's rising temperatures, the link between Hurricane Lane and human-caused global warming is not direct.
First, it helps to understand why tropical storms are so rare in Hawaii. The islands are shielded by an atmospheric feature known as a subtropical ridge. Over land, this type of high-pressure zone causes deserts like the Sahara or Kalahari. But over oceans, it drives trade wind belts that deflect storms. According to Climate Central, that high pressure is particularly strong from May through October, prime hurricane season.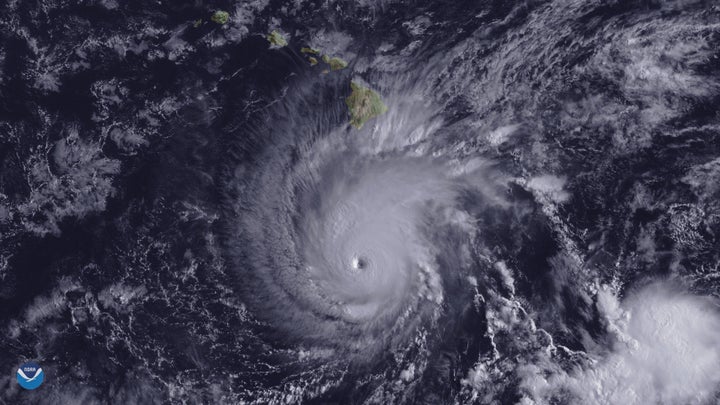 But there are currently warmer-than-average sea surface temperatures to the east and south of Hawaii, where Hurricane Lane formed and is tracking. This could be linked to El Niño, the Pacific Ocean patterns that can cause record-setting warm weather. The National Oceanic and Atmospheric Administration said this week that, by September, the chances of El Niño in the Northern Hemisphere rose to about 60 percent.
"El Niño conditions give Hawaii their greatest chance of significant hurricanes because of the increased sea surface temperatures," said David Titley, a climate scientist at Penn State University and a retired Navy rear admiral.
"These type of major hurricane tracks and threats to the Hawaiian islands, although infrequent, are not unprecedented," he added. "Lane is well within this envelope."
Still, Hurricane Lane offers a possible preview of what's to come as the planet warms, a process expected to increase rapidly in the coming years as emissions soar and polar ice melts faster than expected. Climate change may not be the direct cause of a storm like Hurricane Lane, but it certainly adds to its intensity.
Sea levels have already risen around the world by 8 inches on average, and about 20,000 people in dry parts of Hawaii could be exposed to chronic flooding in as little as 30 years, according to a state report released in December. And higher seas mean more dangerous storm surge.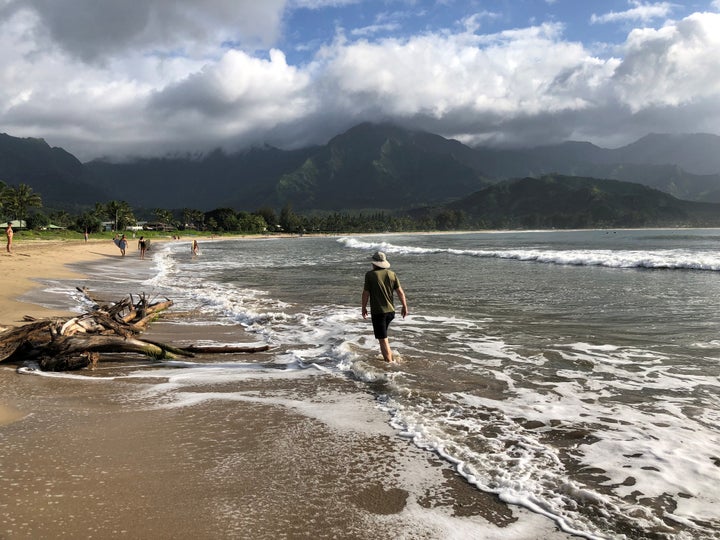 "Sea level is higher so that would amplify storm surge," said Marshall Shepherd, director of the University of Georgia's atmospheric program and a former president of the American Meteorological Society.
Making matters worse, the inundation comes from two directions. As the atmosphere warms due to climate change, it can also hold more water vapor. That means the already heavy rains from hurricanes can be intensified, increasing freshwater flooding.
"Freshwater flooding will likely be one the major impacts to Hawaii from Lane," Titley said.
Even without El Niño, oceans surged to record-high temperatures last year as the world's biggest waterways absorb the bulk of carbon dioxide from burning fossil fuels, deforestation and farming. The increased evaporation that results is "fuel for hurricanes and other storms," said Kevin Trenberth, a senior scientist at the National Center for Atmospheric Research in Boulder, Colorado.
He compared the storm in Hawaii to the floods in Kerala, India, that left at least 324 dead and 220,000 homeless earlier this month. The floods that killed at least 200 in Japan last month were also linked, he said.
"The ocean heat content globally was at record high levels last calendar year and now it is higher still and the highest on record," Trenberth said. "The hurricanes that do occur can become more intense."
Hurricane Lane gathered strength as unprecedented wildfires continued to scorch western states, choking cities like Seattle with smoke. It also comes a year after back-to-back storms wreaked havoc on Texas, Florida and Puerto Rico, and a wave of historic wildfires helped cause a record $306 billion in damages.
Meanwhile, the Trump administration ramps up efforts to roll back climate regulations. On Monday, the Environmental Protection Agency unveiled a proposal to replace the Obama-era Clean Power Plan with a rule that, by the agency's own calculation, would cause 1,400 premature deaths annually by 2030 due to increased emissions. Earlier this month, the White House proposed a rule to gut fuel economy standards, which would allow vehicles to spew an additional 600 million metric tons of carbon dioxide ― equivalent to the annual emissions of Canada ― by 2030.
CLARIFICATION: Language was updated to specify where the storm's top wind speeds hit. 
Calling all HuffPost superfans!
Sign up for membership to become a founding member and help shape HuffPost's next chapter