HONOLULU ― People in Hawaii are scrambling to gather emergency supplies and food as Hurricane Lane inches dangerously close to the islands as a Category 4 storm.
Lane's forecast track prompted hurricane warnings for nearly all of the main islands, including Hawaii (also known as the Big Island), Maui, Molokai, Lanai and Oahu. By 8 p.m. on Wednesday, Hurricane Lane was located 260 miles south of the Big Island and 375 miles south of Oahu, with maximum sustained winds of 145 mph.
"The center of Lane will track dangerously close to the Hawaiian islands from Thursday through Saturday," the Central Pacific Warning Center said in an evening update. "Regardless of the exact track of the storm center, life-threatening impacts are likely over some areas as this strong hurricane makes its closest approach."
Speaking at a press conference on Wednesday, Gov. David Ige told residents to prepare to shelter in place with enough food and supplies to last 14 days.
"We are expecting large amounts of rain, flooding and high winds," Ige said. "There will be significant impacts even if the hurricane doesn't hit us directly."
Hurricane Lane caused some panic as it moved closer to the islands and strengthened into a Category 5 storm late Tuesday night before weakening to Category 4 on Wednesday morning.
On Oahu, where nearly 70 percent of the state's population lives, residents flocked to grocery, hardware and wholesale stores, clearing inventories of propane tanks, water bottles and canned food.
Some residents on the Big Island started seeing rain as early as Wednesday afternoon. By Wednesday evening, heavy rains showered the Big Island and Maui as the edges of the storm made its way northwest toward the other islands.
Imago Mana, who was forced to flee from her Big Island home in Leilani Estates in May due to months-long volcanic eruptions, said she has to prepare for the hurricane while still dealing with problems caused by the lava evacuations. She and her partner are temporarily renting an apartment in Keeau that she says is prone to flooding.
"It's really intense, uncomfortable and frightening," Mana told HuffPost. "The issue is that it's an emotional exhaustion."
Mana also said that there were some things she had left behind during the evacuation that could be useful in a hurricane, including a generator that would've powered a medical machine she uses at night.
"There are vital things that we did leave that would be tremendously helpful now," she said.
The Big Island can expect to see tropical storm-force winds as early as Thursday morning, with hurricane-force winds picking up by afternoon or evening, according to the Central Pacific Hurricane Center. Dangerous conditions could begin in Maui County, including the islands of Lanai and Molokai, as early as Thursday and worsen by Thursday night. Oahu can expect to feel the storm's effects as early as Thursday night, with conditions worsening by Friday. Kauai County, including the island of Niihau, remains on a hurricane watch.
Phil Klotzbach, a meteorologist at Colorado State University, said Hurricane Lane was an "unusual" storm for the Central Pacific region because storms rarely strengthen in that area.
"What makes Lane unusual is that it became a Category 5 in the North Central Pacific," Klotzbach told HuffPost in an email. "That region typically isn't very conducive for hurricanes. There have only been five Category 5 hurricanes there on record prior to Lane."
Klotzbach said the wind shear was weak as the hurricane crawled closer to Hawaii, allowing Hurricane Lane "the opportunity to strengthen and maintain its strong intensity."
Hawaii also doesn't face strong hurricanes very often, Klotzbach added.
"The bellweather storm for Hawaii is Hurricane Iniki in 1992 which made landfall in Kauai," he said, referencing the Category 4 storm that devastated the island and resulted in six deaths.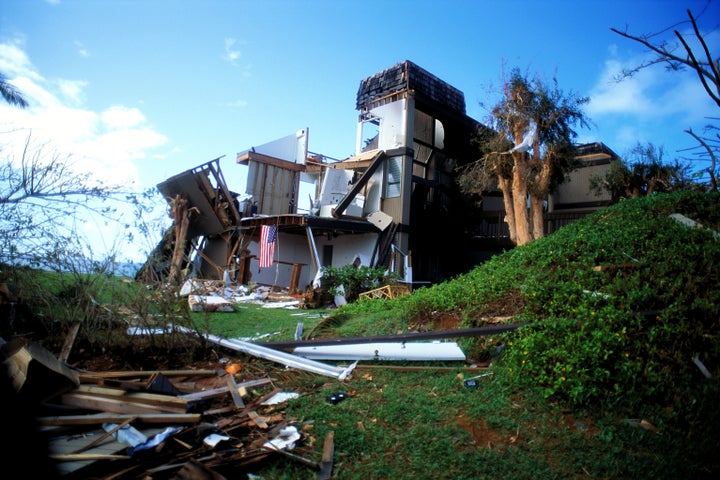 Lane is expected to bring a total of 10 to 15 inches of rain to the Hawaiian islands, with some parts seeing over 20 inches of rain, the hurricane center said late Wednesday. The storm is also expected to generate large, slow-moving swells and cause a storm surge of an estimated 2 to 4 feet above normal tide levels on west and south shores of the islands.
Ige signed an emergency proclamation for the state in anticipation of Hurricane Lane on Tuesday. The White House on Wednesday approved Ige's request for a presidential disaster declaration, authorizing the Department of Homeland Security and the Federal Emergency Management Agency to assist the state in its response to the storm.
Honolulu Mayor Kirk Caldwell warned residents on Oahu on Wednesday that the city was "planning for the worse, but we're hoping for the best."
"We do not want to see what happened in Puerto Rico and we do that by making sure we're prepared," Caldwell said. "We need the full cooperation of all of the public, really showing the aloha that we're all about."
Before You Go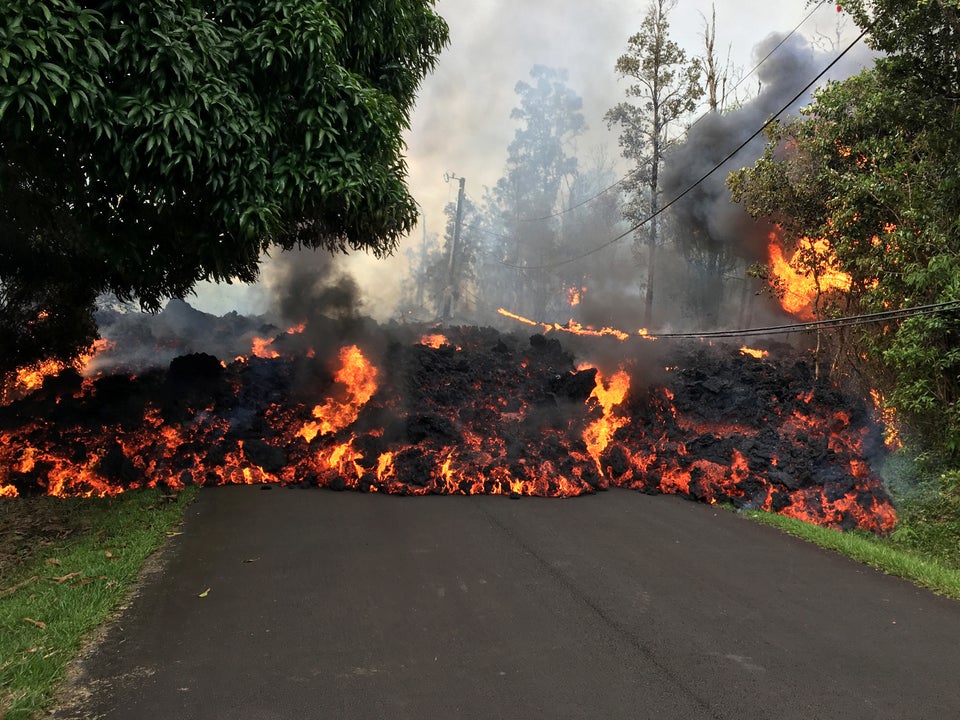 Hawaii Eruptions 2018
Popular in the Community