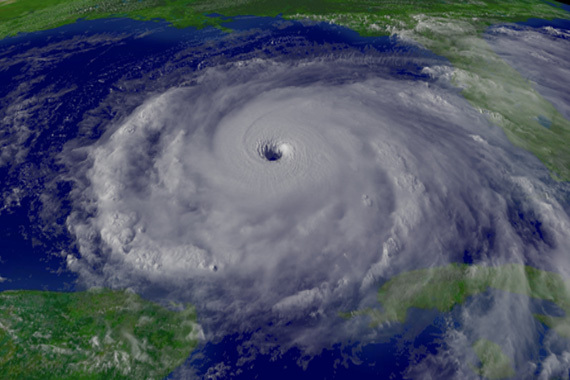 Photo: NOAA/Source
I have always wanted to experience a hurricane or chase a tornado. The magnitude and power of those natural events is awe-inspiring, and I'm attracted to them despite my better judgement. I have gotten my share of odd looks when I share that little tidbit about myself, but there is something primal in many of us that wants to experience that kind of power firsthand.
Sportscaster Jim Gray shared, "People don't gravitate toward calm. Everybody goes to look at the hurricane." He was discussing the lack of press coverage at the time for the Heavyweight Champion Boxer of the World, Evander Holyfield. Holyfield was a spectacular athlete, but with his calm demeanor and few words for the press, his influence in the sport was in many respects muted.
Most of us won't find ourselves at a press event and in the boxing arena like Holyfield. But we can learn a lot from His dominance in the arena and lack of skill with the press. Here are three ways to use your natural talents and influence to live a Category 5 hurricane life.
Hurricanes by design are disruptive and if you are going to live a Hurricane life you've got to figure out how you can be, too.
When is the last time you waited with bated breath for a press release from General Electric? Or, what daily inspiration have you gotten from the Exxon Mobil Corporation lately? These conglomerates are certainly stable parts of our everyday lives but rarely lead to us to any type of personal action or inspiration.
Disruptors, on the other hand, are the ones who capture our attention with their products, services, and personalities. They will make huge missteps, destroy things in their wake, and even make enemies. But just like most hurricanes, you will most certainly remember their names.
Elon Musk is the CEO of Tesla and founder of SpaceX. He lives a hurricane life with his showmanship from the stage, sharing his innovative electric vehicles and advanced rockets. But in an interview with Business Insider, Musk claims to have been an "introverted engineer" and "not naturally good at speaking." So how does an "introverted engineer" become a household name? Simply put, uses the power of disruption. He understands the necessity of disruptive products like his electric vehicles, but he also understands that "the reveal" is just as important as the product itself.
2. Thrive in the Eye of the Storm
The eye of the hurricane is a fascinating phenomenon and something every single person who wants to live a hurricane life needs to understand. A hurricane is defined as "a storm of the most intense severity" and categorized by winds faster than 72 mph. Meanwhile, the "eye" is the pivot point of the storm with calm light winds and clear skies.
Many who attempt the Hurricane life live in the midst of the storm. When they get caught up in the momentum of their own actions, they burn out, disappear, or die.
Janis Joplin (the "Queen of Psychedelic Soul") is a great example of getting caught up in the storm. Joplin was an exceptional singer in the 1960s with a distinctly raspy voice and unstoppable momentum. Ranked No. 3 on VH1's 100 Greatest Women of Rock N Roll, she created excellence in her craft but decided to ride the hurricane instead of thrive in the eye. That led to a very short life ending with a fatal overdose of heroin and alcohol at the age of 27.
Ironically, the album that gave her image the most momentum was the posthumously released Pearl, which contained her classic song: "Me & Bobby McGee."
3. Embrace Your Identity as a Disruptor
A hurricane doesn't wonder if it has what it takes to make it to shore. It doesn't question its creation or purpose. It simply disrupts the natural order and creates a paradigm shift for all in its path. Hurricanes often get a bad rep. Yes, they do immense damage that takes years to repair, but they also benefit humanity in some surprising ways. Hurricanes are a primary reviver of barrier islands and a major disruptor of droughts. They also instigate the regulation of the earth's climate.
Maybe you are starting to realize the benefits of hurricane living but don't identify yourself as a disruptor. I personally struggle with this everyday. As an introvert, I don't care about getting in the news or being on the tip of people's tongues, but I've come to understand that history only remembers the actions of those who disrupt the natural order of things. They create paradigm shifts for everyone in their path. It doesn't matter if you're an introvert or an extrovert. If you desire to leave a legacy beyond your lifetime, hurricane living isn't just a suggestion but a prerequisite.
Successfully living a hurricane life isn't easy. However, it can lead to amazing results if you become a disruptor in your field, learn to thrive in the eye of the storm, and embrace your identity. Enjoy the adventure and let me know how it goes! I would love to connect with you!
Related
Popular in the Community