CANÓVANAS, Puerto Rico ― Oscar Carrion sat back in his chair, one leg crossed over a knee, as he told the story of how he and his friends restored power to three communities in his area after Hurricane Maria plunged Puerto Rico into darkness last September.
The 41-year-old community leader and former mechanic explained that he was driven to action after watching the elderly and children of Villa Hugo 1, an impoverished neighborhood in the Canóvanas municipality, suffer without electricity in the aftermath of the storm.
"There was so much need, so many tears, just a lot suffering," Carrion told HuffPost in August. "So we decided to get to work."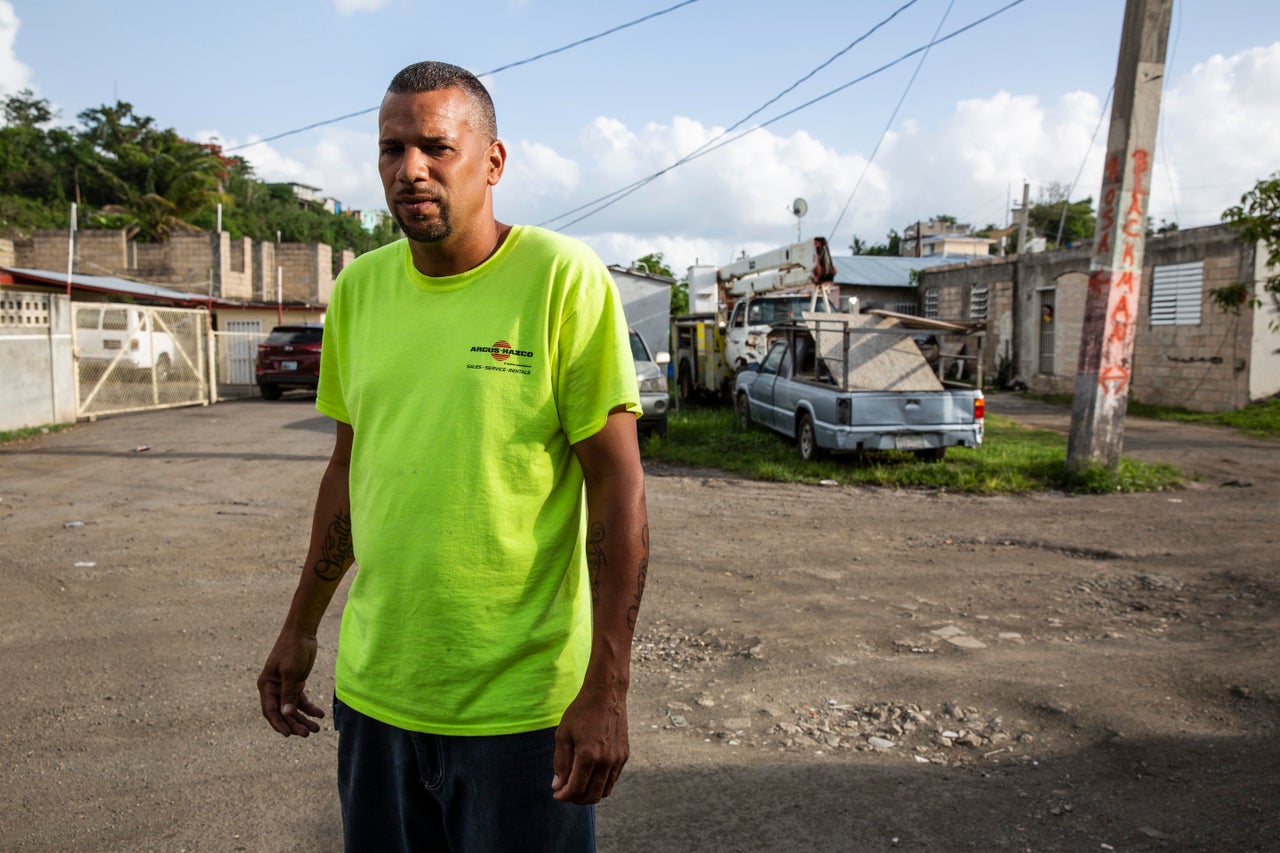 Carrion first raised $2,500 to buy a rusted bucket truck and then taught himself how to repair power lines. By May, Carrion and other residents had brought back light not only to Villa Hugo 1 but also to the neighboring communities of Villa Hugo 2 and Valle Hill.
"I kept working until I restored power in all the communities, over six thousand residences," he said, a glimmer of pride in his eyes.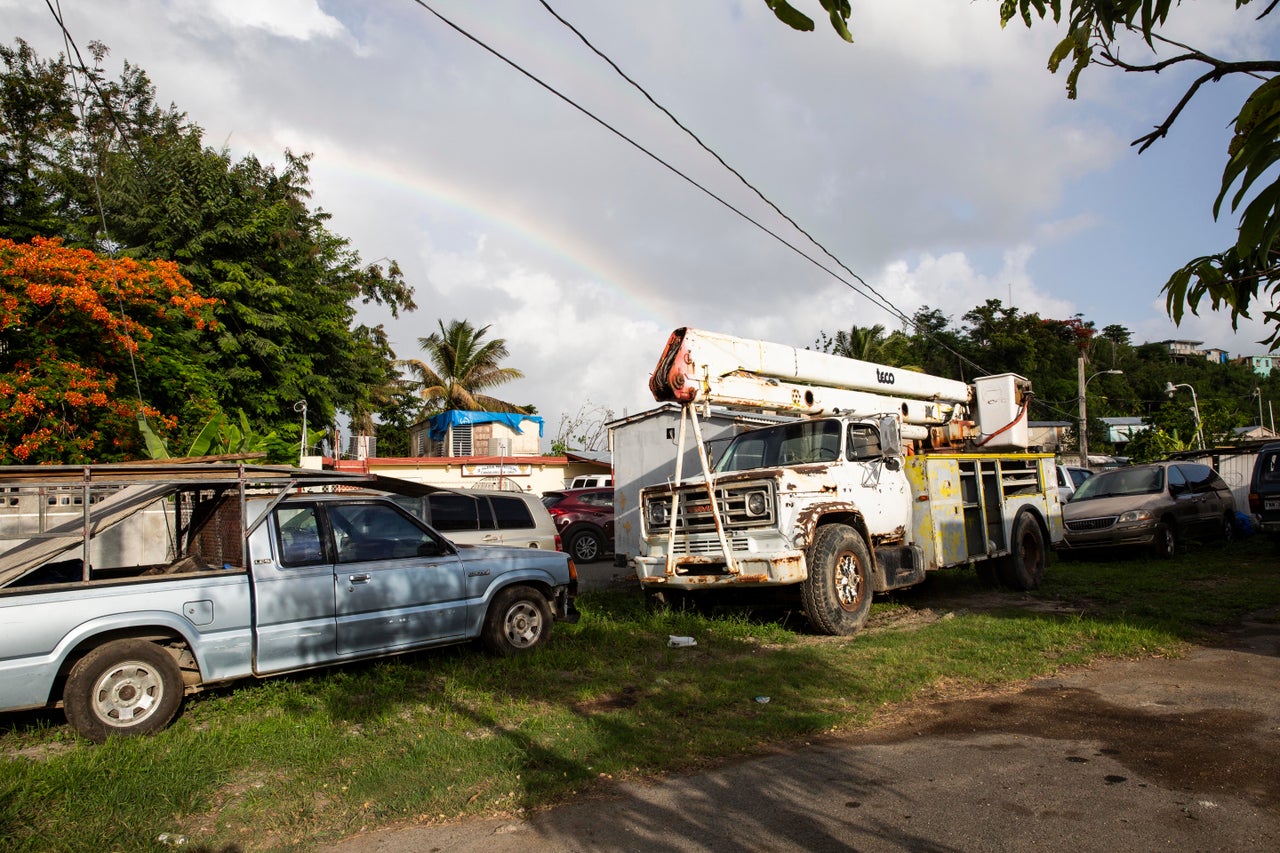 But the local triumph belies the reality that people in this area of Canóvanas were largely forgotten by federal and local government agencies after Maria ― and still have a long road to recovery.
Families in all three communities relied heavily on Carrion's improvised restoration efforts precisely because no one else had come to their aid. As HuffPost reported last year, Villa Hugo 1 and 2 and Valle Hill were still in dire need of basic resources, such as water and food, and had not heard from the Federal Emergency Management Agency or received substantial aid from local authorities nearly two months after Maria hit.
Now, a year after the storm, residents are better off but still not fully recovered. And they remain vulnerable to the next storm, HuffPost found during a return visit to the three communities.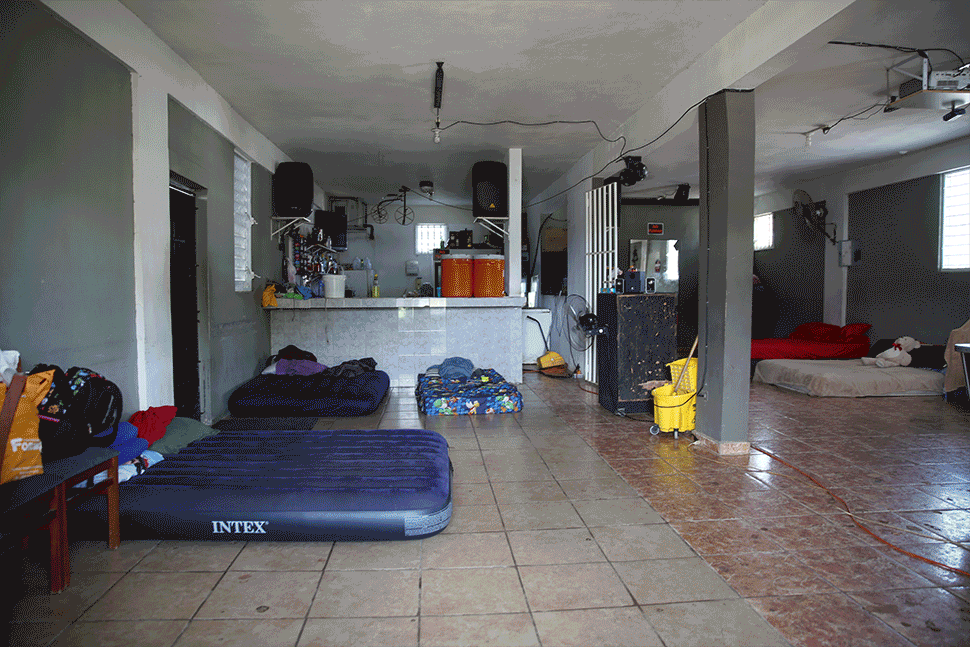 This time around, large piles of debris didn't line the streets and blue tarps were significantly less common. Most families had enough food and water and were grateful to have recovered some of what they'd lost, despite insufficient financial assistance. But they also worried about future storms, particularly during this hurricane season, and about the government's continued neglect.
"You could say there is discrimination, there has to be," he said. "Reporters have come, a lot of people and organizations have come to say [that these have] been some of the most affected communities. Yet you see there is a lot of help for other places. They take solar panels to those places. They build houses."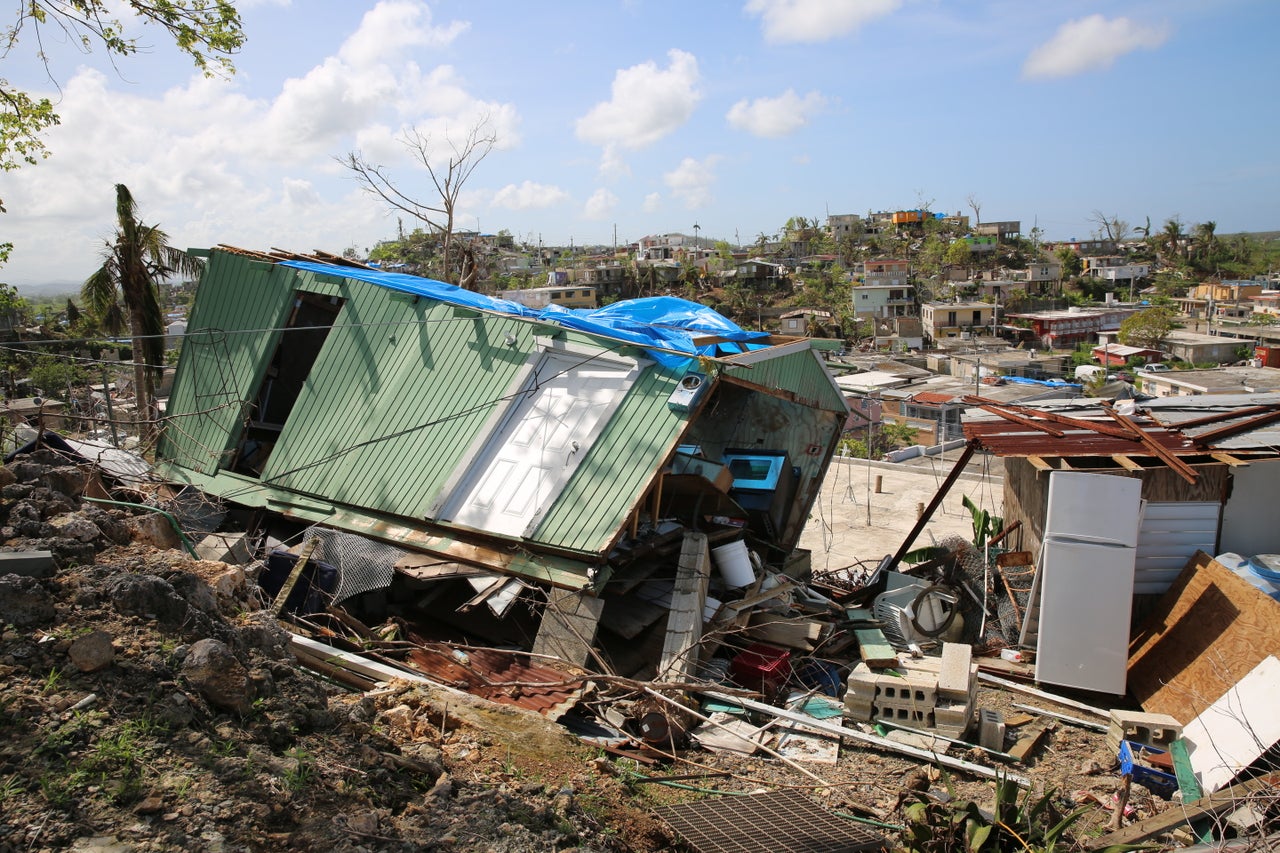 Carrion and others in the community told HuffPost that many residents' requests for FEMA's financial assistance were denied because the Villa Hugo area ― which was settled nearly 30 years ago by people who lost their homes to 1989's Hurricane Hugo ― is still viewed as a squatter community by local officials.
"I had thought that if I received the necessary pertinent aid, I would be doing better. But since it hasn't come. I've had to survive with the little I've been able to get," said Juan Medina-Dishmey, a Valle Hill resident who said he received just $3,000 from FEMA to replace his belongings.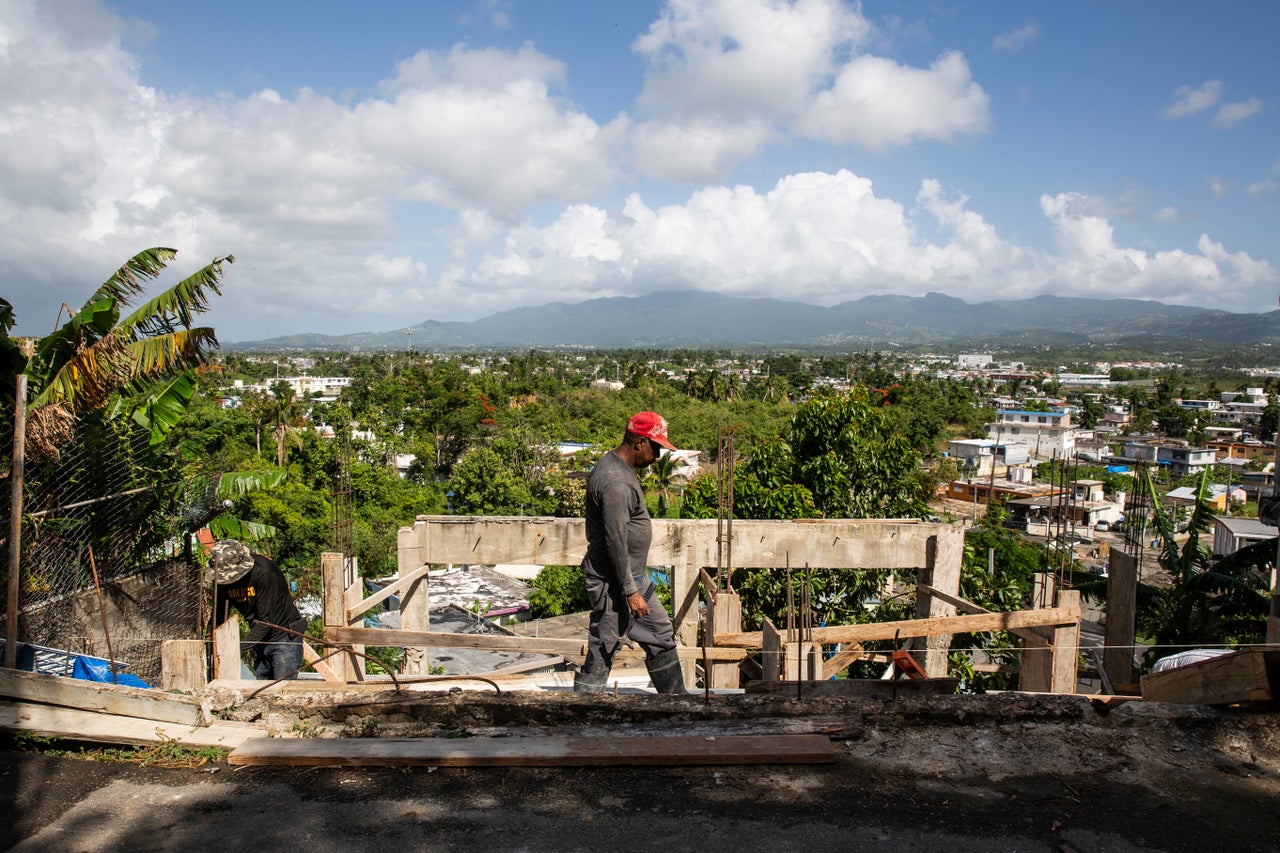 In response to these claims, FEMA spokeswoman Lenisha Smith told HuffPost that the agency worked with various legal aid groups on the island "to develop additional documentation options for survivors" without deeds to their homes.
"By law, FEMA must verify ownership of a pre-disaster primary residence when determining eligibility for financial assistance to repair or replace the damaged dwelling," Smith said, adding that the agency can't provide housing assistance for "property obtained illegally."
According to FEMA, more than 462,000 households in Puerto Rico received a total of $1.4 billion for essential home repairs, rental assistance and other disaster-related costs.
Carrion said people in his part of Canóvanas are used to suffering the consequences of the legal limbo their properties have been in for decades.
"This is a community of fighters that likes to rise above," he said. "Look at the living conditions — it's normal to have wrecked roads, not to have water, not to have power. We have to solve our own problems."
Juan Medina-Dishmey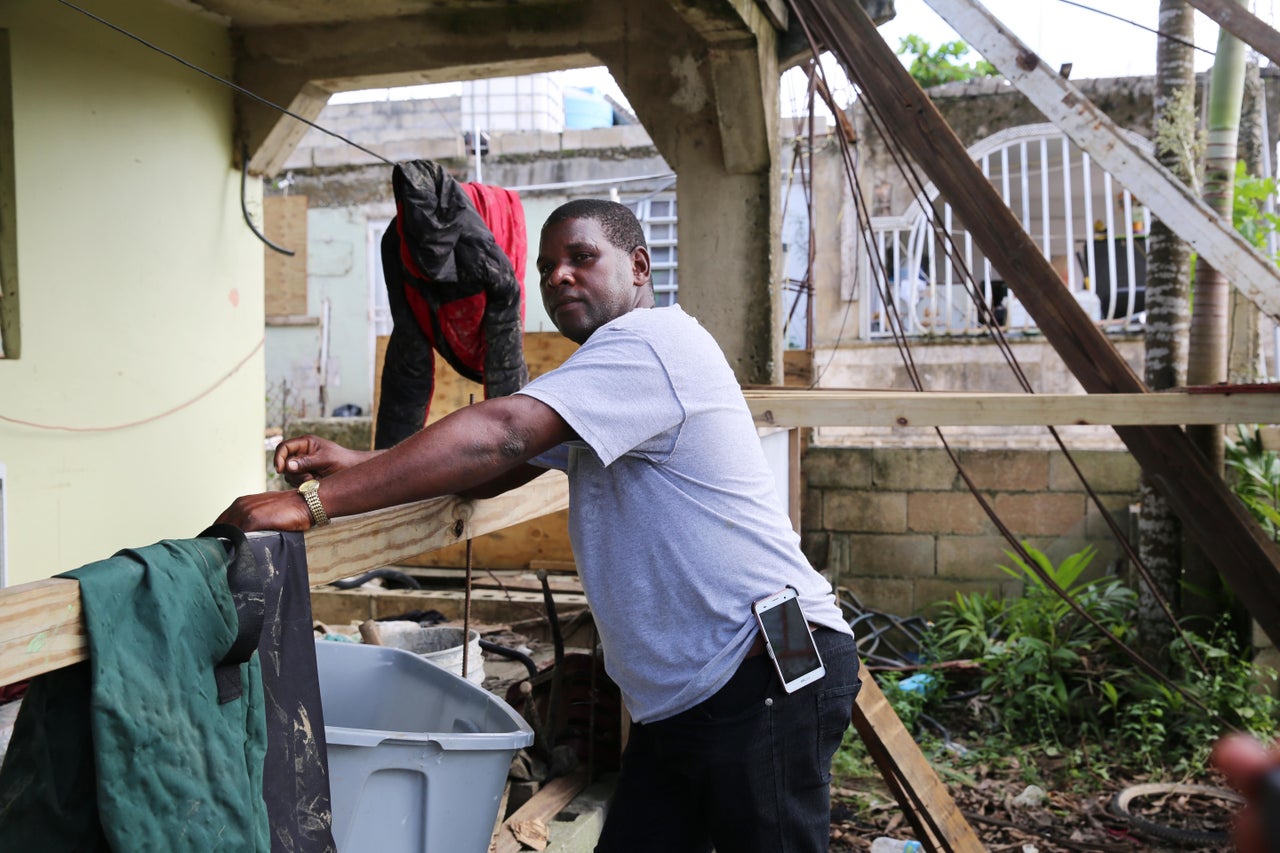 Last fall, Juan Medina-Dishmey, a Dominican-born immigrant, and his wife Juana Ferrera were in their driveway in Valle Hill, sorting through piles of belongings that had been damaged by flooding from Hurricane Maria.
With their house uninhabitable, the couple and their four children were sleeping on the floor at Ferrera's sister's home. To make matters worse, all three of their daughters ― including the youngest, who has a cognitive disability due to microcephaly ― were sick with what they hoped was only the common cold. The lack of food, water and shelter had Medina-Dishmey depressed and, in the weeks after our first visit, he was dealing with debilitating anxiety.
"I would get depressed," the 45-year-old told HuffPost in August. "There were days when I would cry in the morning when I woke up because I didn't have a job. Organizations would promise that they come on such and such days. … I would spend the day waiting for them and when I realized they weren't coming, I felt very sad."
Medina-Dishmey said he began to feel better after receiving family and marriage counseling from pastors who arrived in the community after the storm. He said it was their advice that helped him get back on his feet. Since then, he has been working odd jobs to support his family ― which now includes a grandson born to his 18-year-old eldest daughter in July.
"I don't have a steady job, but I do my odd jobs to try to survive," he said. "I've been working in construction, I've been painting, I've been sealing roofs because I do a variety of things. I wash cars ― I'm not embarrassed because it's a job like any other."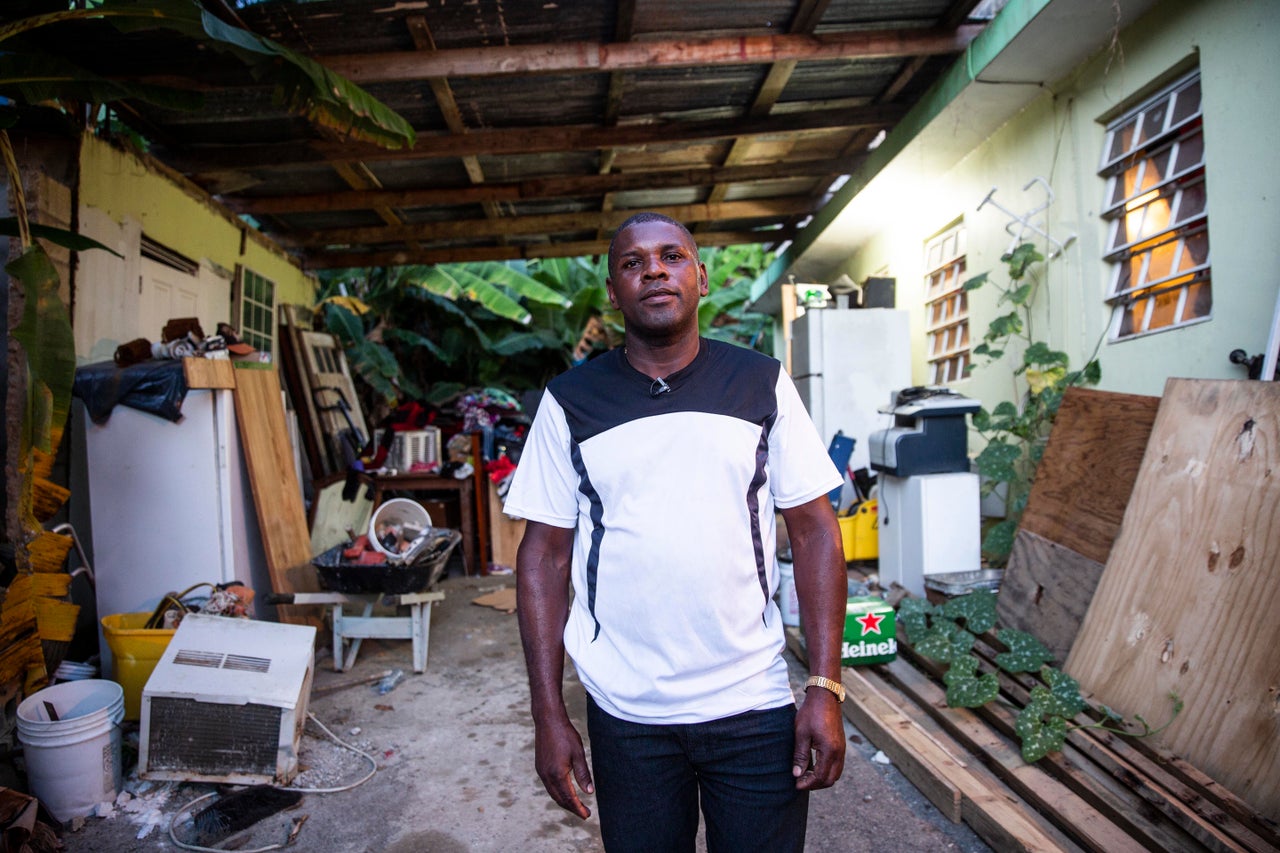 Though Medina-Dishmey speaks with optimism about the future, he is worried about how his family would weather another storm. He said FEMA denied his request for financial assistance to repair his home because he didn't have a property title. The agency also didn't cover the replacement of his two cars, which he uses for work.
"I sent an estimate of $18,000 to cover our belongings, but they only gave me $3,000, which didn't cover anything," he said. With that money, he bought building materials to secure the top floor of his house in case another hurricane hits the island. He wants to reinforce the roof with zinc, but hasn't been able to afford the materials.
"I'm not going to lie, I'm not prepared," Medina-Dishmey said, adding that he has the know-how to fix the rest of his house but not the resources. "I need to finish my house to say I'm more or less prepared."
Keishla Acevedo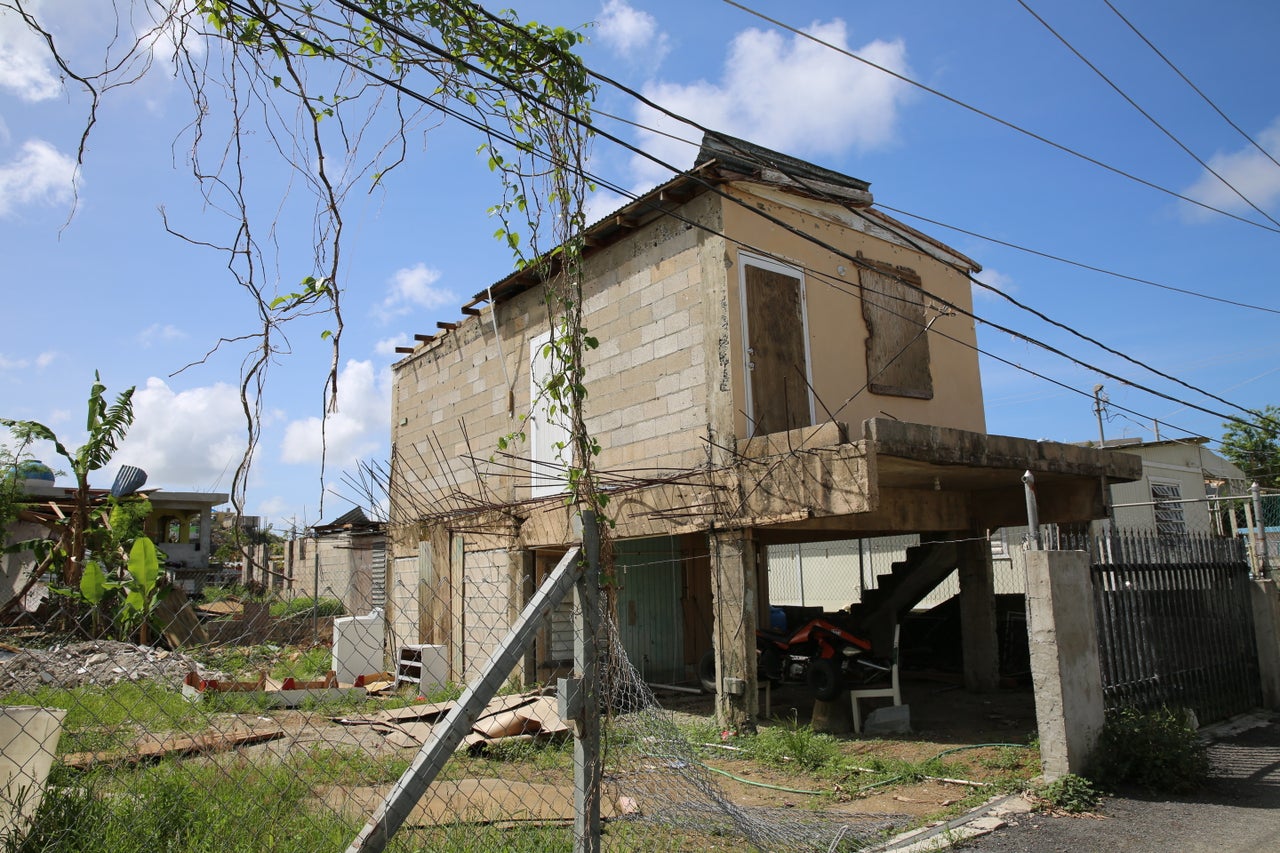 Three weeks after Maria, Keishla Acevedo couldn't help but cry as she described the sadness of her 3-year-old son, Felix Kelier, when he saw that all his toys had been ruined. Her community, she told HuffPost at the time, had been completely forgotten in terms of aid.
Back then, Acevedo was living in Carrion's business ― where she, her son and her husband found refuge after her grandmother's home was damaged in the storm. But a year later, the 22-year-old mother was in better spirits and working a new job as a caretaker in a retirement home.
"Before, I felt forgotten because nobody was coming or helping," Acevedo said in August, smiling as she spoke. "But after October, I feel the community was helped a lot by the nonprofit organizations."
The Villa Hugo 1 resident said a church brought the family a number of essentials: water, food (including baby food), children's clothes and first aid supplies. Acevedo's grandmother also received $5,000 from FEMA, which they used to replace furniture and fix structural damage to her home.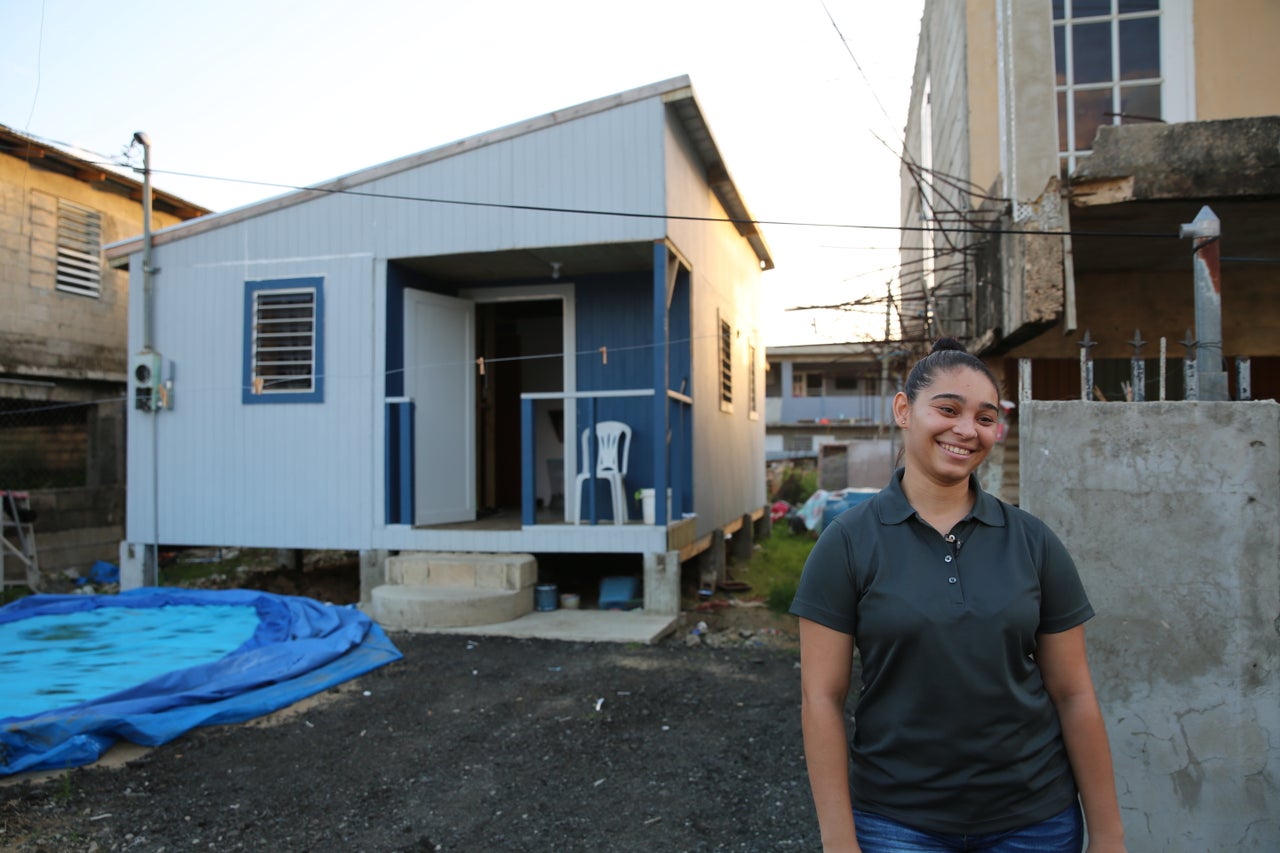 Acevedo acknowledges there are many in the community who still need help a year after the hurricane. "Some people still have no homes, no clothes, no water," she said.
But she personally feels like she has everything she needs and more, especially after the nonprofit Techo, which erects transitional housing with the help of volunteers, built her a new home.
"It's not easy to recover but thank God we aren't in need of anything," she said. "We have food. We have water. We have power. I am better. We are better."
Danny Guerrero Herrera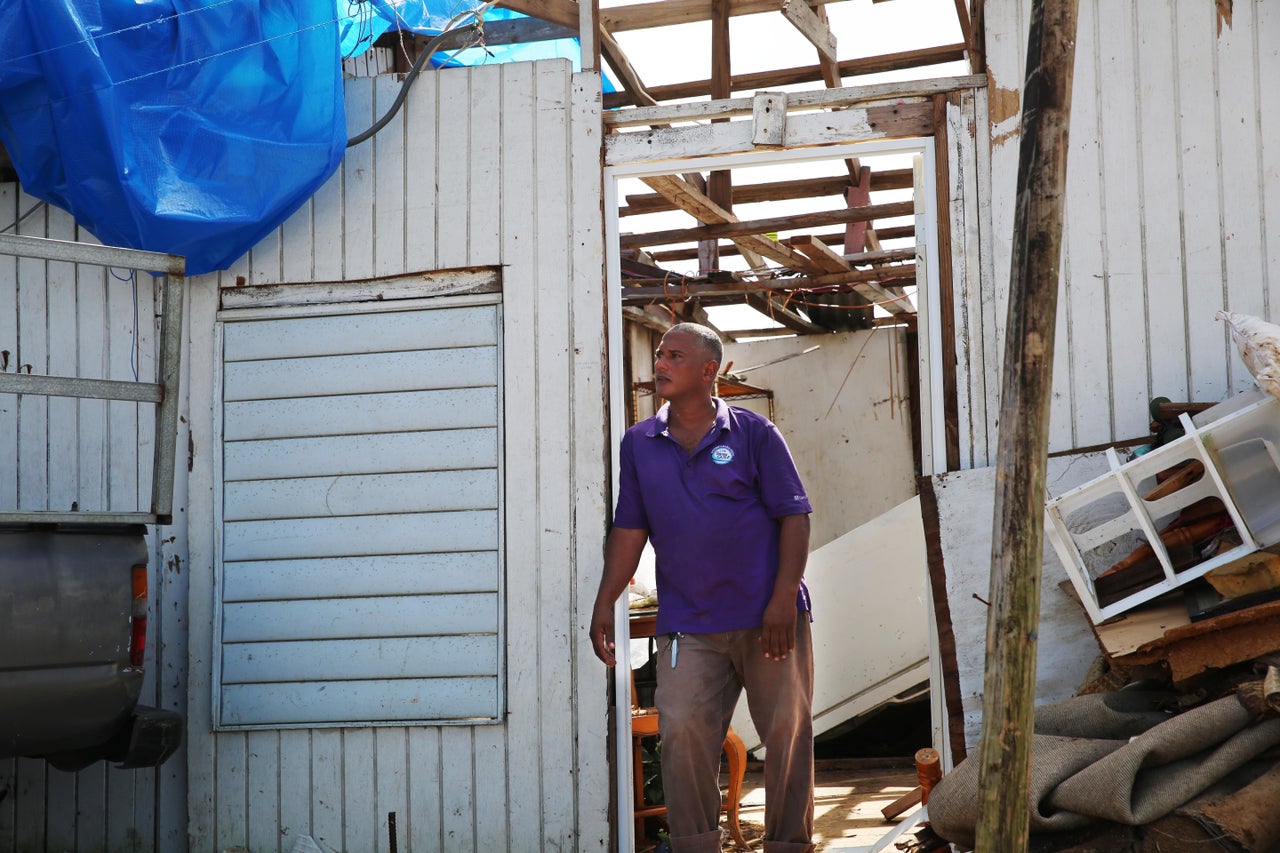 Danny Guerrero Herrera lost most of his home to Maria, the roof and walls of his wooden house atop a hill ripped away by the storm's 155 mph winds. When HuffPost first visited the area, he was using blue tarps donated by a humanitarian organization to cover the parts of the house that were missing. But it still wasn't suitable to live in.
He and his wife, 41-year-old Daysi Lantigua, rented a room nearby as they waited for federal or local government help. They couldn't afford the $200 rent, but they had no choice.
"Maria practically left us on the street," Lantigua said in August. "It left us a lot of trauma. We are still in shock. We haven't overcome it yet because Puerto Rico is not doing that well. The jobs are not that good."
Guerrero Herrera, 43, said FEMA gave him just over $13,000 ― which wasn't enough to rebuild their house with cinder blocks as he wanted. He estimates a stronger structure like that would have cost $20,000. Instead, he used some of the money to purchase a smaller cement home up the street. The rest of the money went to buying a fridge, a bed, a television set and other replacement furniture.
"We are living better here now," Guerrero Herrera said. "It's a little bit smaller but we are good."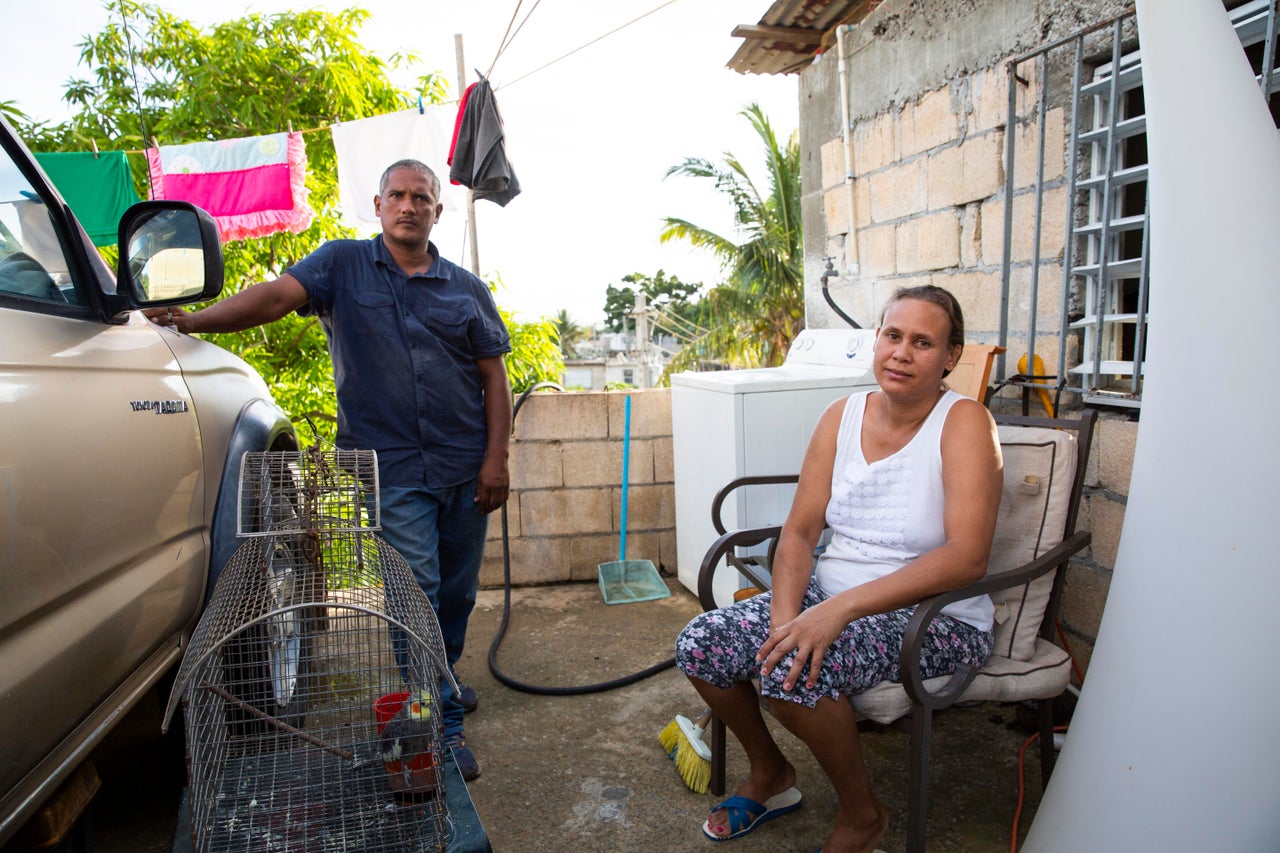 Still, the couple agree they're not fully prepared for the possibility of another storm. When they bought the new house, the roof was nothing more than a sheet of zinc laid atop the walls and the money from FEMA wasn't enough to fix that.
Guerrero Herrera said he needs to weight the roof down with heavy boards or tie it down in case of another hurricane, because right now it can barely protect the couple from a rainstorm. Water gets into the house through gaps between the zinc and the walls.
"The hurricane will take it," he said about the roof with a nervous laugh. "But God willing, it's not another Maria."
Popular in the Community