LES CAYES/PORT-AU-PRINCE (Reuters) - Hurricane Matthew edged closer to Haiti on Monday, bringing 130- mile-per-hour (215 kph) winds and torrential rain that could wreak havoc in the Caribbean nation, although some 2,000 people in one coastal town refused to evacuate.
Matthew's center is expected to near southwestern Haiti and Jamaica on Monday night, the U.S. National Hurricane Center said.
Crawling towards Haiti's Les Cayes, Jamaica and Cuba at five miles per hour (seven kph), the storm could be just as slow leaving, giving its winds and rain more time to cause damage.
"We are worried about the slow pace of Hurricane Matthew, which will expose Haiti to much more rain, and the country is particularly vulnerable to flooding," said Ronald Semelfort, director of Haiti's national meteorology center.
The storm comes at a bad time for Haiti. The poorest country in the Americas is set to hold a long-delayed election next Sunday.
A combination of weak government and precarious living conditions make the country particularly vulnerable to natural disasters. More than 200,000 people were killed when a magnitude 7 earthquake struck in 2010.
"Even in normal times, when we have rain we have flooding that sometimes kills people," said Semelfort, comparing Matthew to 1963's Hurricane Flora, which swept away entire villages and killed thousands in Haiti.
RESISTANCE
In Jamaica too, officials were scrambling to protect the vulnerable, as residents boarded up windows and flocked to supermarkets to stock up on food, water, flashlights and beer.
In Cuba, which Matthew is due to reach on Tuesday, evacuation operations were well underway, with people voluntarily moving their belongings into neighbors' houses or heading to shelters. Some even found cliff-side caves they said were the safest places to ride out storms.
Matthew was about 245 miles (3955 km) south-southeast of Jamaica's Kingston early on Monday and moving north toward Haiti. The hurricane center ranked it at Category 4 on the five-step Saffir-Simpson scale of hurricane intensity.
In Haiti, some streets were already flooded in Les Cayes, a town of about 70,000 people that was previously ravaged by hurricanes in 1781 and 1788.
But Haitian officials said about 2,000 residents of the La Savane neighborhood of Les Cayes refused to heed government calls to move out of their seaside homes, even though they were just a few miles from where the center of the hurricane is forecast to make landfall.
As the wind died down at night, people remained outside in La Savane, hanging out on porches, playing checkers and dominoes outside, and listening to music.
"The police and local authorities and our evacuation teams have been instructed to do all they can to move those people," Interior Minister Francois Anick Joseph said.
"They have also been instructed to move them by force if necessary. We have an obligation to protect those peoples lives, even against their will."
However, the chief of police for the southern region, Luc Pierre, said it was almost impossible to force such a large number of people to leave their homes.
"I would have to arrest all those people and take them to a safe place. This is very difficult," he said, adding that the power had already gone off in the town.
Poor Haitians are at times reluctant to leave their homes in the face of impending storms, fearing their belongings will be stolen after they leave.
Only a few families had opted to move to a high school in La Savane, designated as a shelter for up to 600 people. It was without electricity and lit only by candlelight.
"There are babies crying here; there is nothing at all," said Nadja, 32, who was pregnant with her fourth child.
Before You Go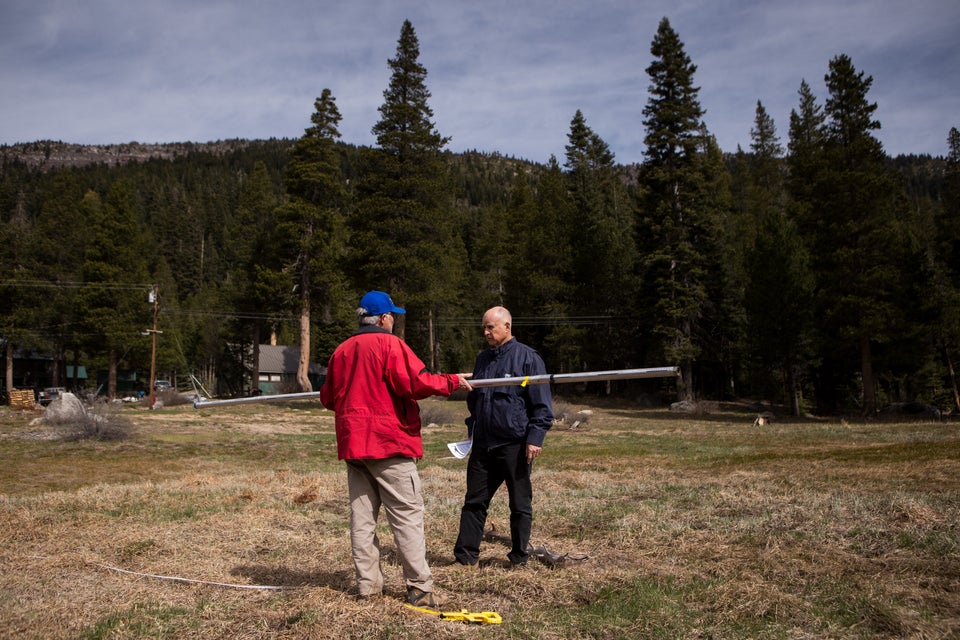 Extreme U.S. Weather In 2015
Popular in the Community