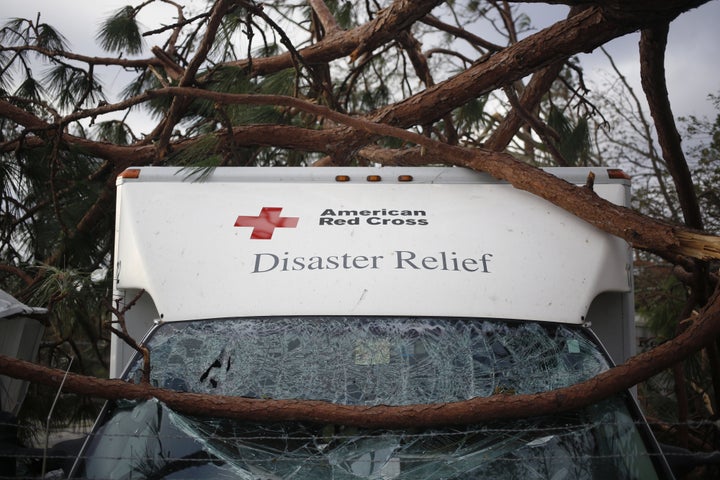 Administrators at the two largest hospitals in Panama City ― Bay Medical Sacred Heart and Gulf Coast Regional Medical Center ― reported sustaining heavy damage from the storm.
Patient evacuations at Bay Medical Sacred Heart began early this morning and "will continue until all patients have been evacuated," the hospital announced on Facebook.
Officials at Bay Medical Sacred Heart said patients are being transferred to hospitals in Pensacola and Jacksonville in Florida, and Mobile, Alabama. Family members seeking information can call the hospital's patient line at 1-888-727-4568.
Gulf Coast Regional Medical Center said it is transferring patients to "sister hospitals in a neighboring community," but did not specify which ones.
"We are committed to caring for our community and will quickly reopen all services as soon as it is safe to do so," reads a Facebook post by Gulf Coast Regional.
According to The Associated Press, Michael blew out windows, cracked an exterior wall and caused a roof to collapse at Sacred Heart, making it virtually unusable. Doctors have been trying to care for incoming patients in the emergency room on generator power, the AP reported.
The hospital, which housed roughly 200 patients when the storm struck, began evacuations with the transfer of 39 critical case patients to facilities outside the disaster zone. The process, according to the hospital's Facebook page, will take 48 hours to complete.
Gulf Coast Regional Medical Center said its building sustained "significant storm damage."
"We are currently evacuating our patients starting with the most critically ill because of the infrastructure challenges in our community," Gulf Coast Regional Medical Center said. "Until we can be certain of stable public power, water and sewage systems, our patients will be safest in one of our sister hospitals."
Life Saver 3, a helicopter that provides emergency transport services in Georgia, is reportedly helping evacuate damaged Florida hospitals.
The Category 4 storm brought ferocious 155 mph winds and a storm surge of up to 14 feet when it roared ashore Wednesday afternoon, making it the most destructive hurricane on record to make landfall along the Panhandle.
In Panama City, buildings were toppled, trees were uprooted, and debris continues to block area roadways. Damage to power and communication lines is heavy, officials said.
Elsewhere, the State Hospital at Chattahoochee is "entirely cut off" by land, according to The Tampa Bay Times. Emergency responders are reportedly dropping supplies in from the air. A section of the hospital dedicated to housing patients deemed to be criminally insane was reportedly not breached.
Only two storms to hit the mainland U.S. have been stronger than Michael was at its peak, according to The Associated Press: an unnamed Labor Day storm that struck in 1935 and Hurricane Camille in 1969.
"So many lives have been changed forever. So many families have lost everything," Florida Gov. Rick Scott said at a Thursday press briefing.
Popular in the Community