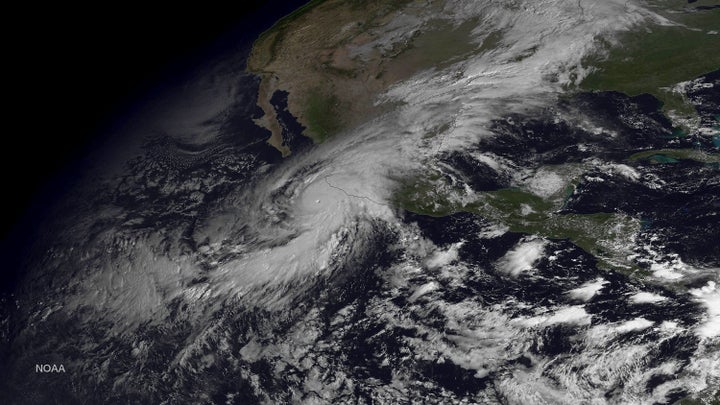 PUERTO VALLARTA, Mexico, Oct 23 (Reuters) - Hurricane Patricia, one of the most powerful storms on record, struck Mexico's Pacific coast on Friday with destructive winds that tore down trees, moved cars and forced thousands of people to flee homes and beachfront resorts.
Hours after making landfall, the storm weakened but still packed winds of 130 miles per hour (210 km per hour). There were no reported casualties and officials said the damage might not be as catastrophic as feared.
Patricia slammed into a stretch of sparsely populated coastline near the popular beach getaway of Puerto Vallarta, where 15,000 tourists were evacuated to avoid torrential rain and potentially lethal winds.
There was flooding in parts of the city, though it escaped the worst of the immensely powerful storm.
Visitors and residents weathered the hurricane's onslaught in emergency shelters hoping it would not do as much damage as the last storm of this magnitude, Typhoon Haiyan, which killed thousands of people in the Philippines in 2013.
While still out to sea as a Category 5 hurricane, Patricia blew furious winds of 200 mph (322 kph).
"The winds are really strong. It's amazing, even the cars are moving," said Laura Barajas, a 30-year-old hotel worker from the port of Manzanillo, close to where the storm reached land.
Officials said the port emerged relatively unscathed, suffering only minor damage, such as fallen trees.
Weather experts said the storm could have a catastrophic impact, but initial reports suggested that Patricia had left more of an expensive mess than outright disaster in its wake.
Before reaching land, Patricia was the strongest hurricane ever recorded in the Western Hemisphere.
The U.S. National Hurricane Center (NHC) downgraded Patricia to a Category 4 storm but said it remained an "extremely dangerous major hurricane." It could weaken to a tropical storm by Saturday morning and a depression by the afternoon as its winds are sapped by the mountains of western Mexico.
In Puerto Vallarta, the heart of a string of resorts that range from low-end mega hotels to exclusive villas attracting tech billionaires and pop stars, loudspeakers had blared orders to evacuate hotels ahead of Patricia's arrival.
The streets emptied as police sirens wailed in anticipation of Patricia, which gathered strength suddenly on Thursday night.
"Whichever way you turn, there's debris," said Juan Michel, 36, a hotel manager in the resort of Barra de Navidad to the northwest of Manzanillo, who was taking cover from Patricia with 13 others. "We've never seen anything like this.
"Writing from 249 miles (401 km) above Earth on the International Space Station, U.S. astronaut Scott Kelly tweeted an imposing image of the giant storm along with the message: "Stay safe below, Mexico."
U.S. President Barack Obama said the United States was standing by to help Mexico.
EVACUATIONS
Officials said 15,000 domestic and foreign tourists were evacuated from Puerto Vallarta.
The government warned that ash and other material from the volcano of Colima, about 130 miles (210 km) from Puerto Vallarta, could combine with massive rainfall to trigger "liquid cement"-style mudflows that could envelop nearby villages.
Nearby residents were later evacuated, local media said.
The storm hit the coast near Punta Perula, where fear among residents was palpable before impact. Shortly afterwards, local hotel worker Armando Cervantes said the winds were high.
"I'm calm, but I still haven't been able to talk to my family," the 17-year-old Cervantes said by phone.
Security officials in Puerto Vallarta later allowed some 200 tourists to return to their hotels.
Martha Medgers, 67, from Sarasota, Florida, was one of them. "Praise the lord, we're going back! The storm just isn't that bad here, and all I want right now is a nice comfy bed," she said.
As Patricia was bearing down on the coast, traffic stretched way out of Puerto Vallarta en route to Guadalajara, Mexico's second-biggest city and around five hours drive inland.
The storm's strength gave it a fearsome potential.
"The winds are enough to get a plane in the air and keep it flying," WMO spokeswoman Clare Nullis told a U.N. briefing in Geneva early on Friday, likening Patricia to Typhoon Haiyan.
That storm killed over 6,300 people and wiped out or damaged nearly everything in its path on Nov. 8, 2013, destroying around 90 percent of the city of Tacloban.
The strongest storm ever recorded was Cyclone Tip which hit Japan in 1979.

(Additional reporting by Mexico City Newsroom and Tom Miles in Geneva; Editing by Dave Graham, Kieran Murray and Lisa Shumaker)
Popular in the Community