As it curled relentlessly up the Mid-Atlantic and New England Coasts, Hurricane and then Post-Tropical Storm Sandy struck the fishing industry in multiple ways, which together brought short-term paralysis.
The elements of the markets of the industry all but stopped Monday and Tuesday and into today.
A couple of boats working Georges Bank beat the storm into Nantucket, and rode it out there before setting out for the New Bedford markets, said Richie Canastra, co-owner of BASE New England, which operates auction markets in New Bedford, Gloucester and Boston.
But the industry, already weighted with miniscule allocations and a catch share trading system that continues to steer equity into the industry's largest and deepest hands, and with an economic disaster declared by the government in September, is expected to return to pre-storm normal by the end of the week, according to the projections of major buyers.
Physical damage was not widespread due to forecasts and due diligence born of waterfront experience. But in Brooklyn, N.Y., the Agger Fish Co., a major broker and exporter, suffered an electrical meltdown from the enormous storm surge up the East River.
The repair and replacement of cooling systems could take "two to three" weeks and cost the company $1-2 million in lost business transactions, said Mark Agger, CEO and owner of the company in the Navy Yard industrial redevelopment.
The storm surge up the East River and other south facing rivers along the coast was unprecedented, according to the National Weather Service. Agger estimated the surge through the former Navy yard was at least 10 feet and came with a high tide Monday night.
"First it's the government, now Mother Nature," said Agger, who has been a leader of East Coast industry resistance to excessive law enforcement and regulatory policies.
Sandy essentially shut down the restaurant capitals of the urban East Coast -- New York, Boston, Philadelphia, Baltimore and Washington -- eliminating demand in advance of the storm. All four metro areas were battened down and dark as they awaited the storm surge and near hurricane level winds and gusts that topped 90 miles an hour.
Sandy also barred international air transport in advance of its actual arrival at the major East Coast airports, eliminating supply to European markets and it kept most boats in port, creating a vacuum or a glut at the auction houses and independent buyers in Gloucester and New Bedford where most groundfish and other species are landed.
The combined effect was industry stasis -- from vanished demand, and generally lack of supply.
But the industry has survived by its resilience and the resilience of the ocean ecosystem which was churned as if in a blender or food processor within sight of land and built up titanic wave heights, worthy of a perfect storm.
Canastra and other brokers predicted the market trauma would ripple into normal by week's end.
"These were the highest tides I've seen in 40 years," said Jeff Reichel, president of Lund Fisheries, Cape May, N.J. which was at or near the eye of the storm when it made landfall Monday evening.
But he said his business which involves a lot of frozen fish for export would not suffer much from the storm. The electrical systems at Lund were not damaged, and even though the eye went over or near Cape May, the wind by then was pushing back out to sea which buffered the storm surge.
Farther from the eye, in New Bedford and Gloucester, except for the lack of business activity along the docks, Sandy proved mostly a storm surge to exposed south facing residential sectors. New Bedford closed its hurricane gate at the mouth of the harbor at Buzzards Bay, protecting the fleet at rest. The natural shape of Gloucester's inner harbor protected its fleet.
"There will be a lot of restaurants running out of seafood in the next couple of days," said Reichel.
Kristian Kristensen, owner of the Cape Ann Seafood Exchange in Gloucester, said buyers were panicked about their markets, unsure when they would be back in operation, and not buying product that was for sale.
"The storm broke down all transportation systems," leaving his coolers with unsold fish.
"We're backed up, you can't buy too much product (under such conditions)," he said. Kristensen said he expected the markets to reform into their preexisting functionality by Thursday or Friday. Because of his backlog, Kristensen said he held an auction on Tuesday.
"It will take a little while to recover," said Canastra. "Exports have been cancelled. Fresh (fish) is not shipping until the weekend. "We had no auction (Tuesday)," he said.
It will take a while for New York and New Jersey (markets) in flatfish and cod to recover fully, as well.
Richard Gaines can be reached at 978-283-7000, x3464, or at rgaines@gloucestertimes.com. ___
(c)2012 the Gloucester Daily Times (Gloucester, Mass.)
Distributed by MCT Information Services
Before You Go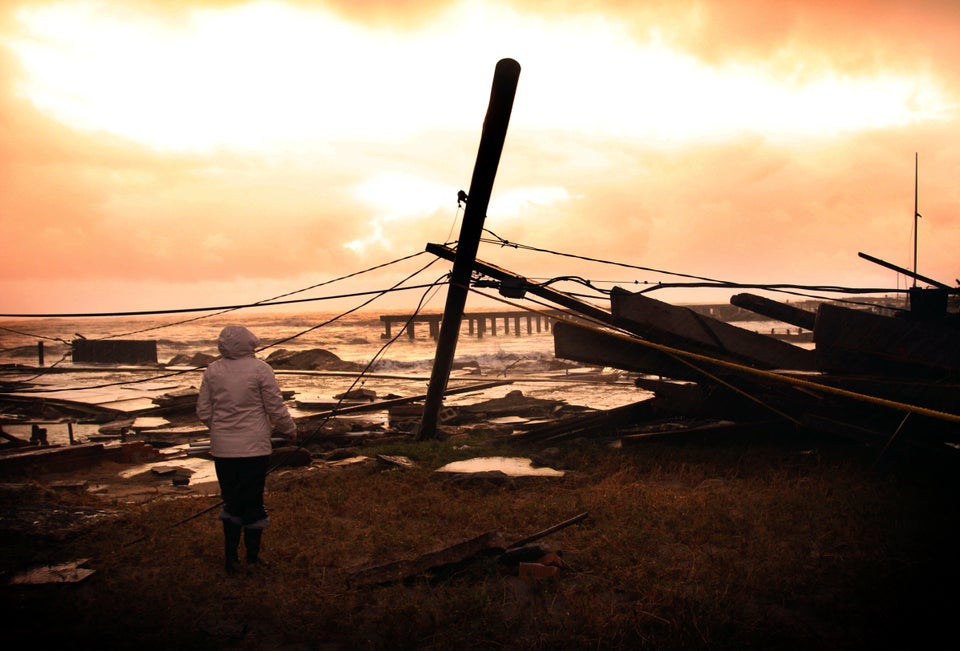 Superstorm Sandy: Photos From October 30, 2012
Popular in the Community