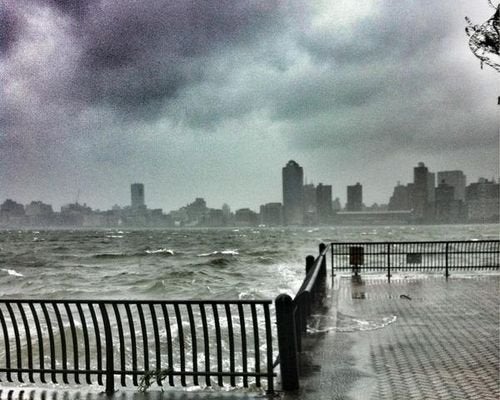 We asked HuffPost readers around the country to send us their photos and descriptions of how the storm has affected their neighborhood. Below, you can see what it looked like before, during and after the storm -- the empty avenues, the fallen trees and the flooded streets -- as witnessed by our readers in New York, New Jersey, Massachusetts, Pennsylvania and Washington, D.C.
You can send us your own pictures by clicking the green "Add Photos" button below, by e-mailing us at stormwatch@huffingtonpost.com, or by tagging your photos anywhere online with #hpsandy and your location. We'll continue to add pictures and descriptions all day today.
HURRICANE SANDY: HUFFPOST READERS RESPOND
From Heywat Wolde Yesus in Washington, D.C.: "In my zip code, 20017, we have rain, a little bit stronger wind than usual. The neighborhood looks safe and peaceful till now. I call some of the people who speak English as second language how to get prepared like advising them to freeze water in the freezer in zip lock, boil every egg in the fridge to keep them longer than the fresh eggs, to sit or sleep away from windows, and call me if they want to know something; I can tell them what I hear from the mass media. Thank you all and keep praying."
From Jane Goddard in Northborough, MA: "National Grid's recent PR push to rebuild their image and restore faith after last fall's fiasco has failed. It was all a slick marketing strategy. They were sending emails and texts at the beginning of Hurricane Sandy to keep customers informed of how ready they were this time. Big joke. The phone number to report outages is unable to accept customer information, a basic step toward customer satisfaction. I have no faith in National Grid, especially when they are unresponsive to their customers."
From Paul Menyuk in Brookline, MA: "We live far from the ocean and happily did not lose electricity. My grandson Miles who lives with me went 'Storm Walking' with friends to be in the midst of rain and wind. I wish others could say the same."
From Taye Coles in Braddock, PA: "Just outside of the East End of Pittsburgh, rain started early afternoon on Monday and has remained steady & unrelenting through 11 p.m. Most schools, including City of Pittsburgh schools, have cancelled classes & activities for Tuesday. Rain is not expected to begin to let up for the next 12-24 hours. No flooding has been reported yet in Braddock, but emergency crews are ready in Pittsburgh/Allegheny County."
From John Harnish in Lansdowne, PA: "Gusting winds and light rain. Waves on the goldfish pond. Trees still standing up to the winds of Sandy."
From Laura White in Erie, PA: "I'm along the south shore of Lake Erie. Tonight through tomorrow night, we have a Lakeshore Flood Watch, the first in my 51 years of memory. Lake waters are expected to rise at least 3 feet along the shore, with waves of 15 to 20 feet on top of that. Winds are expected to be over 35-40 mph, with gusts up to 70. So, that's how wet we expect to look this far inland."
From Willie Armstrong in Fairfax, VA: "The storm seems to have passed us with only relatively high winds and heavy rain. No power lost as 8 p.m. on Monday."
Some captions and letters have been edited for length and clarity.