Hurricane Sandy wreaked havoc on the East Coast on Monday night, likely driving Halloween far from the minds of those who witnessed its greatest destruction.
But for families who escaped the worst of Sandy's wrath, the question of whether Halloween will go ahead as normal -- and how to celebrate in the midst of power outages and debris-filled streets -- remains.
New Jersey Gov. Chris Christie addressed the issue directly Monday night by tweeting: "If conditions are not safe on Wednesday for Trick or Treating, I will sign an Executive Order rescheduling #Halloween."
(This story has been updated. Scroll down for new information.)
Many communities in New Jersey -- and elsewhere -- are already pushing festivities back until this weekend or next week. "It's only 'trick or treat," Joseph Maturo, the mayor of East Haven, Conn., told the Hartford Courant. "It's not going to hurt anybody to move it to next Wednesday night." (Not everyone agreed; according to WFSB, another Connecticut town's Facebook page encouraged residents to use "discretion" if necessary, but noted: "The town does not control Halloween.")
On HuffPost Parents's Facebook page, several readers said their towns had already postponed celebrations. Commenters from the Cleveland and Pittsburgh areas said they had planned to trick-or-treat this weekend, while one woman from New Jersey wrote that she was waiting on instructions from local officials: "We'll go out trick-or-treating whenever the town says we can."
Another commenter from the hard-hit Atlantic City area wrote: "Yep, it's real down here...but at least thinking about something like this keeps the kids' minds on something fun to look forward to instead of everything else going on."
What should parents who do take their children out on Halloween night be worried about?
In a HuffPost blog, Safe Kids Worldwide CEO Kate Carr said she hopes people in neighborhoods that haven't been cleaned up yet will think of "safety first":
If you're in an area where fallen trees, flooding streets and loose electrical wires threaten to make it difficult or dangerous to trick-or-treat, please don't hesitate to do the smart thing and stay in this Halloween.
Lenore Skenazy of Free Range Kids, who has railed against the unnecessary paranoia she said she thinks some parents already bring to Halloween, told HuffPost she thought downed power lines were a legitimate concern. "Maybe in the face of the real danger that just passed through, we can finally laugh at the ones that we usually scare ourselves with, like the idea that our neighbors become psychopathic child poisoners one day of the year," Skenazy said over email. "From what I've seen, neighbors are the people who bring food and flashlights, not strychnine."
Some children may be feeling fearful of trick-or-treating, even if mom and dad aren't. Heading into the spookiest of holidays on the heels of a threatening natural disaster may take a toll on a young person's psyche.
Jerry Bubrick, senior director of the Child Mind Institute's Anxiety and Mood Disorders Center, spoke to HuffPost about how to help kids who might be worried about trick-or-treating after the storm. He stressed that it's important for parents not to seem nervous about going outside, since kids will note anxiety.
"We should show our kids on the radar maps that [the storm] is gone," Bubrick said, adding that parents could "show kids that it's okay by acting as if everything is okay" and trying to return to a normal routine as soon as possible. (It's a message his 7-year-old daughter, Maya, has internalized; Bubrick said she told him to tell us, "The kids should take a deep breath and just calm down. Everything's going to be okay.")
If you can't get outside for a conventional evening of trick-or-treating, the Internet is brimming with ideas -- some as simple as setting up an in-home candy hunt. Speaking to WSJ.com's The Juggle before the storm, social worker Catherine Pearlman said: "Halloween doesn't have to be just trick or treating in the dark. Everyone should get still get dressed up. ... Parents can also put candy in each room and the kids can run around and get it." On "Good Morning America," psychologist Janet Taylor suggested the same thing.
On TODAY, Elizabeth Mayhew told Savannah Guthrie: "The big question is power. Obviously, you're not going to send your kids into a dark neighborhood. … So you need to check with your town, you need to follow the local news, see what's going on." She told parents to make a "Plan B" -- perhaps getting a group together for "Trunk or Treat" (dispensing candy from the backs of cars) in a local cul-de-sac or making gingerbread house-style structures with extra candy and cardboard boxes.
Gawker also provided a list of activity suggestions (not all entirely practical). Our favorite: "In addition to having just as many hyphens as trick-or-treat, hide-and-seek is also the most fun game -- play it with your children. This is a particularly good activity if your kids are getting a little loud, because a large part of hide-and-seek is remaining neither seen nor heard."
UPDATE: New Jersey Gov. Chris Christie has signed an executive order postponing Halloween festivities in New Jersey until Nov. 5. Gov. Christie said in a statement: "As Governor, it is my responsibility to use all available resources of the state government to protect against the emergency created by Hurricane Sandy -- postponing Halloween celebrations by five days is a commonsense and necessary step to accomplish that."
On Wednesday afternoon, he tweeted, "Its just not safe yet to be out trick-or- treating tonight, so Halloween has officially been postponed until Monday," following up with "I better see you all out there on Monday with your costumes on and candy in tow."
Has Halloween been postponed in your area? If you're staying inside, what are you planning to do? Let us know in the comments below.
Related
Before You Go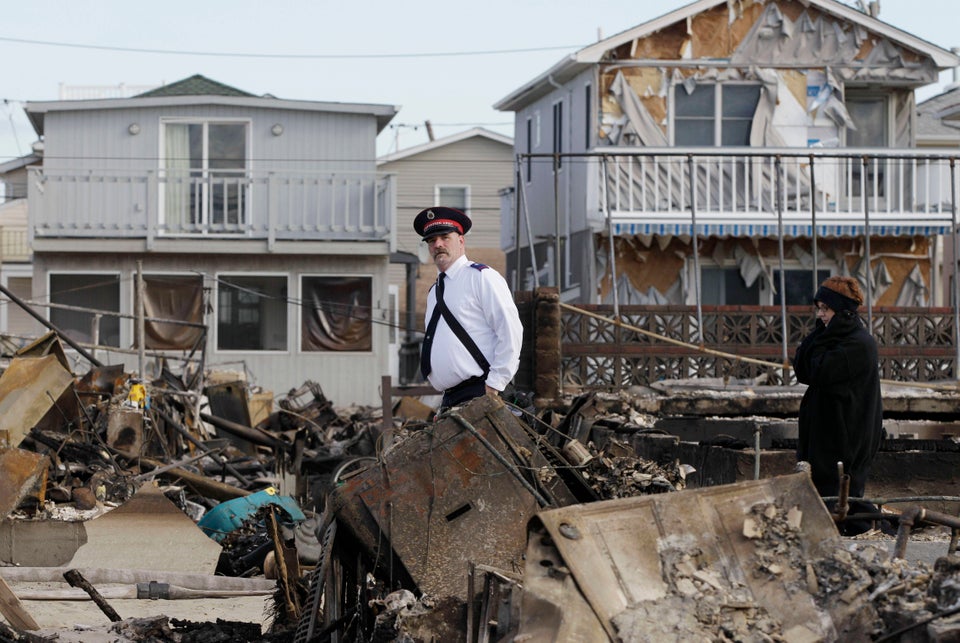 Hurricane Sandy