Parents in New York City are discovering what it ultimately takes to get their 20-something children to come over for a nice quiet evening at home: the prospect of living without power, water or Internet in their own downtown apartments.
With lower Manhattan plunged into darkness by Hurricane Sandy and power still far from being restored, many young New Yorkers are fleeing their homes in hip, downtown neighborhoods and trudging back home to their parents' in search of a flushing toilet, Internet connection and a place to charge their phones.
"When there's nothing to talk about, it becomes 'What else can we bother Arzi about?'" said Arzi Rachman, a freelance PR specialist who has been living with his mother and aunt in Queens since Saturday. "I've been getting a lot of the regular, 'Hey, you're in your mid-20s. What are you doing with your life? Are you married? Why not?'"
"It's a lot of parent time," agreed Chris, who asked to be identified by his first name only and has been staying with his parents at their Upper East Side apartment since his own place 20 blocks south lost power. "They're getting to ask all the questions they don't ask over the phone or email about."
Sophie Robbins, who has been sharing a one-bedroom apartment on the Upper West Side with her parents, brother and three dogs, says the close quarters are creating a "bizarre shift" in her relationship with her parents: As she's gotten older, she's grown accustomed to having a more adult rapport with her mother and father. Since being back at home, however, one moment she's the boss, telling them where to find batteries and guiding them through the city, and the next her mother is telling her to stay away from the window for fear of strong winds.
"I'm either the child or the one in charge," said Robbins. "There's no in-between."
Robbins has alternated between taking care of her parents -- helping them rebook canceled flights, keeping them entertained and calm -- and getting fussed over in a way she hasn't since she was a teen. Before Robbins left for work on Wednesday morning, her mother made her breakfast, told Robbins to change her shoes and fretted over the weight of Robbins bag (her mother's recommendation: take a backpack instead to balance the weight).
"I feel like this is middle school again," said Robbins of her current living situation, noting she had to retreat to her building's fire escape to get some privacy to phone her boyfriend.
The 20-somethings agree one of the biggest perks of living moving back home has been the food.
"I'm never hungry," Rachman said. "My mom has been giving me good home-cooked meals and everything is hot off the stove. This morning, I was like, 'Yeah, I'll take an omelet with turkey, bacon and cheese.'"
The displaced downtowners aren't getting too settled, however.
"As soon as the power goes back on, I'm going to be out of here," Chris said.
*************************
The Huffington Post is eager for insights from our community, especially people with experience in power, infrastructure and engineering, on the adequacy of emergency preparation in advance of Hurricane Sandy, and the degree to which past disasters have informed adequate planning and construction. Please send a note to sandytips@huffingtonpost.com with insights and suggestions for the important questions that need to be asked of relevant private sector and government officials, and point us toward stories that need to be pursued.
Related
Before You Go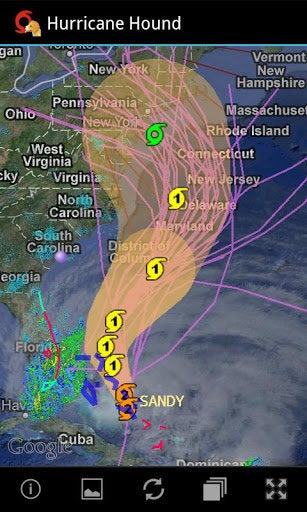 9 Best Storm Tracker Apps