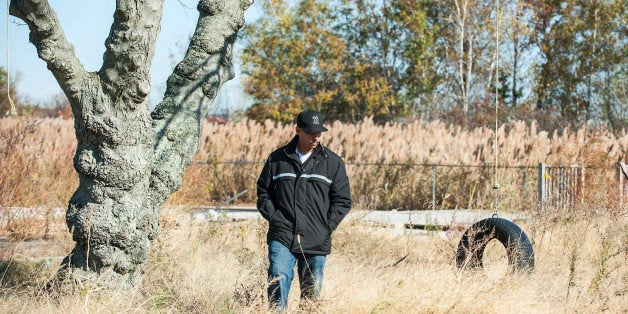 A year after Superstorm Sandy destroyed Pedro Correa's neighborhood on the southeastern shore of Staten Island, he visited what used to be his home. Little remained of the one-story house that he had spent countless hours renovating himself. There was the concrete foundation, a purple tricycle lying on its back on the bottom of the in-ground swimming pool, and a tire swing still hanging from a tree.
All around, feathery blades of marsh grass rustled in the wind. For years, Correa and his neighbors had waged war with those weeds, cutting them back to keep their houses safe from wildfires. Now Correa sort of misses them. "To be honest, when I come here and I'm listening to what I'm listening to now, I still imagine living here," he said. "I love it here."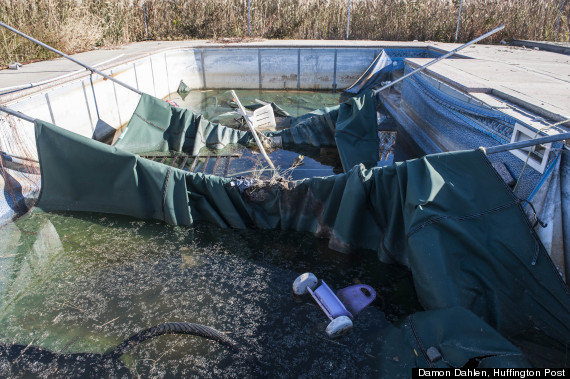 A year after Sandy, a swimming pool is among the only remains of Pedro Correa's home.
Correa acknowledged he's among "the lucky ones." He and the other residents of Staten Island's Oakwood Beach neighborhood recently learned that New York state plans to buy their homes at pre-storm prices, allowing the neighborhood to revert to marshland. In Midland Beach, New Dorp Beach and other Staten Island neighborhoods along the water's edge, people are still paying mortgages on uninhabitable homes.
The state has bought just 400 of the thousands of homes that the storm ruined. State officials told The Associated Press they selected Oakwood Beach for a mass buyout in part because residents began pushing for that solution immediately after the storm. "There's a happy ending to our story," Correa said. "But not everyone is going to get a happy ending."
A year ago, Correa didn't predict that his story would have a happy ending -- or even a bittersweet one. "I just don't see it ending in any way except bankruptcy," he told The Huffington Post a few weeks after the storm.
In an in-depth article last year, The Huffington Post chronicled Correa's harrowing encounter with the sea on the night of the storm, and his family's efforts to restore their lives in the aftermath. On the evening of Oct. 29, Correa and a friend ignored city evacuation orders so they could set up an electric pump in the basement of Correa's house. By the time they realized the storm was going to be the worst they'd ever seen, Correa's car was floating down the street. Correa rode out the storm on the roof of a neighbor's house that had been torn loose by the ocean's surge.
The wave had ripped 13 of the block's 17 homes off their foundations. By the next day, at least 23 people had died on Staten Island, more than half of New York City's total fatalities in the storm.
Like many in New York City's most conservative borough, Correa had little faith in the government's ability to help people recover. But on Monday, he acknowledged that Gov. Andrew Cuomo's Democratic administration had defied his expectations by offering people in Oakwood Beach a fair price for their homes. "Government doesn't always work, and I had a hard time believing it would work here," he said. "But Gov. Cuomo really came through."
Correa and his family never had to file for bankruptcy.
Last year, The Huffington Post spoke with Staten Island residents, political operatives, and academics who argued that the borough's small-government ethos contributed to the storm's destruction. For years, residents of Oakwood Beach had petitioned the federal government to build a wall and other flood barriers, while electing politicians who promised a smaller government and lower taxes. In 2000, the Army Corps of Engineers began investigating the possibility of building a wall to shield Staten Island's most vulnerable neighborhoods from the sort of flooding caused by Sandy. But the study ran out of funding and stalled after a few years.
Work on the study resumed in 2008, but the results still haven't been released. "At what point in time does it become a priority to manage this problem?" said Jonathan Peters, an economist who specializes in local issues at the College of Staten Island, on Monday. "We're sitting here today basically having the same conversation we would have had a year ago, in terms of what's in place to make the community safer. The only thing that makes it safer is that some people have left."
Correa and his wife and two children left for a rental apartment further inland. "We've made it comfortable," he said. "But I say I'm 'staying' there, not 'living' there." He and his wife hope to buy a new home soon.
It won't be the same, he acknowledged. "This was my baby," he said, standing on the concrete slab where his home used to be. "This was my life's work." But there was a drawback to spending every vacation and weekend working on the dream house that he nearly died trying to save. "That was time I didn't spend with my family," he said. "I don't want my legacy to be a house. I want it to be that I'm a father."
CORRECTION: The original article misidentified New York Gov. Andrew Cuomo as his father, Mario Cuomo.
Before You Go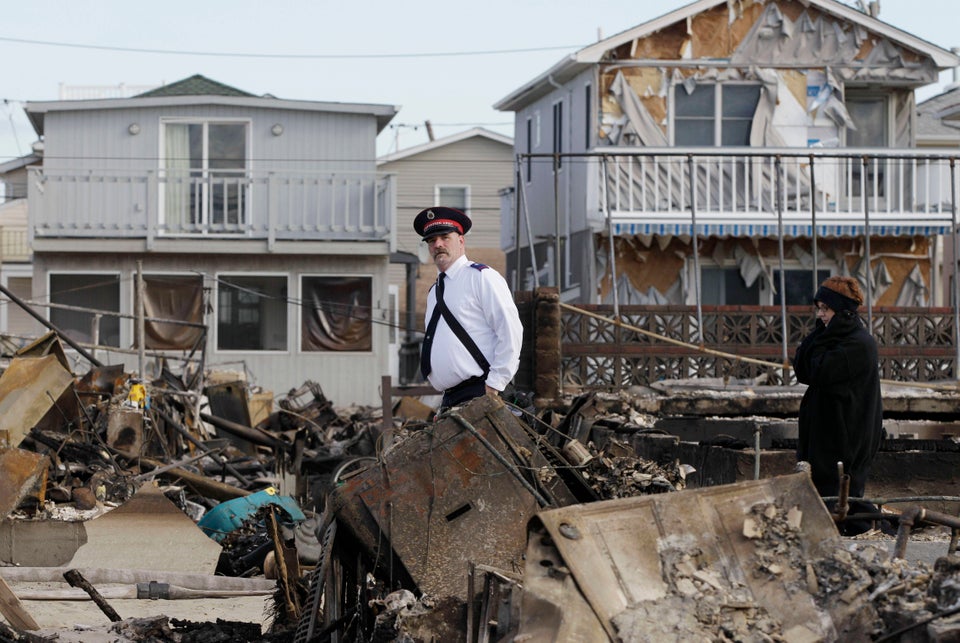 Hurricane Sandy
Popular in the Community