According to Apple's virtual personal assistant Siri, New Yorkers shouldn't be worried about Hurricane Sandy.
In fact, according to Siri, there isn't a hurricane at all.
To be fair, Siri knows there's a storm of some kind. But ask about Hurricane Sandy, and Siri tells you the Hurricanes-Rangers hockey game on Oct. 26 was canceled.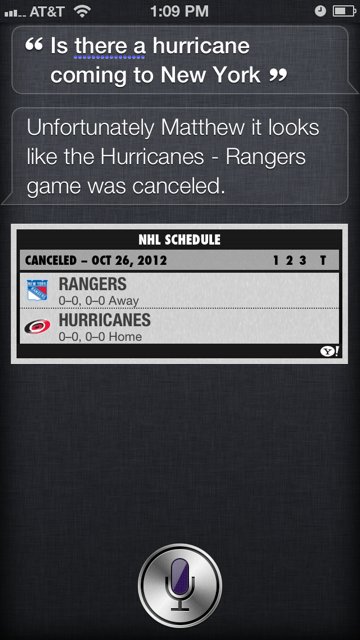 As the East Coast braces for Hurricane Sandy, expected to be the most powerful storm to land north of North Carolina in nearly a century, millions are checking weather reports for updates on the "Frankenstorm." Maps -- of evacuation zones, of weather patterns, of emergency shelters -- are a key resource for people trying to gauge how to prepare for extreme, potentially life-threatening weather conditions that could cripple cities up and down the coast. These maps are also at the heart of Apple's war with Google over services, and once again, Apple is falling short.
Like Siri, Apple Maps offers zero indication that a Category 1 hurricane is barreling toward the coast. Searching Apple Maps on the iPhone for "Hurricane Sandy" turns up the Sandy Gap Church of God in Sumerco, W.Va.
The mobile version of Google Maps is equally unhelpful. Look up Hurricane Sandy using the Google Maps app, and you'll get a list of bars, banks and diners. For New York, neither the Google Maps app nor the Apple Maps app offer any information on evacuation shelters or areas being evacuated.
Samsung's S Voice, the Android version of Siri, is nearly as clueless as her Apple cousin. Is there a storm coming to New York? "I don't have the answer" is S Voice's response, though a more general query about Monday's weather will deliver the news that there is "wind and rain from Sandy," thanks to data from AccuWeather.
Users seeking the latest on the storm via a smartphone are better served with social networking sites. Querying Twitter for "Hurricane Sandy" provides up-to-the-minute information on weather conditions, with links to photos, video, news stories and eyewitness reports.
On the web, however, Google has leveraged its mapping expertise to create an interactive Hurricane Sandy "crisis map," which combines a wealth of information from multiple sources to display everything from weather radar and cloud imagery, to webcam feeds and the location of emergency shelters.
Google's crisis map brings together data from the American Red Cross, National Hurricane Center, YouTube, Weather.com, National Weather Service, U.S. Geological Survey and U.S. Naval Research Laboratory, among other sources. In short, it's the weather channel, local government website and social media all in one -- provided you know to look for it.
And the difference between Google's map resources and Apple's offering couldn't be more stark.
Apple has previously acknowledged that its mapping efforts are a work in progress, and its CEO, Tim Cook, even apologized to Apple customers in September for the shoddiness of its mapping service.
"We launched this new map service knowing it is a major initiative and that we are just getting started with it," an Apple spokeswoman said earlier this year in response to complaints. "Maps is a cloud-based solution and the more people use it, the better it will get. We appreciate all of the customer feedback and are working hard to make the customer experience even better."
The contrast between Apple's resources and Google's offering may point to the former company's more limited ambitions for its mapping service. While Google jumps at the opportunity to provide in-depth data and information during a disaster, perhaps Apple is content to settle for driving directions, at least for the time being.
"As time progressed, we wanted to provide our customers with even better Maps including features such as turn-by-turn directions, voice integration, Flyover and vector-based maps," Cook wrote in his September letter to customers.
Related
Popular in the Community