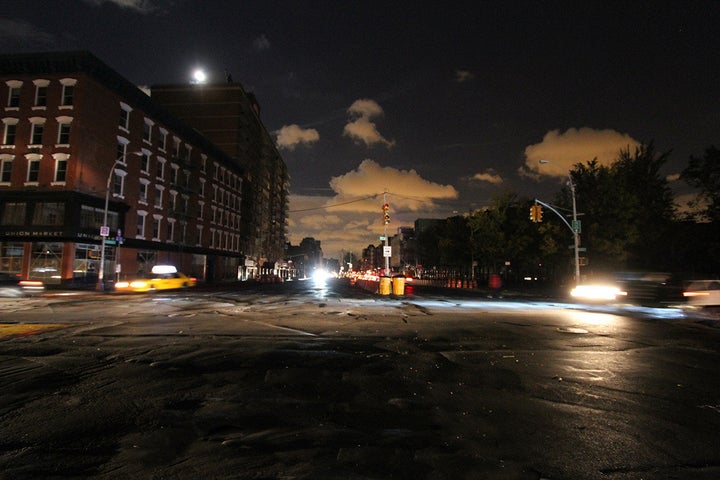 The stars were never brighter in New York City's East Village.
On Halloween night, with nearly all of lower Manhattan suffering from a power outage spurred by Hurricane Sandy, the only light came from the sky or an occasional flashlight. Hotspots like Katz's Deli and Mission Chinese Food stood silent. Streets were empty save for glum locals in sweats emerging from their candlelit dens to buy packs of Parliaments or wildly overpriced batteries at some of the few bodegas that remained open.
"As a girl, I don't feel safe," said Celeste Casillas, a bartender at Casa Mezcal on Orchard Street. "There's no cellphone service. Nothing is open. Even during the day I was nervous."
Inside Casa Mezcal, though, the ambiance was festive. Owner Ignacio Carballido had planned to celebrate Halloween with a Dia De Los Muertos-themed party, so he and several other employees had opened the restaurant and were wearing costumes and masks. As Carballido blasted music from his Mini Cooper parked out front, the group sipped Mezcal amid dozens of candles.
But customers were few and far between -- anyone who wanted to party had gone uptown, said Carballido. Meanwhile, food was rotting in the powerless fridge and none of the restaurant's purveyors had delivered since the weekend. All in all, the storm was costing the restaurant $4,000 a day, Carballido said.
"If the power isn't back on tomorrow, I'm not going to open," said Carbadillio. "It's not worth it."
Usually on Halloween, it's the neighborhoods' rowdy residents who are blackout. But Hurricane Sandy, which sent 14 feet of seawater into New York Harbor on Monday, has severed many of the city's main arteries of commerce. While other parts of Manhattan are slowly regaining power, water, and public transportation, in the East Village (a former immigrant neighborhood that is home to one of the highest concentration of bars in the city), the disaster was just beginning for some small-business owners.
"It's tragic," said Andrew Rigie, executive director of the New York City Hospitality Alliance, a trade organization of restaurant, bars and hotels. "I am concerned some people will go out of business."
The profit margin at a restaurant that has to pay upwards of $10,000 in rent a month, as some in the East Village do, can be slim. According to Rigie, adding spoiled inventory, lost business and property damage to the mix will be untenable for some business owners, even with insurance reimbursements and disaster relief loans from the city.
But on Halloween night, some people found ways to lighten the mood. Austrian restaurant Edi and the Wolf on pitch-black Avenue C hosted a small party for friends of owner Eduard Frauneder. Partygoers carried bottles of wine up from the basement, (and also drank quite a few of them). The basement of the restaurant was entirely flooded during the storm, causing about $100,000 in damage, one of Frauneder's friends, who was at the restaurant to help with the clean-up effort, estimated.
The area west of Avenue C, which had not flooded, was slightly more lively. One restaurant on Avenue A, Mini Thai Cafe, had managed to power lights using cords attached to a van parked out front, luring patrons with the promise of electricity. Most other restaurants and bars were operating, if at all, by candlelight.
A chalk board outside SideWalk, a bar across the street from Mini Thai Cafe, was advertising a "blackout party," attracting a few customers. The manager, Kyle Balestrieri, said he hoped staying open in the storm would give the bar a chance to improve its image by helping the community.
"There's nothing for people to do," said Balestrieri. "I guess they figure they might as well be drinking."
At one point, a large crowd of revelers dressed in costumes -- as almost no one else was -- strode by SideWalk. Christopher Hardwick, the most bedazzled among them in faux fur and rainbow glowsticks, explained that they'd led the nominally cancelled Halloween parade in the West Village earlier in the evening. Bartender Sasha Charoensub shouted "$5 beer with a shot! Half off drafts!" in a bid to get them to come inside. The group continued on in search of a better party.
But to find one, they'd have to walk a long way.
Unlike most nights, the real ragers could mostly be found uptown. At the Carlyle Hotel 70 blocks north, the usually sedate Bemelman's Bar was filled with 20-somethings in leather jackets throwing back vodka tonics -- a far cry from the crowd of silver-haired Manhattan-drinkers the bar normally attracts.
"We've never had a night like this in the 32 years I've worked here," said Mario Kucic, a cocktail waiter. "There are 100 percent more people." Kucic compared the night to New Year's Eve.
"This is the first time any of us have gone out uptown since high school," said freelance brand consultant Adam Starkman, who graduated several years ago from the Ramaz School a few blocks away.
At 1 a.m., the bar announced last call -- far earlier than the revelers had come to expect. "We have to cut it off somewhere," one bartender said, as he closed the liquor cabinets.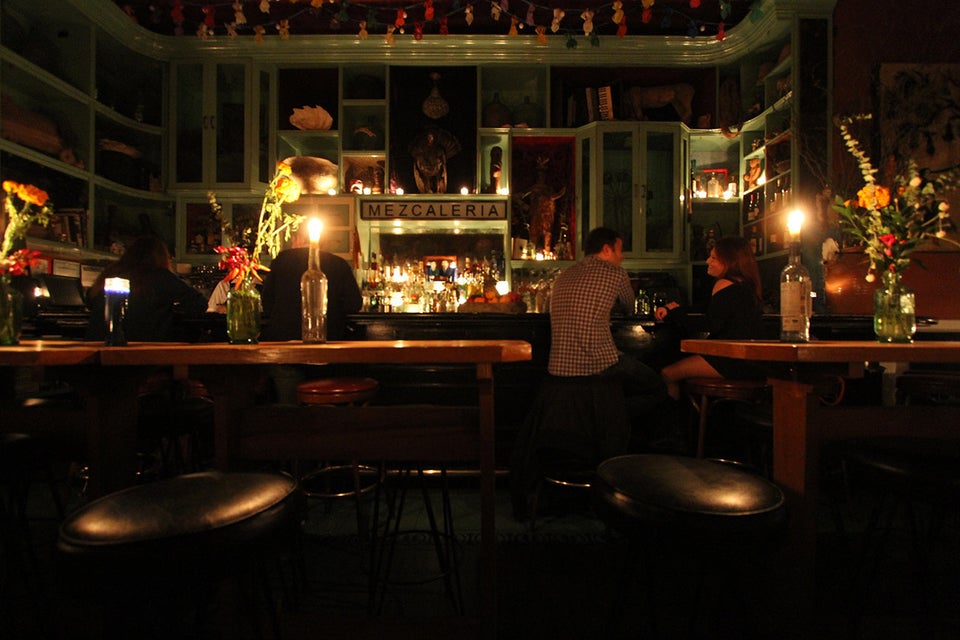 Manhattan's Bars And Restaurants After Hurricane Sandy
Popular in the Community