 * Romney cancels Virginia event, Obama monitoring storm
* Blackouts could disrupt early voting
* Millions of Americans brace for "Frankenstorm"
WASHINGTON, Oct 26 (Reuters) - Hurricane Sandy threw a wrench into the last hectic days of the U.S. presidential campaign on Friday, as the threat of torrential rains and strong winds over much of the eastern half of the country put both candidates' camps on high alert.
Republican challenger Mitt Romney canceled a rally scheduled for Sunday evening in Virginia Beach, along the state's southeast coast, an aide said.
President Barack Obama's re-election campaign announced that Vice President Joe Biden cancelled a trip to Virginia Beach on Saturday to ensure that local resources could be focused on ensuring the safety of those who might be affected by the storm.
Ahead of Election Day on Nov. 6, millions of Americans are taking advantage of early voting schemes to cast their ballots. State officials said they had contingency plans in case Sandy caused extended power outages or other problems that could disrupt voting.
Maryland, which declared a state of emergency, said Sandy could affect early voting, which was scheduled for Saturday through Thursday.
Forecasters projected that Sandy would be nearing the Virginia coast by Sunday night. Its projected path into the densely populated East Coast could cause flooding and power blackouts affecting millions of Americans.
The late season hurricane, hundreds of miles (kilometers) from the South Carolina coast on Friday, was already merging with a polar air mass that could spawn a "super storm" affecting the eastern United States. Sandy has already killed more than 30 people on a trail of destruction through the Caribbean.

Holding raucous rallies while millions of Americans suffer through a natural disaster is difficult for any candidate.
Obama also must ensure that his administration's response to the potential crisis does not draw criticism. His Republican predecessor, George W. Bush, was hit hard by his administration's poor handling of Hurricane Katrina, which devastated New Orleans in 2005.
But disasters can give the president and other incumbents opportunities to remind voters that they stand with the victims of natural disasters.
For Democrats in particular, an effective government response to a crisis also helps counteract Republican contentions that "big government" is bad for America.
"The campaign is closely monitoring the storm and will take all necessary precautions to make sure our staff and volunteers are safe," Adam Fetcher, a spokesman for Obama's re-election campaign, said in an emailed statement.
Romney was still scheduled to hold two campaign events earlier on Sunday in Virginia, one of the states in Sandy's projected path where polls show a close presidential race.
Virginia's Republican governor, Bob McDonnell, declared a state of emergency on Friday, urging residents to prepare for the storm. Washington, D.C., is also in Sandy's projected path.
Obama was flying to New Hampshire to campaign on Saturday. His campaign schedule for Monday includes a stop in Prince William County, Virginia, with former President Bill Clinton. That rally could be affected if Sandy hits the state.

The storm - already dubbed "Frankenstorm" by some weather watchers because it combines elements of a tropical cyclone and a winter storm - poses many practical problems for candidates.
Travel plans could be disrupted as contenders hop from city to city in the last frantic days before the election. Campaigns are also unlikely to get as much news coverage when local television and radio stations devote time to weather coverage.
And millions of dollars in television advertisements - already paid for - will go unseen if voters in the crucial swing states are left without power for days.
Election officials said they would do everything possible to ensure that voting goes on, even if problems from the storm persisted until Nov. 6.
"I have heard from some states like Virginia and Maryland that they are definitely working on contingency plans for problems that may arise as a result of the storm," said Kay Stimson, communications director for the National Association of Secretaries of State.
"They are always preparing for any kinds of problems, any thing that could arise that could potentially pose problems for elections," she said.
The rules for rescheduling voting in case of bad weather vary from state to state.
Virginia election officials said they were monitoring the situation and encouraging in-person absentee voting - the form of early voting allowed in the state - to continue as long as conditions remained safe.
In heavily Democratic Maryland, which Obama is expected to carry easily, the state of emergency declared by Governor Martin O'Malley would allow for changes, if necessary, including the postponement of the election in all or part of the state.

Before You Go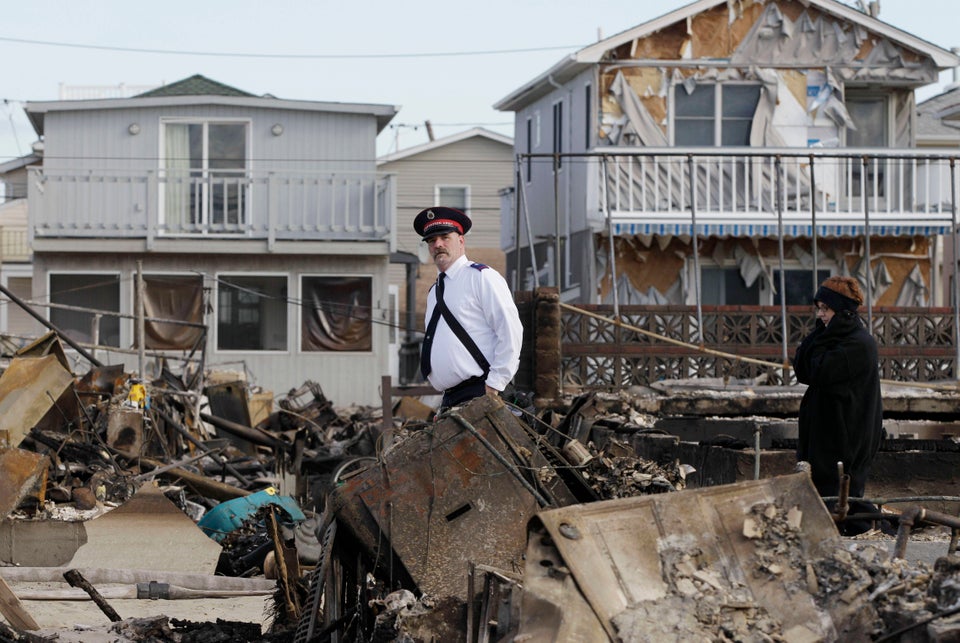 Hurricane Sandy
Popular in the Community