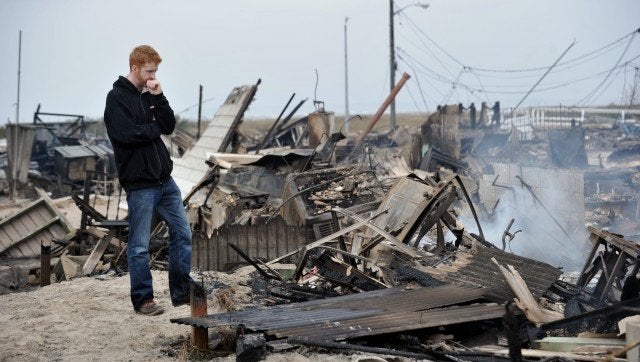 Listening to news reports Tuesday about the widespread destruction from Hurricane Sandy, Scott Holmquist first reacted with shock at the disaster that had ravaged cities throughout the east coast. He said a prayer, thanking God that he was safely out of harm's way at his home in Asheville, N.C. And then he did something that would puzzle many Americans: he packed his bags and Bibles, hopped in a van with two fellow Christians and drove north all day with the goal of making it to the badly damaged New Jersey coast by the next morning.
Their aim: to assist victims in everything from clearing debris and mud from homes to getting food and, more uniquely, sharing the gospel of Jesus Christ to comfort the spiritually afflicted.
"Having been the recipient of so much in my life, I just feel like God is putting a care for others into our hearts," said Holmquist, 55, one of three teams of chaplains from the Billy Graham Rapid Response Team that have been dispatched from North Carolina to the northeast. "To be a part of that emotional and spiritual care in other peoples lives who have been devastated by this hurricane and now bigger-than-hurricane aftermath, it's so important."
As a wide swath of the eastern seaboard begins to recover from what's estimated to be at least $20 billion in hurricane-related damages, the help is pouring in. Federal recovery dollars are being funneled to state agencies, nonprofits are accepting donations, first responders are caring for the injured and neighbors are helping neighbors. But on top of that, people of faith -- locals and non-locals alike -- are slowly trickling into affected neighborhoods, offering aid of their own kind. Some groups, such as in the one Holmquist is in, aim to not only tend to the physical damage, but the spiritual pain, as well. Others, such as Islamic Relief U.S.A., which has set up shelters New Brunswick, N.J., and the Church of Jesus Christ of Latter-day Saints, which maintains food storehouses across the U.S., are motivated by faith but keep their services secular. Other faith-based organizations, such as the Jewish Federations of North America and Catholic Charities, both which have offices in cities across the U.S., have launched large-scale efforts to solicit donations for disaster relif.
For Holmquist, who was trained as a chaplain five years ago by the organization that is run by Franklin Graham, Billy Graham's son, this is his second time he has rushed to help after a national tragedy. After the devastating movie theater shooting earlier this year in Aurora, Colo., he and his team were on site to pray with victims. About 10 chaplains from the organization plan to set up camp in New Jersey and Pennsylvania this week, with more possibly on their way. They'll meet with workers from Samaritan's Purse, a disaster relief organization Franklin Graham also runs.
"Sadly, it seems that the worst fears were realized and millions of people are now hurting as a result of Hurricane Sandy. I'm not sure that there are words that can adequately describe the enormity of this massive disaster," said Jack Munday, international director of the Billy Graham Rapid Response Team, who is also being deployed to his childhood home of Cape May, N.J. "We'll do all we can in the face of this catastrophe to offer emotional and spiritual care and the hope and compassion of Jesus Christ."
With natural disasters often come prayer gatherings and faith-based charity efforts. After all, one of the best-known relief organizations, the Salvation Army, is also a Christian denomination. But in places such as New York City, where entire neighborhoods have flooded and public transit has been shuttered, so too have many churches that would normally offer a helping hand. Trinity Wall Street, a large and popular Episcopal church in downtown Manhattan that also runs a senior citizens' housing center, remained closed Tuesday. The Interchurch Center on the city's Upper West Side, where more than a dozen faith-based organizations maintain offices, has also temporarily shut its doors. World Vision, an international Christian relief organization that had kept hundreds of food and hygiene kits for storm survivors in its Bronx storage space, found its supplies flooded on Tuesday. The organization is now shipping supplies to the East Coast from Dallas.
Smaller houses of worship in less-damaged New York neighborhoods and other cities have opened to offer food and shelter to those in need. And groups such as the North American Mission Board, the missionary and aid arm of the Southern Baptist Convention, are also readying relief workers.
"We have dozens of chaplains getting ready to be deployed," said Mike Ebert, a spokesman for the missionary organization, which has set up a temporary command center in Harrisburg, Penn. "We believe first you need to meet the physical needs of people, but we also feel that in a crisis like this, there is a spiritual element, there is definitely an emotional element. These chaplains are there to council and encourage and take that faith aspect along into the disaster setting."
Ebert said the chaplains, all Southern Baptists, will assist people regardless of their religious beliefs and only offer spiritual services if victims request it. His organization has a separate group of relief workers who are being deployed based on recommendations from FEMA, the Red Cross and Salvation Army.
Munday, of the Billy Graham Rapid Response Team, said his chaplains will similarly offer help to people regardless of religious background, and do not aim to "force our beliefs" upon anyone. But he added that during difficult situations, people often question "why God would do this" and that profound "experiences of conversation aren't unusual."
For the latest on ways you can help, in person or through donations, on local and state levels, read the liveblog below.
Related
Before You Go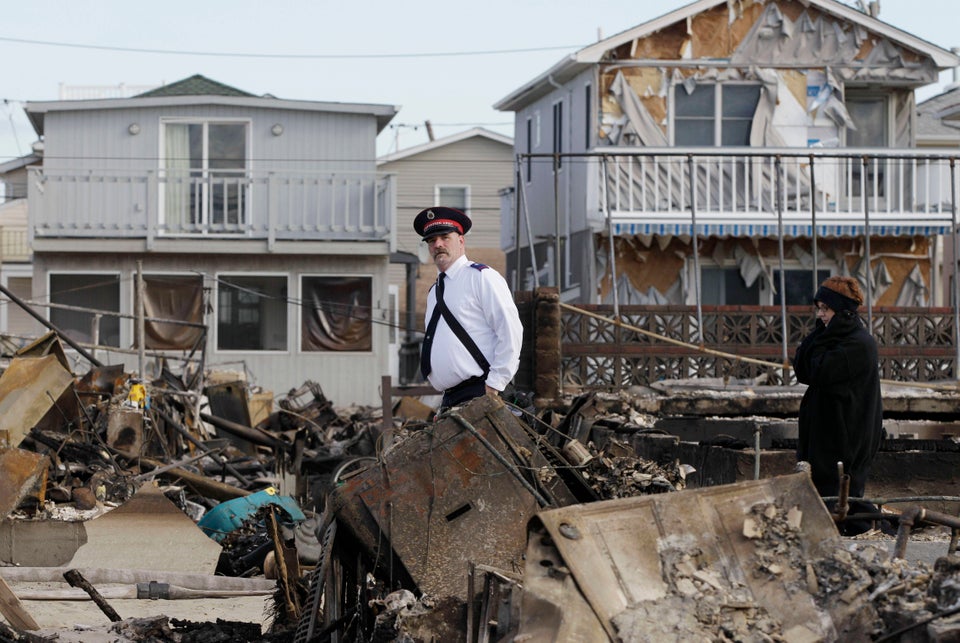 Hurricane Sandy
Popular in the Community