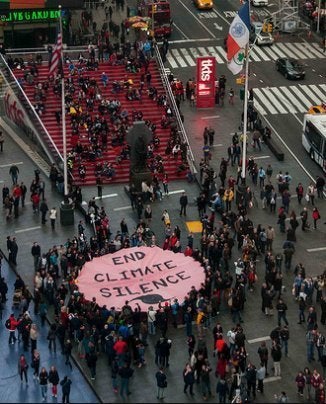 NEW YORK -- A group of climate change activists braved the calm before the storm on Sunday afternoon to rally in New York City's Times Square.
Leading environmental activist organization 350.org organized the event, "Connect the Dots between Extreme Weather and Climate Change," in less than 48 hours, according to Phil Aroneanu, the group's co-founder and U.S. campaign director.
"We've never really done anything like this before, but climate change hasn't really reared its head in this kind of way before," Aroneanu told The Huffington Post. "Even though you can't attribute every storm to climate change, the average of 5-degree warmer oceans have created so much more vapor for the storm to pick up and dump on NYC and Boston."
As New York's subways, trains and buses prepared to shut down on Sunday night, and hundreds of thousands of New Yorkers geared up to evacuate the city, close to 100 activists, 350.org supporters and passersby held a banner emblazoned with the words "End Climate Silence," clear enough to be legible from Times Square's surrounding skyscrapers.
Aroneanu said that, among other things, the banner is a nod to the lack of attention climate change has received in this year's presidential election season. For the first time in a generation, the issue of climate change was not specifically raised in a presidential debate.
"It's frustrating especially from the president. Just yesterday on his MTV appearance, he spoke about climate change, so he knows young people care about it in particular," Aroneanu said. "But as a leader, even though Americans don't want to hear about it, he's got to speak truth."
Although 350.org leaders stressed that their first priority is for everyone to stay safe during the storm, Aroneanu said it should also been as an opportunity to discuss climate change, which he said will bring more extreme weather in the coming years.
"It's come to the point now where it just seems crazy not to connect the dots here," he said.
In a statement, 350.org president and best-selling author Bill McKibben said meteorologists have called Sandy "the biggest storm ever to hit the U.S. mainland, which is a reminder of how odd our weather has been in this hottest year in American history."
Meteorologists have pointed to warmer ocean temperatures as a key factor in the power and speed of recent storms, including last year's Hurricane Irene. The National Climatic Data Center concluded that September 2012's ocean temperatures were tied with 2005 temperatures for the warmest in history.
Related
Popular in the Community