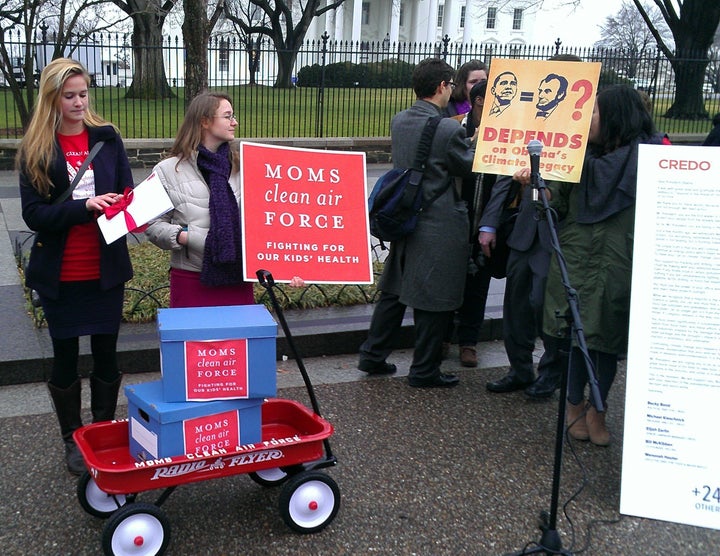 WASHINGTON -- Hurricane Sandy survivors and environmental advocates met in front of the White House on Monday to demand action from President Barack Obama on climate change ahead of his State of the Union address.
"We're here to deliver over 280,000 signatures to President Obama asking for climate action now," said Brad Johnson, campaign manager for the environmental group Forecast the Facts, which, along with 350.org, CREDO and Moms Clean Air Force, helped gather signatures and put together the demonstration. Approximately 15 people showed up on the gloomy, wet Monday.
"The president needs to make it clear he recognizes the need for action on climate change in the State of the Union address [on Tuesday], and the clearest way to start is rejecting [the] Keystone XL [pipeline] and rebuilding New York and New Jersey," Johnson added.
Johnson attracted attention in November when he stood up and protested White House Senior Adviser Valerie Jarrett's speech at the progressive RootsCamp conference. After his disruption, Jarrett spoke with Johnson and promised him a meeting at the White House on the issue of climate change.
That meeting happened on Monday after the protest. Johnson and a small group of Sandy survivors sat down with Sandy Recovery Task Force officials and representatives from the White House Council on Environmental Quality.
"It was a great opportunity for survivors of Sandy to directly tell White House officials of their communities' ongoing struggle to survive and President Obama's responsibility to lead on climate change. The officials there were respectful, but we won't know the results until the White House acts," said Johnson after the meeting.
Protesters on Monday held signs suggesting that any similarity between Obama and Abraham Lincoln will rest on "Obama's climate legacy." Two advocates displayed Valentine's Day cards written by children affected by Hurricane Sandy asking the president to act. "I love the earth," read one of the valentines. Others held a large placard with the text of a letter signed by hundreds of thousands calling for action on climate change.
Alyssa Durnien, 35, of Keansburg, N.J., said she had lost everything she owned in Sandy. She has worked as a volunteer with Occupy Sandy New Jersey since the hurricane struck in October, while her own home has not been fully repaired yet.
"There was six feet of water in my house. I have been sick because of the damages done in my area," said Durnien. "My message to Obama is instead of flying over my community, I'd like him to put on a pair of boots and see what we're living in every day. See the people that don't have power, don't have electricity or don't have access to food to put on their plate. ... Help make it easier for us."
Obama invigorated environmentalists in January last year when he denied a permit for the Keystone XL pipeline, which would run from tar sands fields in Alberta, Canada, to the Texas Gulf Coast, and instead called for further analysis of the proposed project. But the president has also been criticized by members of the environmental community for not doing enough to prevent climate change.
Bill McKibben, cofounder of 350.org, recently chided Obama for campaigning "from an air-conditioned bubble" and "declaring his love for an 'all-of-the-above' energy policy, where apparently oil and natural gas were exactly as virtuous as sun and wind."
Malisa Rivera, 40, of Far Rockaway, N.Y. -- one of the areas hardest hit by Hurricane Sandy -- wondered where the government funds were to help restore her community and protect it against future disaster.
"There's talk of dunes and jetties for the shorefront. We need more than that. That's a good start, but we need more courses of action, more strategy, more plants to be able to keep the Rockaways safe," said Rivera.
Heather Kramer, 28, who also lives in Rockaway, was forced to move out of her apartment after Hurricane Sandy and has spent the subsequent months on friends' couches. Kramer finally found a new apartment only "five days ago" -- more than three months since Sandy rocked New York City.
Despite the devastation she has seen, Kramer is optimistic that climate change legislation will be fruitful. "I have hope in the president and his decision-making opportunities," she said.
Kramer added that she also has faith in her community: "Rockaway is strong and Rockaway has withstood a lot. They will continue to trudge forward despite gentrification, despite Hurricane Sandy, despite anything that chooses to come its way. It's a powerful community."
Amanda Terkel contributed reporting.
Calling all HuffPost superfans!
Sign up for membership to become a founding member and help shape HuffPost's next chapter
BEFORE YOU GO
PHOTO GALLERY
Hurricane Sandy