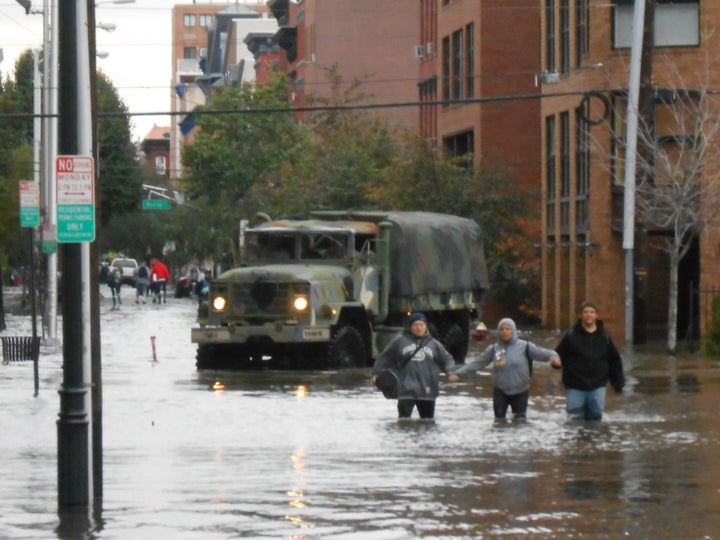 "Historic." "Unprecedented." "Frankenstorm." All these words were used to describe Hurricane Sandy before she hit the East Coast. Unfortunately, Sandy lived up to those predictions: The devastation in New York, New Jersey and several other states was astounding. The storm took 55 lives in the U.S., and initial estimates of damages and losses run in the range of $30 to $50 billion.
And cities and towns aren't the only places that got hit hard. According to the National Wildlife Refuge Association, heavy rains and winds caused massive flooding and erosion, and extensive environmental damage on 40 refuges. Some of these refuges are habitat for endangered species such as the Delmarva fox squirrel and piping plover. Coastal refuges that are vital stopover points for migratory birds, such as Cape May in New Jersey, Prime Hook National Wildlife Refuge in Delaware, and many others, will have to strain their already-meager budgets to address the damage caused by this powerful storm.
Researchers have found evidence of a link between global climate change effects and increasing frequency of extreme weather. Continued silence from our elected officials is adding up to a tidal wave of economic and environmental loss in the wake of events such as Sandy.
Opponents of climate change action often cite the cost of breaking our addiction to fossil fuels. But if left unaddressed, climate change only promises to be a bigger budget buster down the road. It's not like Sandy was the first weather disaster this year. The 2012 drought that had the U.S. in a stranglehold this summer has increased the price of corn and beef, and pork, poultry and milk prices are expected to rise as well. Already the drought has cost the U.S. economy $12 billion.
The western United States also suffered through an onslaught of wildfires this summer: Over 3.6 million acres were burned in August alone. In Colorado, the wildfires this summer have caused an estimated $450 million in personal property damage so far. Our national forests and refuges suffered damage as well: The Little Sand Fire burned nearly 25,000 acres of land in the San Juan National Forest in southern Colorado.
Record heat in late June fueled an unusually powerful storm system called a "derecho," which tore across seven states with up to 80 mph winds. Damages and losses from the ensuing power outages were estimated at $600 million in Maryland alone. In August, Hurricane Isaac flooded Louisiana and at one point almost half the state was without power.
This isn't the first year that extreme weather has racked up the costs, either. As shown in Defenders' Harnessing Nature report, flooding in the Midwest in 2011 cost an estimated $3 billion to $4 billion. And back in 2005, the Fish and Wildlife Service reported habitat stabilization and monitoring costs totaling $96.7 million in the wake of Hurricane Katrina.
Yet, somehow, most of our elected officials continue to remain silent on climate change. In fact, this year was the first time since 1984 that climate change was not even mentioned in the presidential debates. And while climate silence reigns, the planet warms. Year after year, extreme weather slams communities and wildlife habitat across the globe. Since 1980, the number of extreme weather events in the United States has steadily increased. Our economy, strained by the recession, must also shoulder the burden of rescue, repair and insurance costs, not to mention lost revenue from extended business closures. How can we stop the cash hemorrhage that occurs in the wake of these disasters?
First, we need to bring climate change back to the forefront of the national conversation, and second, we need to take action. If we continue to sit on our hands, these events will only continue to occur. By acknowledging the effects of climate change and implementing strategies to reduce emissions and prepare for extreme weather, we can cut costs in innovative ways.
Taking care of our water sources. Assessments project that temperatures in the New York City area will increase by 4 to 7.5 degrees Fahrenheit by 2080, reducing water levels through faster evaporation. In preparation for this future stress on the water supply, NYC began expanding and protecting its watershed in 1993 through land acquisitions, lake and stream management, and working with farms to prevent runoff. This resulted in better habitat for wildlife and saved the city $6 to $8 billion in filtration costs.
Small burns prevent big problems. Fire management is a great example of how taking action now prevents disaster further down the line. Removing underbrush and conducting small, prescribed fires creates healthier forests and helps reduce the potential for huge blazes, and the massive cost of fighting them, evacuating communities and rebuilding.

A soft approach to flood control. Ecological engineering helps protect our communities while enhancing our environment. At Texas' Loyola beach, Texas A&M University researchers used soft fiber matting and vegetation to control erosion at one-third of the cost of a concrete seawall. This approach has allowed vegetation to take hold and help stabilize shorelines, providing more natural flood protection over time and habitat for wildlife. As hurricanes like Sandy become more frequent, flood control could become the most vital aspect of coastal infrastructure.
Ultimately, the only way to reduce the costly occurrence of extreme weather is to use renewable energy sources instead of fossil fuels and reduce the amount of carbon dioxide in our atmosphere. Until we do that, violent weather events will continue, and likely will become even more frequent. There are ways to cope with the effects and avoid costly damage to our homes and communities and our wildlife and precious natural resources, but until our leaders start talking about our climate and pass legislation for real change, we're stuck footing the bill for yet another catastrophe.
REAL LIFE. REAL NEWS. REAL VOICES.
Help us tell more of the stories that matter from voices that too often remain unheard.