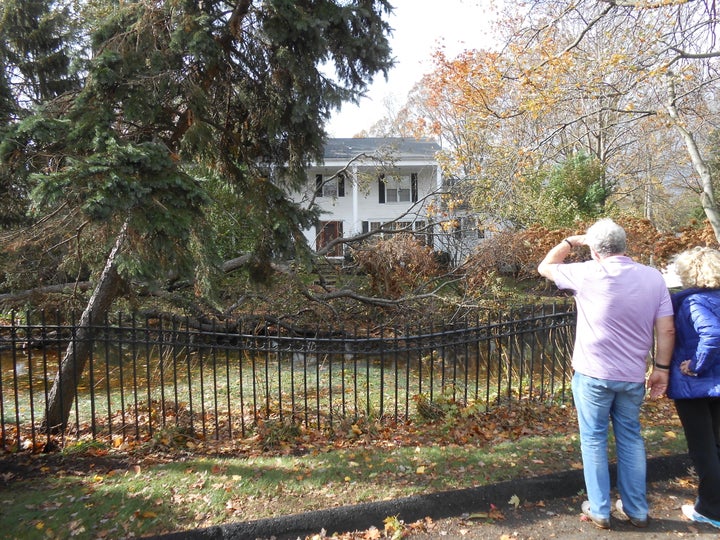 Connecticut awoke Tuesday to a mess of tangled trees and submerged roads in coastal areas, leaving more than a half-million households without power across the state.
The floodwaters from Long Island Sound filled basements and crept into some homes in low-lying areas, but the surge appeared to spare homes closest to the coast from catastrophic structural damage. Many waterfront homes sit behind behind fortified seawalls or are built on higher ground.
Flooding and fallen trees overnight rendered many roads impassable. Streets closest to the water in towns such as Fairfield, Westport and Norwalk remained submerged. Residents and police were using pontoon boats to check on residents.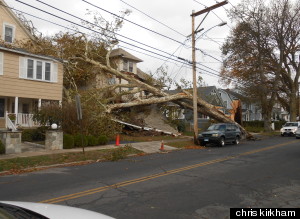 A downed tree crushes part of a home in Bridgeport, Conn.
In a morning press conference, Gov. Dannel Malloy said more than 630,000 utility customers were without power in the state, and he confirmed two deaths that resulted from Sandy, including a firefighter in Easton who was killed by a falling tree limb Monday evening. Malloy estimated Monday night that "thousands" might be in homes surrounded by floodwaters, but by early Monday he said he believed that rescuers had reached everyone in need, according to the Hartford Courant.
Nonetheless, Sandy left huge headaches for towns contending with a maze of downed trees that damaged homes and choked off neighborhoods.
Near the waterfront in Bridgeport, Rodney Manns walked along mud-caked streets, surveying the damage to his father-in-law's house near the waterfront. The floodwaters ruined the basement and nearly crept into the first floor.
Still, Manns said the flood didn't surpass what he saw last year during Hurricane Irene.
"It's about the same," Manns said. "That doesn't mean it's good, but the water didn't come up any higher than last year."
His father-in-law, Jesse Cox, isn't looking forward to a second round of cleaning and haggling with insurance companies.
"They want me to pay my money on time," Cox said, referring to his insurance company, "but when it comes time for them to pay, they drag their feet."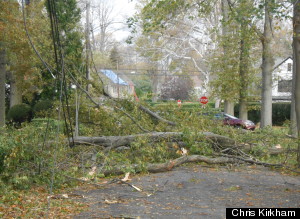 A mess of tangled trees and power lines renders roads impassable in Bridgeport, Conn.
Onlookers were eager to check out beachfront and coastal areas, where massive whitecaps still crashed into rocky shores. But many neighborhoods in Fairfield, Norwalk and Westport remained off-limits, with many streets still inundated with water mid-day Tuesday.
Throughout coastal Connecticut towns, the whirring of generators and chainsaws filled the air, as residents got to work pumping water out of basements and hacking apart massive oak trees that came down in every direction.
Driving through Fairfield and Westport was like navigating an obstacle course. Huge downed trees blocked streets in every direction, and power lines were strewn across roadways.
Harv and Lynne Schuster returned from an overnight stay at a hotel in Greenwich to check out their home in Westport. But they were essentially marooned: three enormous fallen oak trees cut off their street, and water from a tidal pond behind their home had created a moat in front of the house. Electrical wires sat exposed in the water.
"This is like a war zone," Lynne Schuster said. "What are we gonna do now?"
Related
Before You Go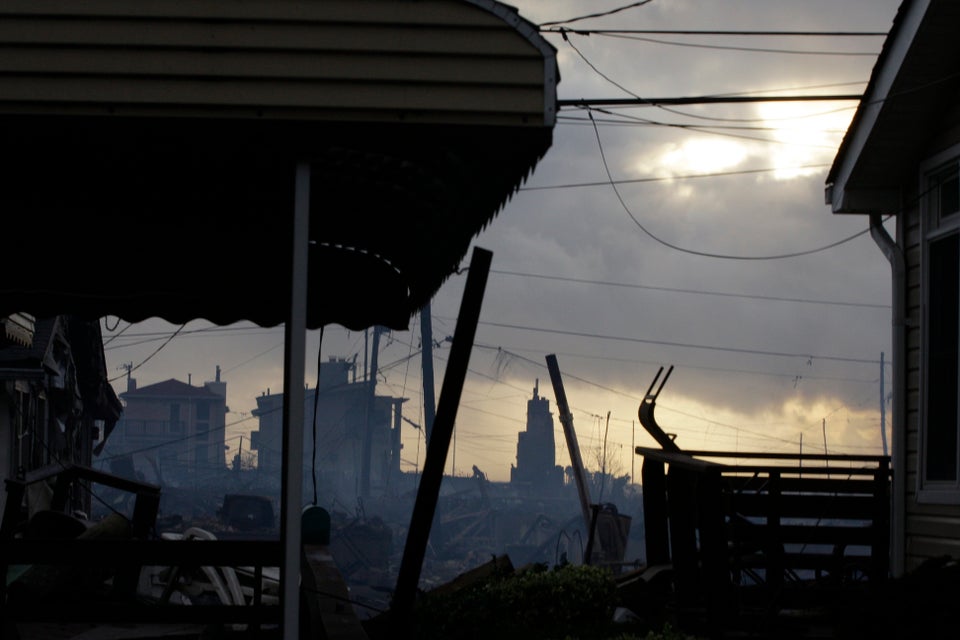 Hurricane Sandy New York City Photos
Popular in the Community