 Thousands of truckloads of food that were headed for stores in the Northeast are stuck on roadsides and in warehouses following the crippling blow Hurricane Sandy dealt to the nation's food distribution system.
Though the system is struggling in the face of uncertainty, no one who spoke to HuffPost on Tuesday was concerned about short-term food shortages or a storm-related increase in prices across the region. Still, the hurricane demonstrates just how complex and vulnerable the networks are that deliver America's food supply.
"I've got thousands of trucks that are sitting on the East Coast," said Ed Chouinard of Perishable Distribution Solutions (PDS), a nationwide network of meat and perishable cargo delivery trucks based in Chicago. "For our clients, it's almost entirely a question of whether or not they have power, and right now we're calling around everywhere [in New York and New Jersey] and no one's open."
Experts and food distributors declined on Tuesday to speculate on the impact Sandy might have on food industry bottom lines, noting that suppliers had ample warning about the coming storm and price gouging on staples like food is illegal. Nonetheless, they were eager to see supply lines return to normal.
Chouinard said his company typically delivers New York-bound meat to two wholesale meat markets, the Hunts Point Market and the Brooklyn Market -- neither of which had restored power on Tuesday.
"I gotta make a decision this afternoon about whether my drivers should leave Chicago with today's shipment," Chouinard said, "but I don't think we're going to be shipping today. We'll reassess later in the week."
For residents in some of the most devastated areas, like the Jersey Shore and parts of Queens, N.Y., the PDS meat delivery interruption is just one in a series of food deliveries stalled by the storm, many of which were bound for supermarkets and restaurants that have yet to reopen. Preparations made before the storm, however, mean there is little chance of an outright food shortage, Chouinard said.
"Most of the grocery stores will have a lot of inventory and backup generators," said Chouinard. "Most warehouses have one or two weeks worth of inventory. But people don't shop much for food if they've got no power. There's more likely to be a surge in demand when the power comes back on, because then everyone's restocking. But there won't be a shortage."
New York City had reopened some of its bridges by Wednesday afternoon, though the Holland and Hugh Carey Tunnels remained closed, according to the New York Department of Transportation. Many sections of lower Manhattan remained without power, leaving stores and restaurants unable to safely store food -- even if trucks managed to deliver it.
In New Jersey, parts of many major highways remained closed on Tuesday afternoon. At one section of the New Jersey Turnpike near the hard-hit Jersey Shore, entire railroad cars had even been swept onto the highway by the storm surge. Two and a half million people -- or 62 percent of the state -- lost power during the storm. The storm's effect in the Garden State was also evident in the number of supermarkets forced to close during the storm -- the popular regional chain ShopRite listed 97 locations in New Jersey that closed due to the storm. By late Tuesday, some had reopened, including a ShopRite in Garwood, N.J. According to Westfield, N.J. resident Sara Soriente, the store was open "and stocked with not just food, but also ice and firewood."
Large-scale road closures greatly impact food distribution systems, said Charley Wilson, VP of corporate communications at major food distributor Sysco. The company, which supplies products mainly to healthcare facilities, restaurants and schools, has been working around the clock to prepare clients for the storm, Wilson said, "to make sure they had enough staples in advance. You hope that holds them until we can get back on the roads."
Wilson said dangerous road conditions, not power outages, were the biggest hindrance to Sysco deliveries in the tri-state area on Tuesday. "As soon as we've been given the signal that there's safe passage and flooding is receding, we'll begin the process of getting food to our partners whether they have power or not," he said. He added that the company has been working closely with disaster relief agencies, "to make sure we're some of the first responders and we're ready to go back in as soon as it's safe."
But even quick responses and good planning are no match for the threat posed to perishable foods by a prolonged power outage, said Cary Miller of Food Industry News, a trade publication. A veteran consultant for food services, Miller said that even after power is restored and streets are cleared, "the host of sanitation issues that food service operations will be facing are paralyzing" -- including repairs, flood clean-up and food safety.
When it comes to compromised food, however, it's not just restaurants and supermarkets that need to take precautions against food-borne illnesses. Individuals also need to be extra vigilant, both during and after a power outage, to ensure that food at home is kept cold enough to prevent the spread of bacteria, especially for meat. On Tuesday, New Jersey Gov. Chris Christie released a series of food storage guidelines for residents affected by the storm.
But as people in the tri-state area worry this week about delivering, buying, and storing food, in parts of New York City, the food industry was back in business almost immediately following the storm. On Tuesday morning, many bodegas, grocery stores and restaurants in Clinton Hill, Brooklyn, opened their doors to customers, in spite of fallen trees that had destroyed cars and storefronts during the night.
"We anticipated there might be problems getting food delivered and ordered extra supplies last week," said Mike Saadi, the owner of Bergen Bagels on Myrtle Avenue, while serving up bagels to a long line of Pratt Institute students. "Everyone needs bagels during a storm," Saadi said.
An Associated Supermarket in Brooklyn was also open and well stocked on Tuesday morning. Fedelia Edwin, an assistant manager, said that while the storm halted a delivery of about 2,000 cases of food from New Jersey, it wasn't enough to deplete stocks.
"We still have enough to make it through the rest of the week at least," she said.
In Manhattan, the Fairway grocery store on 74th Street and Broadway was crowded with shoppers browsing the aisles, many of whom left with just one or two bags of groceries. Bread, milk, produce, and canned goods were all well stocked, although meats and Grade-A large eggs were harder to come by.
Carol Gordon carried about three pounds of ground beef in her shopping basket, a purchase she decided to make when she saw the depleted meat section. "I hadn't thought about trucks not being able to come in," she said. "We're spoiled on the Upper West Side, but this is the worst I've seen it. And it's naive to think we could not be affected."
*************************
The Huffington Post is eager for insights from our community, especially people with experience in power, infrastructure and engineering, on the adequacy of emergency preparation in advance of Hurricane Sandy, and the degree to which past disasters have informed adequate planning and construction. Please send a note to sandytips@huffingtonpost.com with insights and suggestions for the important questions that need to be asked of relevant private sector and government officials, and point us toward stories that need to be pursued.
Related
Before You Go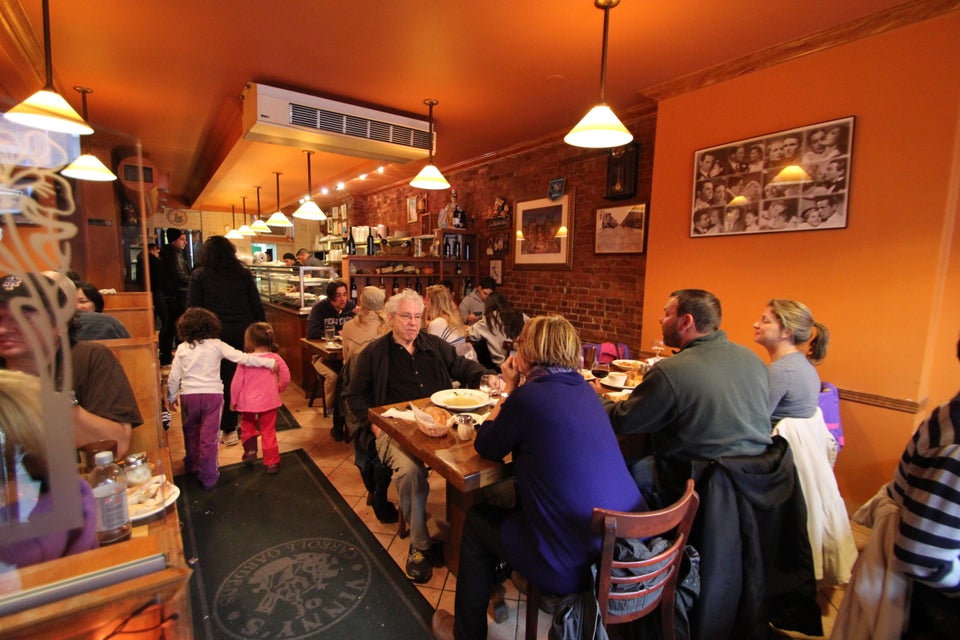 Restaurants That Braved Hurricane Sandy
Popular in the Community