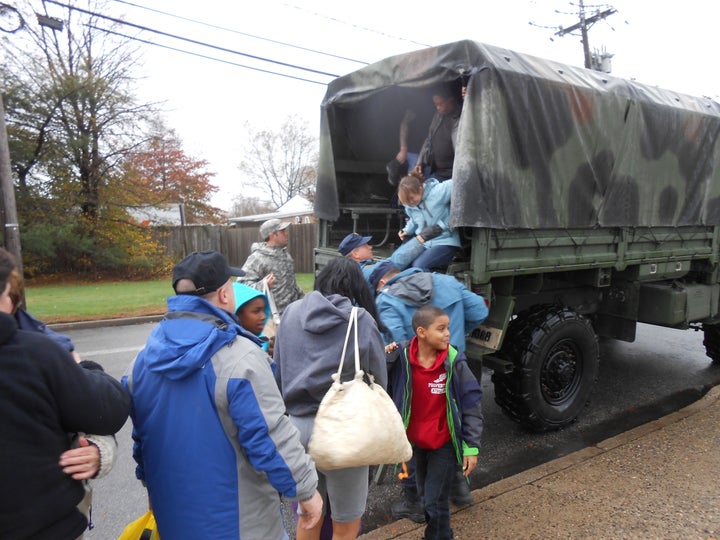 MOONACHIE, N.J. –- The first signs of trouble were the car alarms: Dozens of them, all going off at once, just after midnight at Hurricane Sandy's peak.

Then it was the smell of gasoline.

Jeanette Capers peered out her window to see floodwaters engulfing cars parked on the streets, causing oil and gas to seep out. Neighbors were screaming, some trying frantically to move cars to higher ground in advance of the cascade of fast-rising water.

Derek Ciaschi ran shirtless into the waters and successfully moved his vehicle up the hill. But by that time, the water was chest-high, and the current was too strong for him to return home.
"Nobody saw it coming," Ciaschi said.
It was a sleepless night for hundreds of residents in Moonachie and Little Ferry, two northern New Jersey communities almost entirely submerged by waters pouring out of the nearby Hackensack River. Over the course of more than 12 hours, Bergen County emergency rescue crews used boats, school buses and enormous trucks to evacuate more than 400 people from submerged neighborhoods in the two towns with no reported injuries.

As they waited in shelters across the county, the same question kept popping up: What happened? Throughout the day, there were conflicting reports about what caused the Hackensack River to pour into the two towns.

Initial reports from county officials suggested a levee break. Later in the day, New Jersey Gov. Chris Christie said that was inaccurate. Christie described it as a tidal surge that caused water from the river to overtop a berm along the banks.

Tuesday evening, Jeanne Barata, chief of staff to the Bergen County executive, said it was still unclear what happened. Barata told HuffPost that officials have still not been able to survey the levee along the river to determine whether it failed. She said officials expect to know for sure by Wednesday, once Army Corps of Engineers helicopters inspect the riverbank from the air.

Waters rose quickly in the two communities, reaching heights of up to eight feet within just a half-hour, according to residents and county officials.

By the time Ciaschi moved his car to higher ground, other vehicles on his street started floating away. Another car burst into flames, he said.

His girlfriend, Nicole Cirincione, rushed to carry electronics and other valuables to the second story, as water filled the basement and then flooded the first floor.

"We only had like 10 minutes," Cirincione said. She and her younger brother, Giacomo, recalled frantically trying to ferry valuables up the stairs from the basement as the water rose.

"It was like a scene from Titanic," Cirincione said.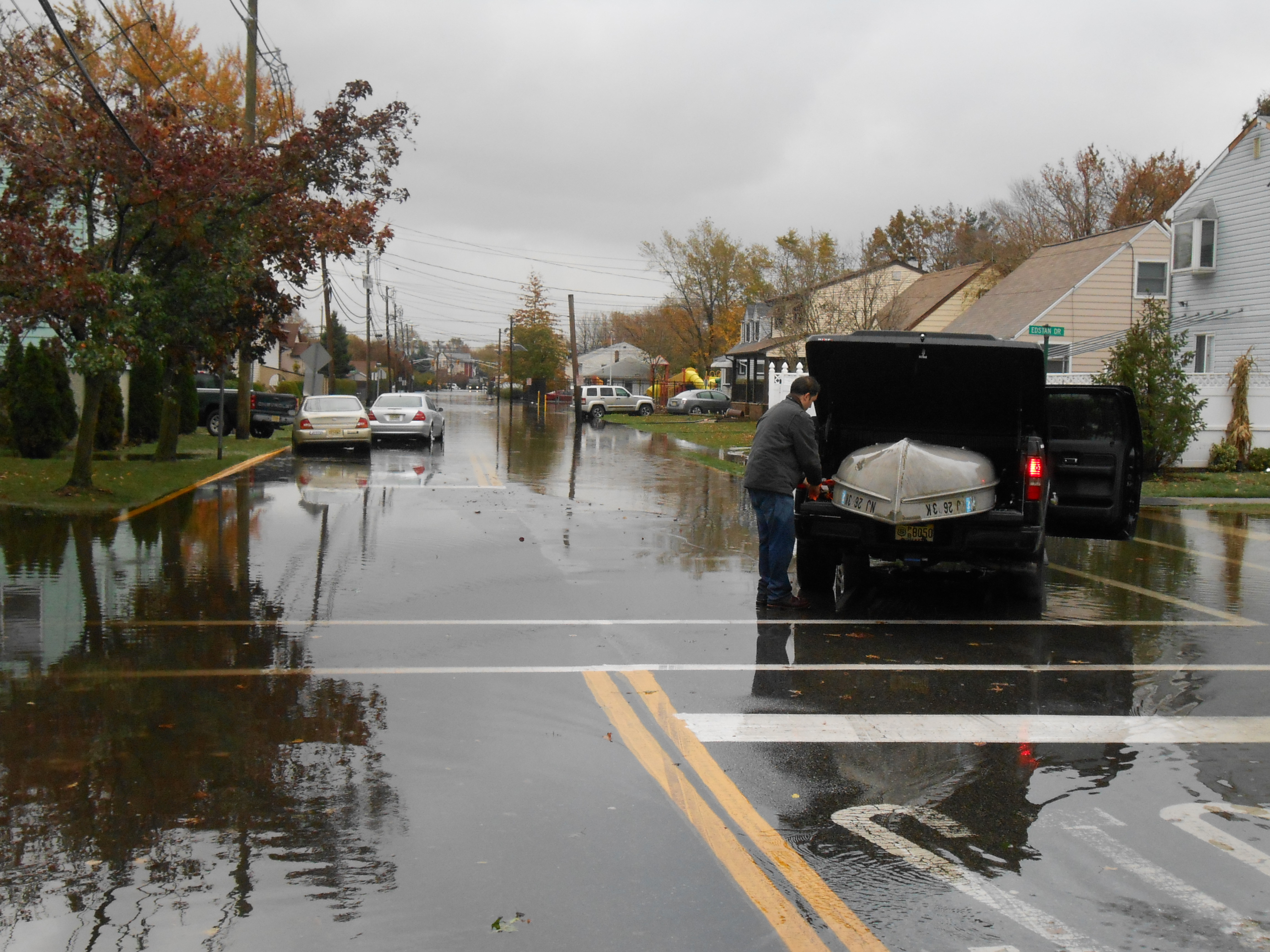 The entrance to a submerged neighborhood in Moonachie, N.J. (Chris Kirkham)

Beginning around 5 a.m., rescue crews started combing through the streets, going door-to-door with boats to pick up the marooned.
Those who had nowhere else to go ended up at a shelter at a local high school. Capers, who lost her car in the flood, sat with her neighbor, Edna Calabrese, amid scores of stunned evacuees.
"I expected a storm like Irene, where we'd be stuck in the house for a while with no power," Calabrese said. Instead, all she had was the same pair of soggy shoes from Tuesday morning, the clothes on her back and some blankets provided by the Federal Emergency Management Agency.
Left behind in the flooded apartment was her purse, her driver's license and her identification card.

Many of those stranded were residents of a trailer park in Moonachie, which had become a noxious pool of kerosene and fetid water after fuel tanks for the mobile homes were overturned during the flood.
Randy Blackton just purchased his trailer last year, and spend tens of thousands of dollars in upgrades. Now it smells like a gas station, he said, and sits in a foot of water.
"This is not right," said Blackton, who, like many of his neighbors, didn't have flood insurance. "Every dime to my name, I've got in there. Now I've got nothing."
Scroll down for live blog updates.
PHOTO GALLERY
Hurricane Sandy
Calling all HuffPost superfans!
Sign up for membership to become a founding member and help shape HuffPost's next chapter