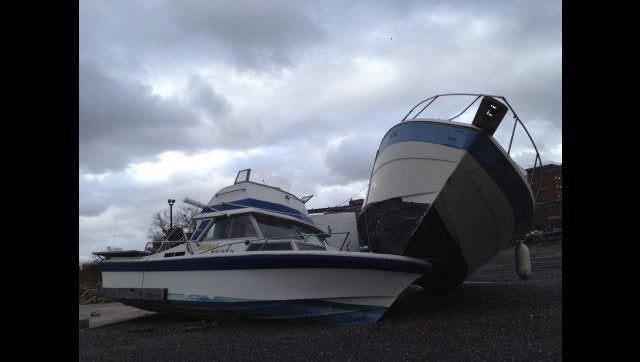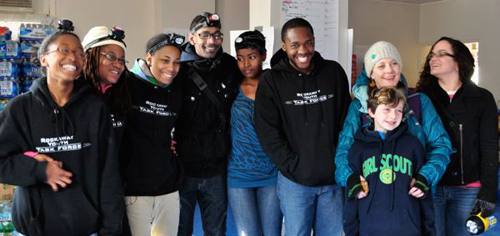 The Rockaway Youth Task Force is a youth empowerment group started in 2011. It is now overseeing a meticulously organized canvassing and distribution effort in Hurricane Sandy-ravaged Far Rockaway, a Queens community in New York City. Pictured far left, Vice President, Silaka Cox. Fourth from right, President / Founder, Milan Taylor. Photo | Hella Winston.
AFTER HURRICANE SANDY, Schuster Institute Senior Fellow Hella Winston headed to Far Rockaway, New York, a storm-ravaged coastal community. Given the circumstances she found there, she stayed to report from this area. Here is what she wrote about what she initially saw there and the situation her reporting will track:
One of the first things that struck me and my friends when we first made it out to Far Rockaway last week was the almost total absence not only of the power company and the major disaster relief organizations, but of the government, most notably the police -- many more of whom seemed to have been deployed to guard the long gas lines than to patrol poor storm-ravaged neighborhoods.

Instead, residents have been relying on community-based initiatives, which lack formal disaster-relief training and the equipment or social infrastructure to provide the necessary assistance. While these groups are doing critical work providing food, water and, in some cases, medications to residents, they don't have the ability to restore power or heat, provide mass transportation alternatives or ensure the safety of residents.

I am interested in tracking the restoration of these services in these areas and hope to do so in conjunction with a group from the CUNY Graduate Center that has begun mapping the needs and services in the Rockaways area in collaboration with the Rockaway Youth Task Force.
Rockaway Youth Fill the Breach
With government officials and NGOs largely absent, young residents step in to provide food, water and medicines in the wake of Hurricane Sandy.
The elderly woman came, bundled up, in search of batteries for her portable radio. "We don't know what's going on. We've been cut off from the world. We are very fortunate, my husband prepared for this and even though it's cold, we have food and water. But I don't know where his head was at with the batteries."
It was Sunday and Milan Taylor, the 23-year-old founder and president of the 45 member Rockaway Youth Task Force, a youth empowerment group started in 2011, was overseeing a meticulously organized canvassing and distribution effort the group had set up three days prior in a building on Beach 57th Street in their storm-ravaged community, when the government, power company and big relief agencies were nowhere to be found. He added this woman's request, and her name and address, to his delivery list, which included many others who weren't in such good shape, without food or medications, or the means to get them.
"We're keeping the door closed," explained Taylor. "It's heartbreaking to do it, but if we let people in to just take stuff, it will disrupt the system."
After the hurricane, Taylor, who had evacuated, put out a Facebook call to the Task Force's members and soon he and others were headed back, cars loaded up with food and supplies purchased with the group's now-depleted funds. The plea for help made its way to other web sites, including one put together by Occupy Sandy.
By Sunday, Taylor said, close to 200 volunteers had already climbed up and down hundreds of stairs with flashlights. They were assessing the needs of home-bound elderly and disabled residents--many reliant on food stamps and other government aid -- at two high rise complexes known as Nordeck and Ocean Village, and documenting them on oak tag charts hung on the walls of the group's headquarters. It was a system devised by the Task Force's 17-year-old Vice President, Silaka Cox, a student at Rockaway Park's Scholars' Academy, whose experience raising money for disaster relief in Japan taught her about how to organize such an effort. The group had already delivered food and supplies to 700 families. Urgently needed prescriptions were being filled with the help of a contact at Doctors Without Borders.
Taylor and his volunteers were encountering "a lot of... shell-shocked [people], just walking around in a daze," and others who were "just really grateful" for the help. Some, however, had greeted the volunteers "with an attitude, because they don't really know who we are, so they think that we're in government and we're getting yelled at, 'why is there no electricity, what are you doing for us?' They don't realize we are volunteers from the community, [that] I live here, [that] I'm only 23."
Taylor and the others in his group had no idea another storm was expected for later in the week. They, too, had been cut off from information, lacking power, cell phone service or enough gas to get off the peninsula. But they planned to continue doing whatever they could--with one modification.
Having heard reports of looting, robberies and other possible violent crime, Taylor said that his group "decided that we're not going back at night anymore. As soon as sundown hits, [we will stop], and with daylight savings, we lost the hour."
It was a conclusion the government had apparently come to as well. At a FEMA distribution center staffed by the National Guard about 10 blocks east of the Task Force's headquarters, a man who said he was with State Senator Malcolm Smith's office said it was just too dangerous to drive out in the dark without traffic lights, or to stick around at night.
*************************************************************
Popular in the Community