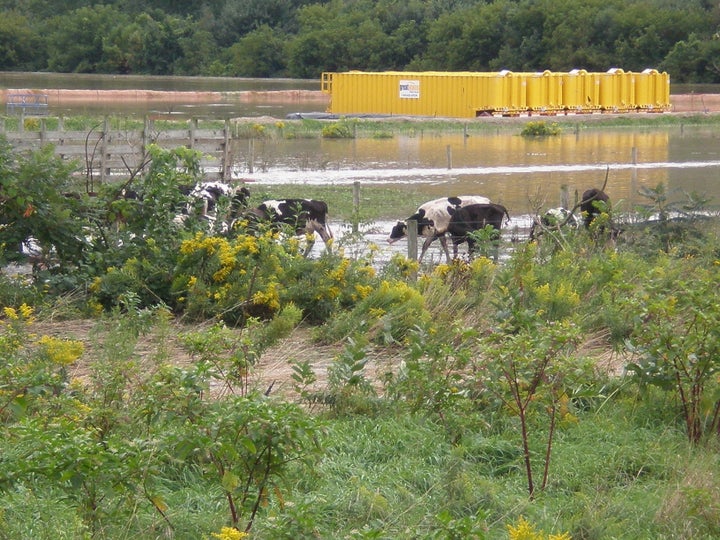 Carol French of Bradford County, Pa., said she hasn't seen any flooding at natural gas sites in her area as a result of Sandy. Other residents and state officials also said there were no apparent problems, and expressed relief that many areas did not get as much rain as was expected with the storm.
"Knock on wood. I'm happy," said French, who lives and works on a dairy farm in low-lying land that borders a creek and natural gas wells.
Still, French recalled the flooding in September 2011 caused by Tropical Storm Lee, and remains suspicious that the water flushed toxic chemicals from fracking waste into the soil and groundwater near her home. She said she thinks the toxic water triggered her daughter's subsequent severe illness as well as her own rashes, but she cannot draw a definitive link.
Natural gas production is expanding across the country, particularly along a 600-mile rock formation called the Marcellus Shale, which stretches from West Virginia to western New York. When wastewater returns to the surface during fracking -- the process of releasing gas from bedrock -- the resulting mix contains toxic chemicals used in pressurized fracking fluid, as well as contaminants picked up from deep in the earth, such as brine and radioactive materials. The wastewater is generally stored in lined open-air pits, also known as flowback impoundments, and is one of the ways people like French could get sick, according to some environmental experts and advocates.
"Any time you have an open wastewater pit, you're vulnerable," said Rob Jackson, a biologist at Duke University, recalling how Hurricane Floyd of 1999 flooded hog waste lagoons, devastating rivers with raw sewage.
He said he sees the same flood danger with fracking wastewater, but suggested that the consequences could be more severe. "There's a lot of risk with fracking ponds. You have organic chemicals, carcinogens, potential radioactivity, metals like arsenic and salts," Jackson said.
Kevin Sunday, spokesman for the Pennsylvania Department of Environmental Protection, also noted the potential for the contamination of soil and waterways, despite state regulations that include a required 2 feet of clearance in wastewater pits.
"Fortunately, we have not gotten reports that there have been any spills or other issues," Sunday said.
Days before Sandy's landfall, state officials sent letters to natural gas operators. "We told them it could be one of the most severe weather events ever, and asked them to essentially batten down the hatches ahead of time -- to secure any active sites, remove equipment from areas that might experience flooding and manage flowback impoundments to prevent overtopping," Sunday said.
It may still be too early to tell if all of the natural gas drilling sites were spared by the storm. Sunday said that inspectors remain in the field, evaluating damage.
Kathryn Z. Klaber, president of the Marcellus Shale Coalition industry group, expressed her optimism that fracking operations weathered the storm safely. "Our operators have in place exhaustive contingency plans related to severe weather conditions," she told The Huffington Post in an email. "The safety of our workers and communities is paramount at this point in time as our attention is focused on the environmental, health and safety protections associated with our industry operations and the communities we call home."
Some advocates are not convinced.
Amy Mall, a senior policy analyst with the Natural Resources Defense Council, pointed to evidence of the industry's shortcomings in terms of safety. In fiscal year 2011, agents from the U.S. Environmental Protection Agency inspected 120 oil- and gas-well sites. All but 15 sites were not in compliance with spill prevention preparedness, according to a September study by the U.S. Government Accountability Office.
"These pits are really close to people's houses. And flooding happens," Mall said. "They should be storing the waste in closed tanks. It's not rocket science."
French of Bradford County said that her concerns are growing as natural gas companies ramp up drilling in her area. "It's causing a better chance of an accident happening," she said.
Wes Gillingham of Catskill Mountainkeeper, a grassroots advocacy group, added that it's not only the wastewater pits that could pose problems during extreme weather events.
"Tanks can move or spill," he said. "Trucks can be parked in the wrong place."
He added that the storm-related contamination risks are part of a much larger environmental issue.
"If we keep following this gas rush, and push to exploit natural gas, it's counterproductive to climate change," said Gillingham, whose group is battling to keep fracking out of New York state, where he said flood risks are rising. "It keeps us addicted to fossil fuels in the long term rather than focusing on sources of energy that aren't affecting the environment and creating superstorms like Sandy."
*************************
The Huffington Post is eager for insights from our community, especially people with experience in power, infrastructure and engineering, on the adequacy of emergency preparation in advance of Hurricane Sandy, and the degree to which past disasters have informed adequate planning and construction. Please send a note to sandytips@huffingtonpost.com with insights and suggestions for the important questions that need to be asked of relevant private sector and government officials, and point us toward stories that need to be pursued.
Calling all HuffPost superfans!
Sign up for membership to become a founding member and help shape HuffPost's next chapter