 On Oct. 29, 2012, skies darkened as Hurricane Sandy pushed against the vulnerable East Coast, bringing powerful winds and a record storm surge to New York City. Within a matter of hours, hundreds of thousands in Manhattan were without electricity, while the boroughs faced treacherous flooding and fires. The horror stories began early in the evening, as the weather worsened.
RAW FOOTAGE OF THE EXPLOSION:
As rising water began to turn Manhattan into a murky, concrete swamp, NYU's Langone Medical Center was undergoing an emergency evacuation. Backup generators had failed the facility, leaving mothers in labor and about 20 babies in neonatal intensive care without proper medical technology.
One of those infants was 3-week-old Emma, whose parents were home recovering from the birth on Roosevelt Island. "I went crazy. I wanted to come to the hospital," Luz Martinez, mother of Emma, told reporters. But by the time the evacuation was underway, Manhattan had nearly been sealed off from the rest of the world, with the majority its of bridges and tunnels closed. Luckily, Emma was safely evacuated to Mount Sinai. Martinez is commending the hospital for handling "everything as smoothly as they could."
New York's other boroughs also took a beating in the storm. In a dramatic turn of events, 17-year-old Joseph Harasym was left alone in his home on Staten Island, while his mother and brother drove two vehicles to higher ground. But according to the Daily News, the water rose too quickly and the family was unable to return to Harasym. Though his brother made several rescue attempts and 911 was called, no help came until the next morning. By that point, the basement and first floor of the house had flooded. Still, Harasym survived the event and was reunited with his family a day after the hurricane blew through.
Over 190 firefighters were sent to battle the immense fire, but chest-high water prevented quick access to the burning buildings. Amazingly enough, no casualties have been reported as a direct result of the blaze. A scorched area of Breezy Point, Queens, where fires ripped through homes during Hurricane Sandy.
Floodwaters also devastated some of Manhattan's subway stations, creating chaos for New Yorkers hoping to commute into the city. Clare McGlade, a resident of Queens, was stranded in her borough but needed to return to work three days after the hurricane struck. After a failed attempt at using the unreliable public transportation system on Wednesday, McGlade instead walked the 70 blocks to her office.
"I started my morning with a 23-block walk to the F train in Queens, only to turn away immediately at the sight of the angry crowds," she told The Huffington Post. "I ended up walking an additional 47 blocks to Queensboro Plaza, where I was at last able to get on an eerily empty N train into midtown." Then, of course, McGlade had to return home...
As the storm passed, New York City and the surrounding areas attempted to return to the grind of daily life. But many businesses are still closed, and public transportation is sporadic (at best). Looting has also been reported in areas of Brooklyn and New Jersey. According to the Daily Mail, thieves stole flat screen TVs from a Rent-A-Center on Mermaid Avenue in Coney Island, while others raided a nearby Rite Aid and liquor store. "It's getting dark, and it's real dangerous out here -- that's why there's a cop on every block," an NYPD officer told HuffPost Crime.
*************************
The Huffington Post is eager for insights from our community, especially people with experience in power, infrastructure and engineering, on the adequacy of emergency preparation in advance of Hurricane Sandy, and the degree to which past disasters have informed adequate planning and construction. Please send a note to sandytips@huffingtonpost.com with insights and suggestions for the important questions that need to be asked of relevant private sector and government officials, and point us toward stories that need to be pursued.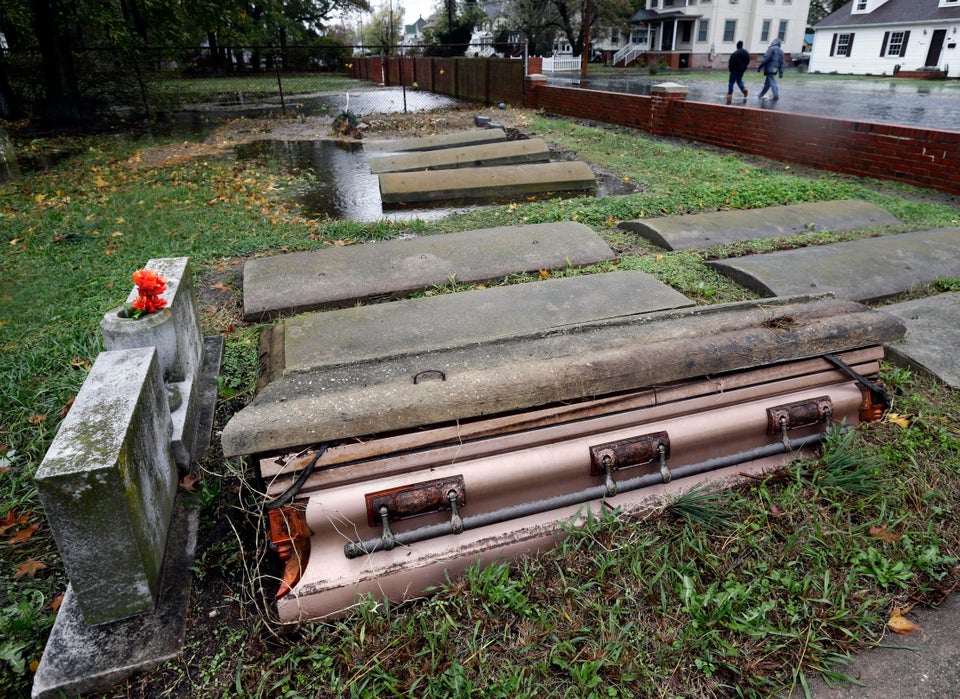 Hurricane Sandy
Related