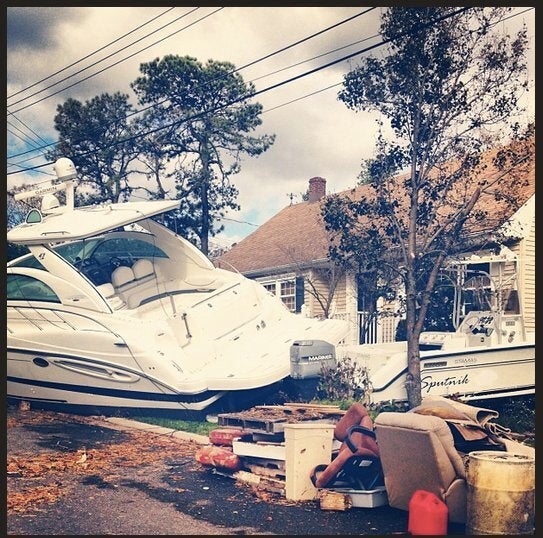 Thanks to Instagram, East Coasters haven't just documented the destruction left in Hurricane Sandy's path. They've made it beautiful.
Moments after an explosion at the ConEd plant plunged lower Manhattan into darkness, my Instagram feed lit up with photos of black rooms glowing with candles and pictures of the darkened New York skyline (I know because I signed on to share my own picture). Ten pictures a second were shared on Instagram during the storm, and plenty more have followed -- photos of packed gas stations, drowned cabs and New Yorkers fighting for a cellphone charge.
Some are #nofilter pictures -- straight-up snapshots uploaded without one of the filtered hues Instagram is known for -- but most of the pictures tagged "#Sandy" have had their colors enhanced or washed out to give them a vintage feel, as if this week's superstorm had struck in the 1970s.
Even when they show police tape or crumpled cars, these filtered photos soften the hard edges of the wreckage. Sandy seen through Instagram is a kind of dreamy utopiapocalypse, where all flooded homes are moody and all uprooted trees have a poetic loneliness. Palliative photography at its best.
It's the filter's fault. Consider two different, recent snapshots from gas stations uploaded to Instagram.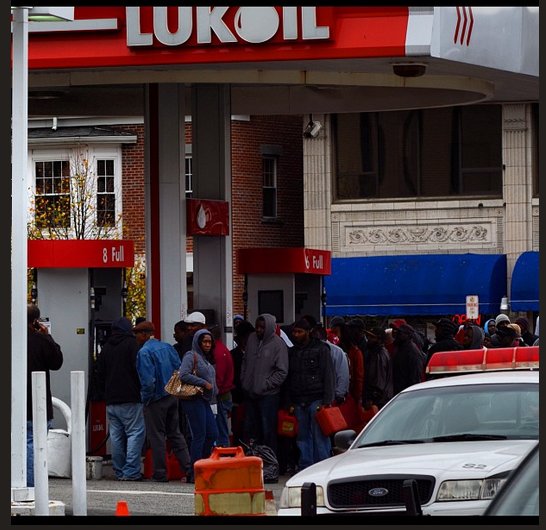 via Smileimo
Smileimo's filter-free photo of people waiting in line to fill up gas shows the scene like it is, pure and simple. People look frustrated, the place looks miserable and the police car only makes matters seem more dreary. And it fulfills social media's promise of sharing a personal view of something, an individual's moment.
The former is a picture of pissed off people trying to get gas, the latter more like an artwork picturing People Trying To Get Gas (Smartphone, 2012). One is about what someone saw, the other about how they saw it.
Instagram grew up encouraging artistry and helping its users to frame their world in a creative, fuzzy and wistful way. With Sandy, we've seen what happens when you take that medium and begin photographing things that involve death, devastation and discomfort, an issue that's especially important to understand as photographs from social media play an expanding role in how audiences perceive events.
Case in point: On Thursday, I spoke with a recent college graduate who lived half a block from the Chelsea apartment building that had had its façade ripped off by Hurricane Sandy. But she'd only ever seen the destroyed building on YouTube.
Of course, every picture, be it AP or Instagram, is a selective version of events. In On Photography, Susan Sontag argues that all photos, even the filter-free ones, are "as much an interpretation of the world as paintings and drawings are."
So, to be fair, who says you have to, or even can, document on Instagram? Can't something be both faux-vintage-pretty and haunting, moving and painful all at once?
You don't and it can. Instagram, for all its soft focus and gentle, warm lighting, has an intimacy and individuality that the more objective photos on the homepages or frontpages of major newspapers lack.
Perhaps we'll actually remember the "pretty" pictures of destruction and decay better than we would the straightforward journalistic kind, the same way Andrew Moore's photographs of Detroit or Robert Polidori's pictures of post-Katrina New Orleans stay with us long after we've seen them.
The question is how it shapes what the audience remembers: Will we think back to a destroyed home, or a house pixie-dusted in afternoon light? Will we remember that the images are that they're beautiful, or recall the time when everything changed? The risk is that Instagram's filtered images of Sandy may not be photo-graphic, but photo-soothing, even when they show something awful.
************************* The Huffington Post is eager for insights from our community, especially people with experience in power, infrastructure and engineering, on the adequacy of emergency preparation in advance of Hurricane Sandy, and the degree to which past disasters have informed adequate planning and construction. Please send a note to sandytips@huffingtonpost.com with insights and suggestions for the important questions that need to be asked of relevant private sector and government officials, and point us toward stories that need to be pursued.
Popular in the Community