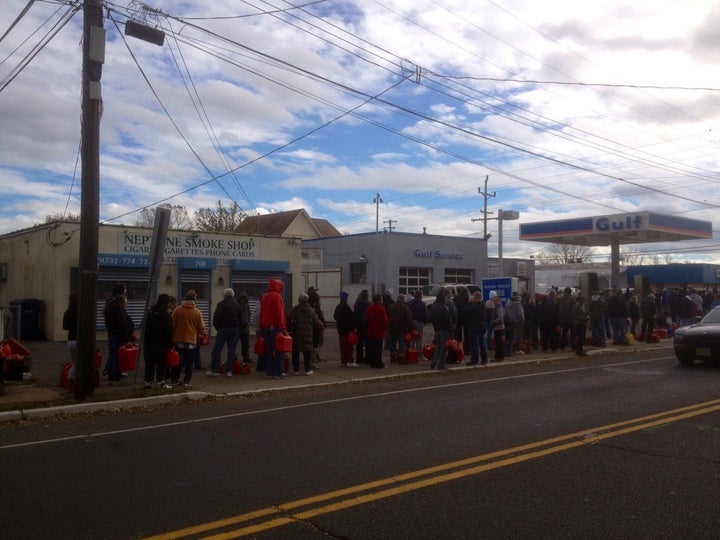 NEPTUNE, N.J. -- When Joe Baron headed into work Wednesday morning, he and his colleagues were told to file for unemployment.
Hurricane Sandy had wiped out all the cars at Baron's Dodge dealership in Bricktown, N.J., drowning a fleet of pickups and new Dodge Darts. Baron, an auto technician, had worked at the dealership for 23 years straight.
"I've worked all my life," Baron said, stunned at his job loss but grateful his family was safe. "Where am I going to go?"
As he spoke, Baron was standing in a line for gas with hundreds of other Sandy survivors in Neptune, N.J. Crippling power outages, combined with the demand for gas to run generators and cars, has led to lines at New Jersey gas stations that stretch down the street and around the block.
That any gas is flowing at all here at the Quality Service Center is a small miracle. On Wednesday morning, the gas station's owner, Jack Pekarchik, teamed up with his friend Robert Palagonia, the owner of Amber Construction, to put gas in some of Palagonia's trucks. Without power, they had to run pumps directly out of the subterranean gas well, powering them with car batteries.
When passersby noticed gas flowing, they asked Pekarchik and Palagonia if they could gas them up. Next thing they knew, the men were filling the gas canisters of hundreds of local residents, at a flat $4 per gallon, cash only, trying to keep the line civil and orderly.
During the afternoon, Pekarchik and Palagonia were worried their makeshift pump operation wouldn't last until dark before failing.
"People don't have a way of getting gas," Pekarchik said. "And we don't have a way of getting rid of it."
Anthony Fiorenzo of Wall Township said he'd waited in line for two hours at a Citgo station before it ran out of fuel. "I was 20 or 30 people back," he said. At the Quality Service Center, Fiorenzo looked to be about 100 people back, but Pekarchik said he had plenty of gas underground.
Mary Ann Hayes, who lives in the neighborhood of Shark River Hills, told HuffPost she'd been waiting in line for an hour, and expected she would be waiting for another one. Hayes said Sandy had spared her garage apartment, but her parents needed gas for a sump pump to get water out of her parents' basement.
"People in my neighborhood have lost everything," she said.
The roads in New Jersey's powerless shore towns were chaotic Wednesday afternoon, as motorists hesitated at traffic lights that had gone dark. Tensions ran high at times outside the gas station, with an argument breaking out over someone allegedly cutting the line, but for the most part people were calm and cooperative, quietly discussing their hardships at they waited with their cans.
Sandy's destruction forced Baron's family to pull together. Although normally it's just himself, his wife and his daughter living in his home around the corner, the house was holding nine people on Wednesday afternoon. They were getting by with the generator for which Baron had come to fetch gas.
There were two large trees down in Baron's yard, but his house was spared. A colleague of his at the dealership had lost both his job and his home to Sandy. Considering that, Baron felt relatively lucky.
"Nobody's hurt," Baron said. As for his job, "You wait, you see, and hopefully you go back to work."
As Baron and his family inched forward, word spread that President Barack Obama was visiting the destruction just a few miles down the street, although almost nobody in the gas line had a way of getting there. And besides, they all had more pressing concerns.
*************************
The Huffington Post is eager for insights from our community, especially people with experience in power, infrastructure and engineering, on the adequacy of emergency preparation in advance of Hurricane Sandy, and the degree to which past disasters have informed adequate planning and construction. Please send a note to sandytips@huffingtonpost.com with insights and suggestions for the important questions that need to be asked of relevant private sector and government officials, and point us toward stories that need to be pursued.
REAL LIFE. REAL NEWS. REAL VOICES.
Help us tell more of the stories that matter from voices that too often remain unheard.
BEFORE YOU GO
PHOTO GALLERY
Politicians React To Sandy