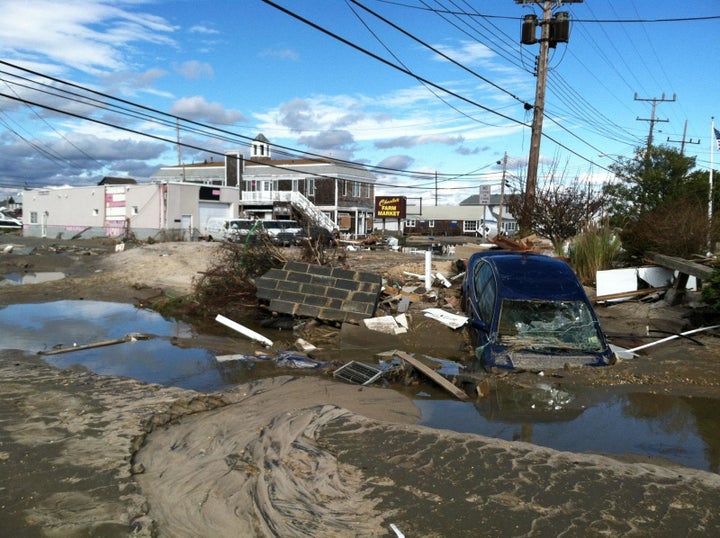 TOMS RIVER, N.J. -- On a narrow street coated with mud and strewn with debris, Pat Shields stood at a makeshift barrier of scrap metal and plywood, tattooed arms crossed over his burly chest. He turned away strangers headed toward the nearby water's edge.
This neighborhood, a few hundred yards from a bay opening into the Atlantic, was battered by surging water from Hurricane Sandy, which flowed into living rooms and floated cars and trucks down the street like toys.
But as the water receded, a new threat emerged: looters.
"People are just walking into people's yards and taking stuff," said Shields, 53. "This is a crime scene. It's a catastrophe."
Looters are just one of a litany of troubles on the South Jersey coast, which continues to reel from after-effects of Sandy, one of the most devastating storms in the state's history. At least eight people in New Jersey died, property damage climbed into the billions, millions of homes were without power, and tens of thousands were homeless, unable to return to neighborhoods evacuated as the storm approached.
Some will return to find only ruins. Officials confirmed the total destruction of hundreds of homes in barrier island communities north of Atlantic City. Camp Osborne, a neighborhood of about 100 homes in the beach town of Mantoloking, was "completely destroyed by fire and storm surge," said Sgt. Keith Reinhard, of the Brick Police Department. "It's just completely off the map," Reinhard said.
A large contingent of National Guard troops was being deployed to mainland neighborhoods devestated by the storm surge, Reinhard said. The troops were intended to discourage looters, he said. Police blockades, meanwhile, kept several hard-hit towns under near-total lockdown.
"We're setting up some security patrols tonight," Reinhard said.
Many coastal residents, cut off from television and the Internet by power outages, were desperate for information about their communities and homes. Dozens were turned away as they attempted to walk across a bridge linking the mainland to the barrier islands.
"I am filled up to my earlobes with stories," said one woman, who asked not to be identified by name. "I want facts. I want to see it with my own eyes."
About 4:30 p.m., in hard-hit Brigantine, after a tour of devastated beach towns, Obama and Christie stood together, pledging that the coast would be rebuilt.

"We are here for you," Obama said. "And we will not forget, we will follow up to make sure that you have all the help you need until you rebuild."

Obama praised Christie for being "responsive, aggressive" in getting the state ahead of the storm.

The president said he would not tolerate any red tape or bureaucracy in getting federal aid and assets to the state, adding that he'd implemented a "15-minute rule" to his staff, promising that calls from state and local officials would be returned within 15 minutes.

"I cannot thank the president enough for his personal concern and compassion for our state and the people of our state," Christie said. "I was able to witness that today personally." The governor said he'd talked to Obama six times over the last few days." It's a great working relationship."

Christie also encouraged residents, saying, that their sorrow in the face of devastation and death was appropriate, but that "sorrow should not replace the resilience that so many people in New Jersey have."

Earlier in the day Obama and Christie, political adversaries who just days before the November elections swapped gauntlets for goodwill, soared above mile after mile of devastated coast aboard a helicopter.

The pair saw crushed and flattened houses and torn-up sections of the shore's famed boardwalks. They also saw the pain in the eyes of folks who lost so much to Sandy.

Obama said he'd been heartened by talking with young volunteers who'd marched up and down blocks awash in sand and debris assisting in cleanup efforts. He met a restaurant owner who for the last 18 hours had been cooking free meals for storm victims and volunteers. And the president spoke of a 15-year-old young man whose mother was disabled and who was making sure that she was okay.

"When you see folks like that responding with strength and resilience, when you see neighbor helping neighbor, then you're reminded of what America is all about," Obama said. "We go through tough times, but we bounce back. The reason we bounce back is because we look out for each other."
For Pat Shields, the pledges of Obama and Christie are hardly comforting. Shields' one-story home is waterlogged, reeking of oil, sewage and mud that washed in with the ocean at the peak of the storm. His pickup truck, which floated 30 feet across his yard, is inert, its engine waterlogged.
"The walls are ruined, the furniture, the floors," Shields said. "The wood is actually starting to buckle already."
Shields has been calling for help, trying to reach someone in government who can direct him to a place where he and his girlfriend can stay. The only options so far are emergency shelters, where he can sleep on a mat alongside hundreds of other displaced people, on the floor of a school gymnasium. Shields, a diabetic, said he worries how those conditions will affect his health.
"No one knows where to go," he said. "Where do we stay? And who is going to pay for all of this?"
*************************
The Huffington Post is eager for insights from our community, especially people with experience in power, infrastructure and engineering, on the adequacy of emergency preparation in advance of Hurricane Sandy, and the degree to which past disasters have informed adequate planning and construction. Please send a note to sandytips@huffingtonpost.com with insights and suggestions for the important questions that need to be asked of relevant private sector and government officials, and point us toward stories that need to be pursued.
Support HuffPost
The Stakes Have Never Been Higher
Related
Popular in the Community