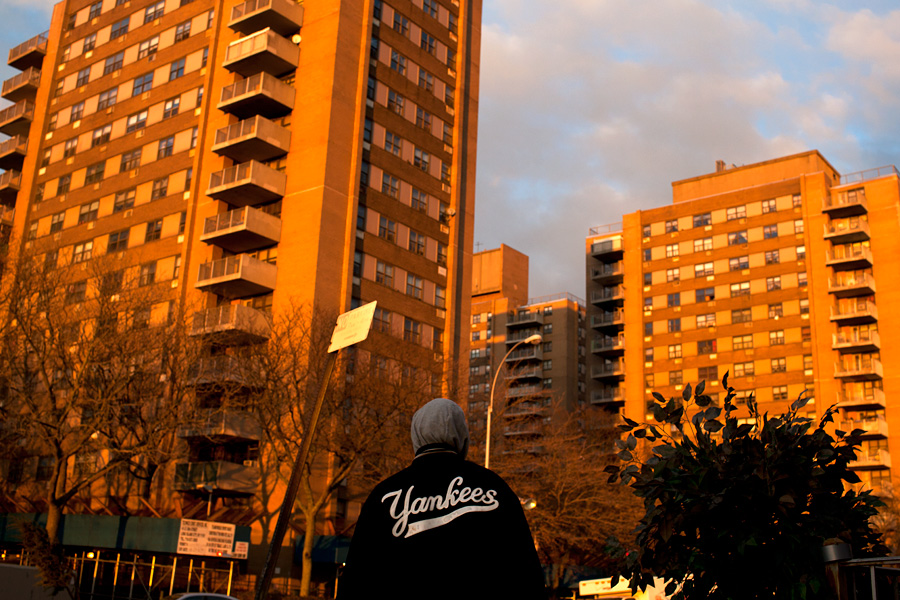 High-rise public housing building in Coney Island. November 13, 2012. Photo: Matt Richter
The new grassroots organizing group People's Relief and local residents have taken control of Hurricane Sandy relief efforts in several Coney Island public housing developments where government agencies' performance has been inadequate or inconsistent, according to multiple resident association presidents, community members and People's Relief volunteers. People's Relief works closely with Occupy Sandy and shares their resources, but is a separate, independent organization.
As numerous accounts have already confirmed, conditions in the public housing developments in Coney Island in the wake of hurricane Sandy were dismal and dangerous. The storm flooded the basement and first floor of the high-rise buildings, destroying the transformers and boilers that provided electricity, heat and hot water. Food remains scarce, since the storm flooded all of the supermarkets and bodegas in the area. As a result, thousands of people, including many seniors and people with disabilities, were stranded in the high-rise public housing developments for two weeks, without power, heat, hot water, or food.
 
It is clear from discussions with people who were on the ground that the residents who remained in some of the housing developments did not receive prompt or adequate aid from the government. Specifically, the many seniors and people with disabilities who remained in these buildings needed to be identified and assisted by people going door to door. There are some instances where no canvassing occurred for days, or at all, leaving residents and volunteers to fend for themselves.
 
Regina Mitchell uncovered one such situation. Mitchell directs a community program at Surfside Gardens, the same development where she grew up and her 69-year-old mother, Mildred Emerson lives. Days before the storm, Mitchell evacuated her mother to her sister's apartment in Bensonhurst. (Mitchell herself lives in downtown Brooklyn.)
 
Mitchell returned to Surfside Gardens on Wednesday, October 31, two days after the storm, when she heard the development was not receiving any help from NYCHA or the New York City Police Department's office of community affairs. "I came down to check on the other people who were left in the building because I actually grew up in Surfside... and they were telling me they weren't being serviced at all," she said. "Not at all. Nobody came to see them, nobody checked on them, but in all the other developments, they were being served." This was especially alarming to Mitchell because two of Surfside Gardens' five buildings are "senior citizens' buildings," which are, by design, exclusively inhabited by seniors.
 
Mitchell learned that because Surfside Gardens didn't have a resident association president, residents were expected to go to the nearby Gravesend development. "What I did see is that most of the Surfside residents were not coming over to get services," she said. Instead, Mitchell got in touch with Deborah Carter, Deborah Reed and Ilma Joyner, presidents of the resident associations at the Gravesend, Coney Island houses and O'Dwyer Gardens developments, respectively. The three resident association presidents sent residents from those areas to Surfside Gardens with water, food and winter clothing.
 
Canvassing the Surfside Gardens buildings with residents, Mitchell discovered that senior citizens in the mixed population buildings were concentrated on high floors. "When we went to floors like 4 or 5, 6, 7, there were maybe three people still there," she recalled. "But when we were on ten and above, there were seven, eight people still there."
 
Mitchell witnessed horror scenes as she and other residents discovered seniors and people with disabilities who may have been in danger of death or other serious health problems. "I saw a lot of seniors very cold, very rigid," Mitchell said. "A lot of them just bundled with as many coats and hats on top of sweaters. It was just really sad. And most of the people we encountered were Russian and didn't really speak the language. The best they could say to us is 'cold, cold,' 'water, water' or 'food.'"
 
Mitchell also saw residents rescue an old woman on the ninth floor who could not breathe because of her asthma. Mitchell said residents "actually had to slide her down the stairs" on a cot. A family member met them "coming up" with a portable asthma machine.
 
That was all on Wednesday. "Thursday morning those volunteers were utterly exhausted, in terms of going up and down these stairs in five buildings, bringing up cases of water and canned foods and things like that," Mitchell said. Mitchell was relieved when People's Relief volunteers arrived on Thursday to resume canvassing, so the residents who helped her on Wednesday could rest.
 
Ilma Joyner is a 57-year-old electrician with a grown daughter. Since May 2011 she has served as president of the resident association of the six-building public housing development O'Dwyer Gardens, where she has lived for the past 27 years. She remained in the public housing development during the storm to help her residents who stayed. "I don't have to be here," she said. "I could have stayed somewhere else, I have family. I didn't have to be in the cold. But these are my people, this is my home, this is the place I chose to live." Joyner informed Take Action News that the cold conditions had made her sick, and that she had been out of work for 15 days as a result.
 
Joyner sang People's Relief's praises unprompted, crediting them specifically for canvassing the buildings for stranded residents earlier and more often than any government agency or group. "This group called Occupy Sandy has been out here and they've been a godsend to us," Joyner said before being asked a single question. Many local residents know People's Relief as Occupy Sandy, because Occupy Sandy continues to deliver the goods distributed in the field, and People's Relief has only cemented their independent brand recently. "They come every day, they walk the buildings, they make sure they knock on doors to see what people who are homebound need."
 
Joyner estimated that of the more than 600 residents who lived in the development, more than 100 who remained after the storm were elderly or had "special needs," such as being bound to a wheelchair. She informed Take Action News that many residents were in fact, hungry, thirsty and at risk medically when the People's Relief reached them. "When they knocked on those doors, there were people who hadn't had food, who hadn't had water in days, and these people went up and brought them food, brought them blankets, or even escorted them downstairs if they had somewhere else to go," she said. "They were more in tune with what was going on with the residents in that area than even myself."
 
No dead bodies have yet been discovered in the O'Dwyer Gardens buildings. Joyner believes that People's Relief may have saved lives. "When you have a senior citizen in there who has eaten and hasn't had a drink of water in days and their toilet is stopped up or couldn't get the medication, tell me if that's not saving a life," she said.
Regina Mitchell thinks the city could learn from People's Relief's approach. She continues to refer to People's Relief as Occupy Sandy due to their working relationship. "Occupy Sandy in terms of what they did, they had a vision, they had a plan. I don't think that the city planned what it was that they were gonna do," Regina Mitchell said.
"I think that Occupy Sandy pretty much coordinated with the people who were working like Deborah Reed, Ilma Joyner, Deborah Carter, Pastor Conny over at the church... They had maps of all the developments, where they were going to disseminate it, the people, what floors they were gonna go in. They had already worked with other people to get the information in terms of who needed the services more. They had a strategy and they implemented that plan and it worked."
Views expressed are the author's own.
Calling all HuffPost superfans!
Sign up for membership to become a founding member and help shape HuffPost's next chapter