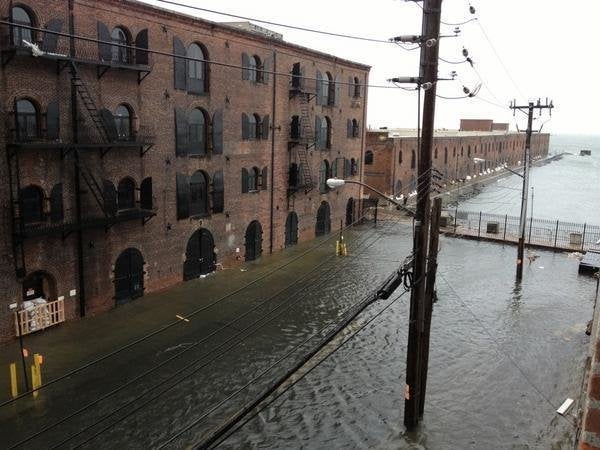 After Hurricane Sandy's flood waters receded from Lou Sones' kitchen last week, an unpleasant hint lingered of what those waters had flushed inside.
"In the open cabinet above my sink, you could see glasses filled with storm water," said Sones, who lives in Brooklyn's Red Hook neighborhood. "It was dirty, brown and smelled like dead fish."
More than 600,000 people -- predominantly minorities -- live and work in six communities deemed Significant Maritime Industrial Areas by the city, said Bautista. These residents have been some of the hardest hit by Sandy.
"Every single one of these areas designated for heavy industrial use is in a storm surge zone," said Bautista. "You're asking for trouble."
Red Hook, which is bordered by the Gowanus Canal Superfund site, is on that at-risk list. So is Staten Island's North Shore. There, just two weeks before Sandy, EPA officials had begun a $1.5 million remediation project at the location of a former lead factory, where the soil remains heavily contaminated with the neurotoxic heavy metal.
After the storm surge, three or four feet of water stood on top of the site, said Beryl Thurman, executive director of North Shore Waterfront Conservancy on Staten Island.
"No one was prepared for this. The risk of sea level rise, storm surges, is not a conversation that anyone wanted to have," said Thurman. She noted that EPA officials had plans to visit the site early this week to survey the extent of the contamination's spread.
The EPA said it is doing all it can to help the communities in the wake of the storm.
"EPA, in support of FEMA, is working closely with federal, state and city agencies in assessing and responding to environmental concerns, including the Jewitt White Lead site, Newtown Creek and the Gowanus Canal. We have been providing information to the public about cleaning up after flooding, mold and how to safely dispose of household hazardous waste," the agency said.
"As part of the pre-storm preparations taken by the federal partners, the EPA ensured that the Jewett White Lead site was secured and protected against potential damage before the storm arrived. The site came through the storm with only minimal damage, which will be repaired soon, and there is no indication that any material migrated off the site. Ongoing work at the site is proceeding," the EPA said in reference to the Jewett White Lead site, the former lead factory located on Staten Island.
"Not a lot, but enough," said Thurman of the radioactive waste.
Remediation is also planned for this site, although officials are still in the assessment phase of that project. The EPA has stated that there would be a "high tendency" for the uranium to migrate into the adjacent waterways, including the Kill Van Kull, in the event of a flood.
"God only knows how much washed out," said Dee Vandenburg, president of the Staten Island Taxpayers Association. "This was a storm surge no one ever thought they'd live to see."
And then there is the manufacturing currently in operation along the waterfront, businesses which Thurman noted sit as close as 35 feet from residential communities and contribute to the pollution in the Kill Van Kull. Those toxins, she added, may well have returned with the surge -- a mix of chemicals such as cadmium, PCBs, mercury and dioxins, as well as raw sewage.
The North Shore, like many communities in New York City with large concentrations of low-income housing, already has relatively high rates of health problems such as asthma, cancer and heart disease, Thurman said. She fears the storm's toxic wake could trigger even more troubles.
Vandenburg shared the same concerns, and suggested the consequences of such environmental injustices go beyond these communities.
"It keeps getting more and more dangerous and more expensive as time goes on," added Vandenburg. "We've got contaminants spreading everywhere in heavily populated areas. Areas where people don't speak English. It's going to get to a point where people get sick, so health care costs go up."
Sones of Red Hook acknowledged that while he doesn't know where he's going to find the money to replace the hot water heater, refrigerator and stove destroyed by seven feet of standing water, he's far from the worst off in his neighborhood.
Pete Morales lives in a nearby public housing complex that still didn't have any heat, hot water or electricity as temperatures began to drop on Monday evening. "This is a horrible experience. I never seen anything like this in all my 70 years in Red Hook," he said.
Sones said segregation in New York City set the stage for this disaster decades ago. While rich people generally resided around Central Park, he said, less wealthy neighborhoods sprung up around the water.
"This is where your nasty industries went. It was where immigrants stepped off boats. It was a dumping ground and a dangerous place," added Bautista, noting that it's only been in recent years that waterfront property has become a luxury item.
"We're dealing with 19th and 20th century urban planning paradigms," he said. "I'd like to think that if we were planning a city today we'd be smarter than putting industry right smack in the path of storm surges."
In the wake of Hurricane Irene, Bautista's organization distributed a foretelling press release. "NYC was lucky that Hurricane Irene was only a Category 1 hurricane that devolved into a tropical storm as it arrived in the City. However, we cannot rely solely on luck," read the release dated August 29, 2011. "NYC-EJA remains concerned that toxic environmental risks remain for the next major storm, particularly in waterfront low-income communities of color."
Bautista and other environmental justice advocates say they have been sounding the alarm for at least the last few years, and continue to express frustration that the city has not analyzed the cumulative contamination exposure risks associated with clusters of heavy industrial uses in such vulnerable locations. Bautista said he hopes that the city's Waterfront Revitalization Program, which is in the midst of an amendment process, will include reforms to make these waterfront communities more climate adaptable and resilient.
"We need to do something," added Vandenburg. "It doesn't look like the weather pattern is going to get any better."
This article has been updated to include additional comments from the EPA.
src="https://i.huffpost.com/gen/848821/original.jpg" />
Related
Popular in the Community