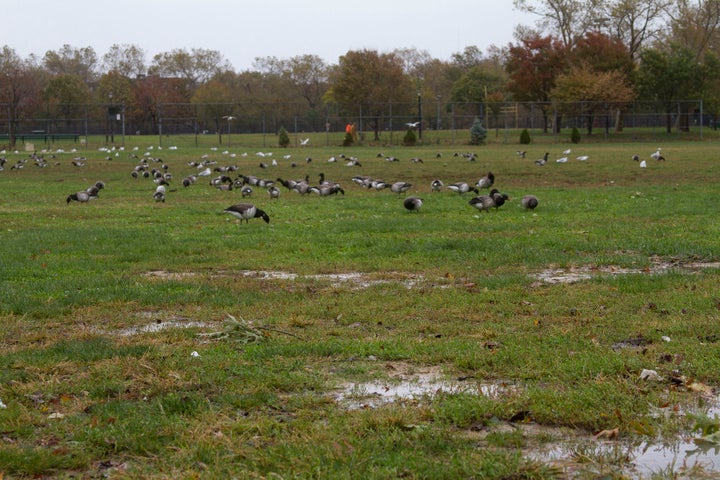 Even before her 7-year-old son, Zephyr, began playing soccer this fall, Penelope Jagessar Chaffer was concerned about possible toxic chemicals on his team's home pitch.
"When the Gowanus flooded during Sandy, that was the first thing I thought of," said Jagessar Chaffer.
She's now hesitant to let her son return to soccer. Jade Doskow, too, said she won't be taking her 2-year-old son, Benjamin, to play at Red Hook's waterfront park again anytime soon given the "strong gasoline and chemical smell all around the neighborhood."
"It was immediately apparent that a lot of bad things had been let loose by the storm," said Doskow, whose apartment building -- several blocks further inland than the playing field and park -- was struck by 5 feet of rushing water during last Monday's storm surge.
The Brooklyn moms are not alone. As Sandy's floodwaters recede from homes, parks and schools across the Eastern seaboard, parents face new health concerns -- including peeling lead paint, moisture-induced mold and mysterious mixes of chemical products. The risks for children could linger for months, even years, according to experts.
Felicia Rabito of New Orleans learned this first-hand as a mom and researcher in the wake of Hurricane Katrina in 2005.
"There was a huge problem at my kids' school," recalled Rabito, an epidemiologist at the Tulane University School of Public Health and Tropical Medicine. "A neighbor sanded down a large turn-of-the-century home. The entire place was contaminated with lead, and was sitting right next to the school's playing field."
In a study published in February, Rabito and her research team found at least one lead measurement above federal standards either in or near 61 percent of the 109 New Orleans homes they tested.
She pins the elevated lead levels to renovations. "If it's an old house, where previously the lead had been intact," she said, "water coming through can strip it off and create a reservoir of hazards."
"It's an element, so it doesn't go away," added Rabito.
The use of lead in household paint peaked prior to 1950. However, any home built before 1978 -- when lead paint was banned -- may still wear some of the toxic element.
Flakes and dust generated by lead-based paint can settle on everything from windowsills to toys. Young children who crawl on the floor and put things in their mouths are particularly prone to exposure. The effects can turn up years later in the form of behavior problems, lower IQ, and even heart and reproductive problems.
Unfortunately, many of the neighborhoods most affected by Sandy, such as Staten Island, have a lot of older housing, noted Ruth Ann Norton, executive director of the nonprofit Coalition to End Childhood Lead Poisoning.
"With moisture intrusion of this magnitude, you're going to have a lot of chipping, peeling or flaking paint as it starts to dry -- creating lead dust," said Norton, who had to cancel plans to visit Staten Island this week as part of the Green and Healthy Homes Initiative. Among the program's aims is to remove lead-based paint from older homes.
That same moisture intrusion can also create a breeding ground for mold, a potential trigger of neurological and respiratory problems.
Dave Newman, industrial hygienist with the New York Committee for Occupational Safety and Health, pointed to further hazards that could result from building damage including concrete dust and asbestos.
"There are chemicals that originate in building materials that may not be harmful when intact, but if damaged, can be toxic," noted Newman.
Then there's the oil and other materials that may be stored inside buildings. "Petroleum products, paint, fertilizers or pesticides could have been in a garage or basement," said Dr. Jerome Paulson, director of the Mid-Atlantic Center for Children's Health and the Environment at Children's National Medical Center. "Think of the literally thousands of chemicals in the cans and bags and whatever that may get breached."
Little is known about the health hazards of many of these chemicals individually or when they are mixed together. "It's not very good for sure," added Paulson.
He highlighted dangers -- bacteria, viruses and parasites -- hidden in the raw sewage that overflowed in many storm-ravaged regions. As Todd Sanford, climate scientist with the Union of Concerned Scientists, wrote in a blog on Thursday, "over half the outbreaks of waterborne diseases in the U.S. occur in the wake of heavy rains and flooding such as we saw with Sandy."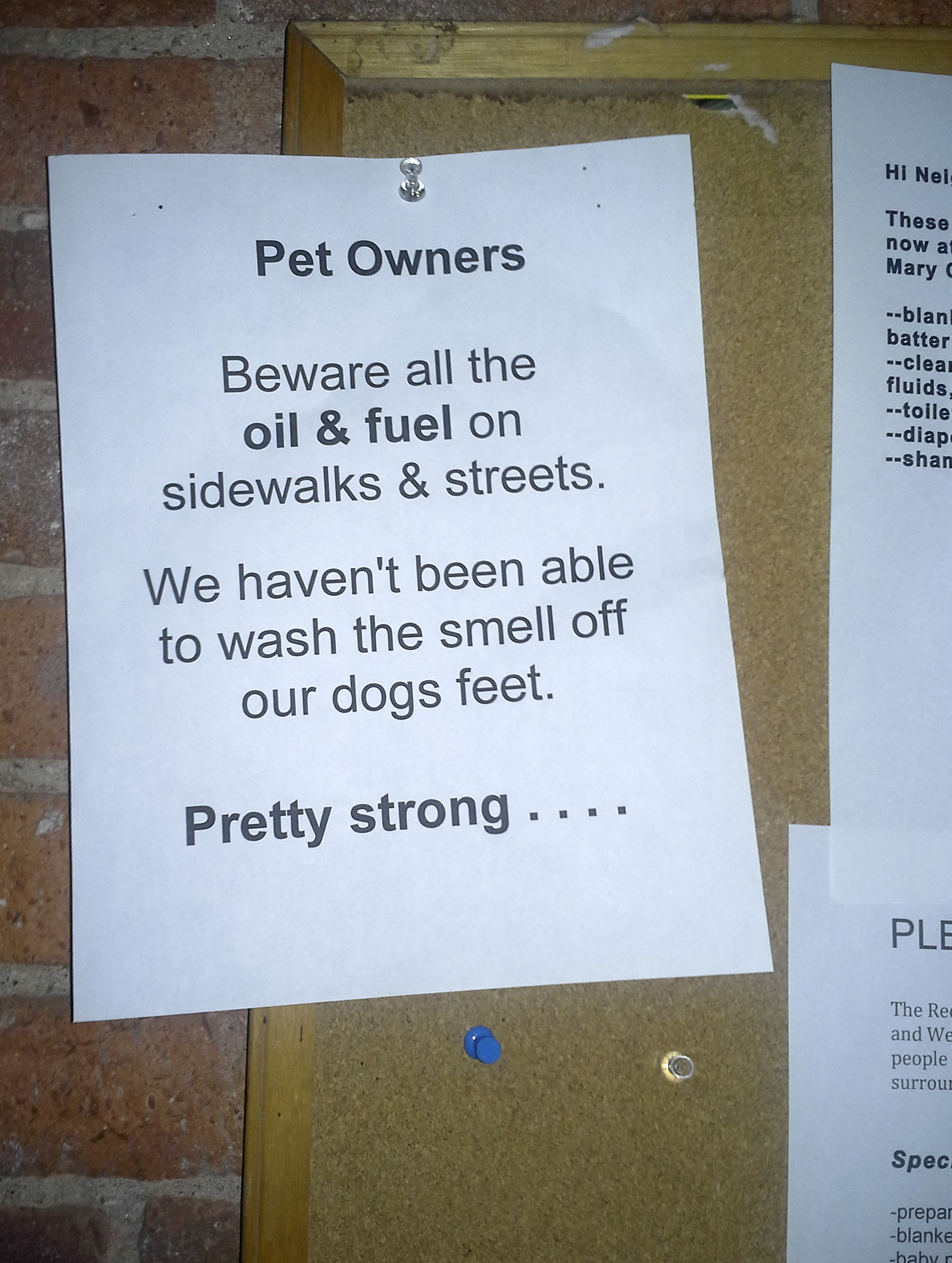 Residents of Doskow's building posted flyers warning neighbors about pollution.
Immediately following Hurricane Sandy, the U.S. Environmental Protection Agency conducted an inspection of the length of the Gowanus Canal and the surrounding area. According to the agency, on Oct. 31 it also collected samples of standing water from several buildings and will make the results public as soon as they are available. On Nov. 9, an EPA reconnaissance team will be in the Red Hook neighborhood to further assess storm damage.
Whatever the particular hazard, Paulson explained that because kids breathe more air, drink more water and eat more food per pound of body weight than adults, they are at a greater risk. Parents with questions or concerns, he said, should contact a local Pediatric Environmental Health Specialty Unit.
Of course, environmental health concerns may not be top of mind for many parents still dealing with direct damage from the storm. "There's so much going on in Red Hook -- lack of power and heat, the devastation to people's homes," said Doskow.
But she did notice that her neighbors had started posting flyers warning people to watch where they -- and their pets and kids -- walk, due to pollution on sidewalks and streets.
"I don't think Benjamin will be running around as much," said Doskow, "I'm sorry to say."
Calling all HuffPost superfans!
Sign up for membership to become a founding member and help shape HuffPost's next chapter