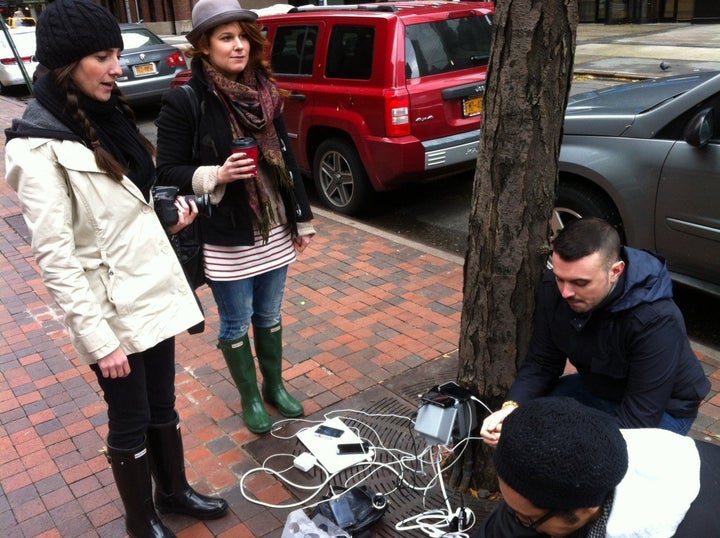 In New York City, powerless residents from lower Manhattan streamed north in search of Wi-Fi and a little juice for their devices.
"It's like a mass exodus," said Liza Meneades, who lives near Union Square and decided to head north to power up her iPhone and make a couple phone calls. "Residents up here have it so easy. Down there, I was feeling lucky because I have a gas stove and I was able to reheat my leftover chicken soup for lunch today."
Similar situations around Midtown were common, as people crowded around Wi-Fi hotspots, plugged into outdoor outlets and crowded the few open bars and restaurants with laptops and power cords. Sandy left more than 8.2 million people without power across the East and in New York City alone, 800,000 were in the dark.
Meneades had seen a man using an outlet on the outside of a building at Third Avenue and 49th Street and waited until he was done so she could plug in a charger.
Across the street, five friends also lucked out.
"We found a tree that works, guys!" said Kimmy Wigler, referring to an outlet at the base of a small tree, normally used for plugging in holiday tree lights. Wigler and her friends live on the Lower East Side and were just blocks from major flooding Monday night.
On Tuesday morning, as the wind abated and people ventured out of their homes, the group decided to walk north to see if they could find a cell signal and somewhere to charge their digital devices. They ended up walking more than 50 blocks.
"We didn't realize until 30th Street how far up we really had to go," Wigler said. "It wasn't until we got above 40th that we had cell service."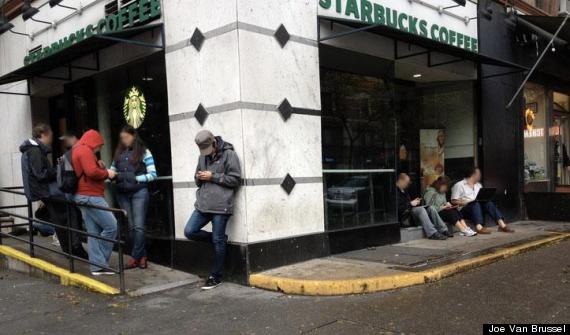 Manhattanites cluster outside a Starbucks to catch some free WiFi. (Photo by William McGuiness.)
Outside of a closed Starbucks on 73rd Street and Columbus Avenue on the Upper West Side, people huddled beneath awnings and into the doorway to pick up an Internet signal so they could check email and let loved ones know they were okay.
As Consolidated Edison announced it could take up to a week to restore electricity to the last of the nearly 800,000 customers in and around New York City who lost power, the creative power-sharing might need to last a while longer.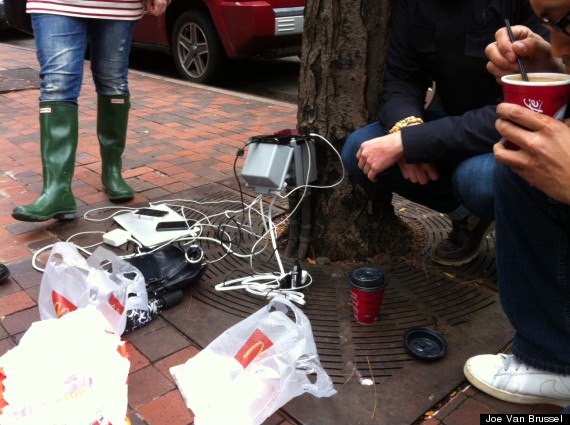 Charging party: Five friends from the Lower East Side set up camp around an outlet on the corner of 48th Street and 3rd Ave. (Photo by Joe Van Brussel.)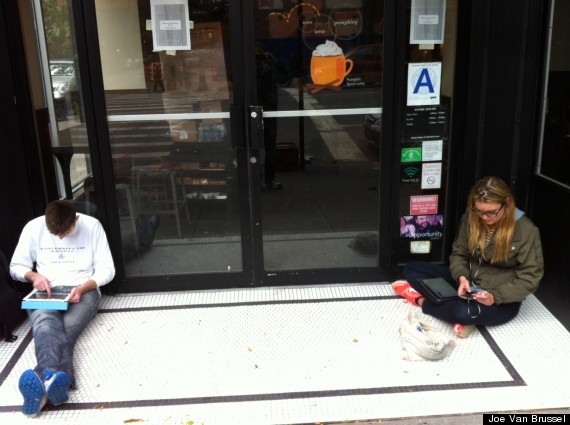 Sarah Horan (right) was staying with her Aunt near Battery Park when they were evacuated Monday. Huddled against a Starbucks on 2nd Ave. to pick up an Internet signal, Horan is able to check on the news and let friends know she's okay. (Photo by Joe Van Brussel.)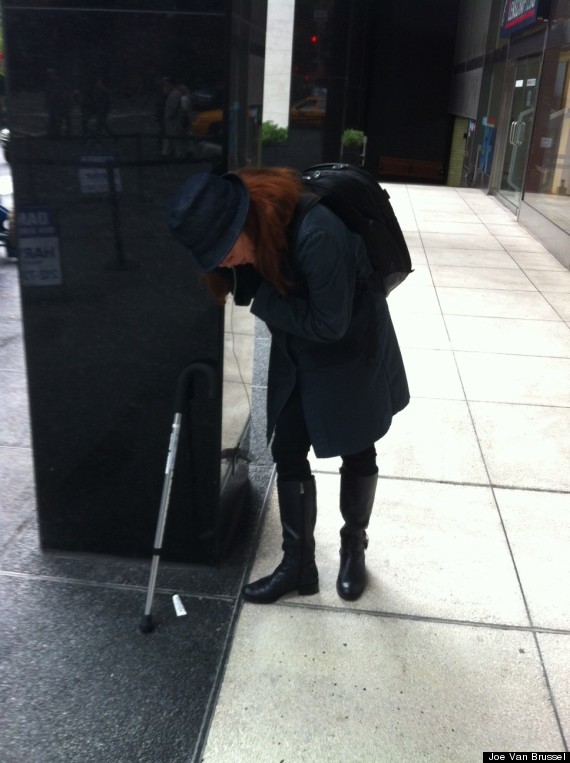 Liza Meneades plugs into wall outlet outside of a building on 3rd and 49th. She lives 33 blocks away, near Union Square. (Photo by Joe Van Brussel.)
Popular in the Community