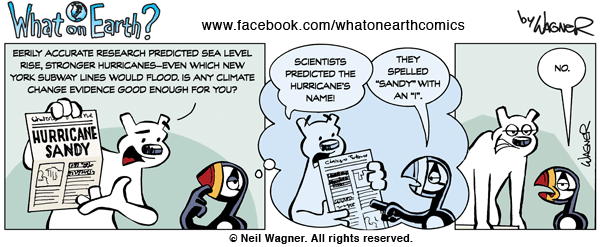 Damnit! I hate it when I'm right!
- NYPD Lieutenant John McClane
First off, for those not acquainted with the career of fictional police detective John McClane, check out the "Die Hard" movie franchise. Some of the best action movies of all times.
The reason a quote from Bruce Willis' cinematic alter ego leads off the blog portion of today's What on Earth is because I feel it represents a sentiment well-earned by climate scientists. They have spent years predicting the causes and consequences of a storm like Hurricane Sandy and the storm has now arrived.
Suppose you were contacted by your local police department ("John McClane calling!") and warned that they had solid evidence your house was being targeted for a burglary. Informants, local crime patterns, eye-witnesses... it all pointed to a potential break-in at your address.
Would you:
(A) Take steps to protect your home
(B) Do nothing but hope for the best
(C) Dismiss the police assessment as alarmist and ignore the whole thing
I'd say the first option would be a good course of action.
On a similar note, take a look at the following collection of eerily accurate predictions from scientists and other experts, as well as what they anticipate in the future. Ask yourself - should we take steps to protect our home?
Now I have a prediction of my own. I predict scientists' dire climate predictions will unfortunately continue to prove frighteningly accurate.
Calling all HuffPost superfans!
Sign up for membership to become a founding member and help shape HuffPost's next chapter