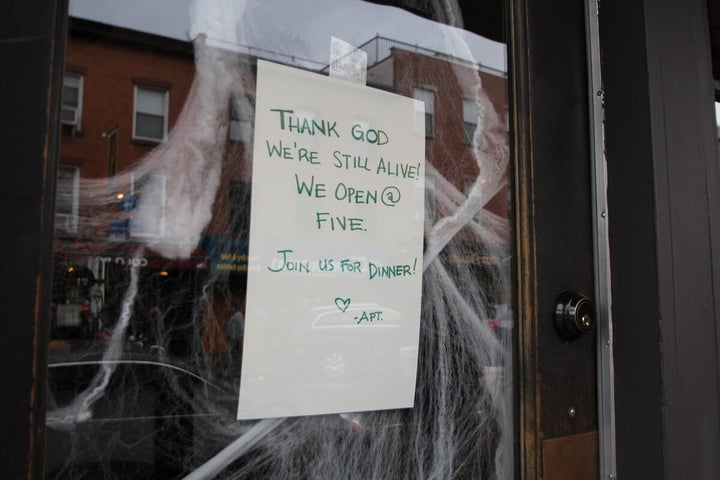 On Tuesday afternoon, the majority of storefronts in the Brooklyn neighborhoods of Boerum Hill, Cobble Hill, Carroll Gardens and Red Hook were still boarded up as the city began drying out from Hurricane Sandy. The streets, however, were teeming with cooped up area residents eager to leave their apartments. Those in search of food and drink were in luck -- a handful of eateries and bars had opened their doors and were serving the best they could.
Jose Antonio Lopez, the manager of Italian spot Vinny's Of Carroll Gardens, was pacing the packed room, delivering steaming plates of pasta and meatballs. Nearly every table was full, and a small line formed outside.
"It's really, really good," Lopez said of the day's business. "We [were] not really expecting a lot of people, but there are a lot of people that get hungry!" Vinny's had been open the day before as well, closing at 7 p.m. when the weather got too rough.
Up the street, bakery Bien Cuit was also open Monday until winds forced them to shut down around 1:30 p.m. Its doors were open first thing on Tuesday, although most of the staff was unable to make it to work.
"It's been one of the craziest days of the year," said Kate Wheatcroft, who co-owns the bakery with her husband. Wheatcroft herself was serving customers and whizzing around. "I don't usually work the front," she laughed. "[M]y operations manager is also here working the front, and then I have one barista who was actually able to make it in. So all hands on deck today!"
Bien Cuit had elaborately taped its windows to minimize damage in the event they might be blown in, but was lucky to escape any damage. Montreal-inspired delicatessen Mile End, a popular fixture a few blocks away, wasn't as lucky. Although its main structure was unscathed, its production facility in the hard-hit Red Hook area nearby was severely damaged. The facility housed its entire meat smoking and bread baking operations.
"There was a lot of flooding and some pretty significant damage to our equipment," said general manager Katherine Beto, adding that the restaurant staff "have a big cleanup to do." In the meantime, Mile End is adapting its menu to pick up slack. Regardless, the restaurant was packed on Tuesday -- an unusual midday sight even for such a popular spot.
"There are a lot of people who were unable to go to work, so they're all here eating smoked meat sandwiches!" Beto said. Despite the troubles with the smoke house, there was plenty of meat to be seen. "I don't think we're going to run out of smoked meat. We have a lot of friends in the industry that are offering their help so we'll get our smoker and we'll start smoking meat."
People unable to get to work or school were also congregating in the bars. At Sample on Smith Street, residents John Drew and Dan Selden were swilling Dark 'N' Stormy cocktails after a day biking through Brooklyn, surveying the damage.
"It seems like after events like this, the first place to go is the watering hole," Selden said. "It's not like you're going to get food from the Rite-Aid, or something like that. It's nice to go see people and go meet people."
"The idea of sharing such a tragic and wild, unfamiliar event, it almost necessitates processing and reflection," added Drew.
Perhaps one of the best stories of restaurants weathering the storm came from Building On Bond in Boerum Hill, where owner Phil Morgan enlisted employees from his other business, a construction and design firm, to help wait tables when most of the staff couldn't make it in. Morgan himself was helping out at the jam-packed Building on Bond and its sister restaurant, Palmer's in Fort Greene, until the latter's doors were blown off and he was forced to shut it down.
"[I] was here this morning because we wanted to supply a service to the neighborhood who didn't have any restaurants open," Morgan said. "You saw the same thing on 9/11, where people were getting together ... it's about sense of community and being a part of the same team. We are. I think most of the time, Brooklyn does believe that's the way things go."
It wasn't just Brooklyn eateries that took pains to open on Tuesday. Andrew Zimmern tweeted out this astute observation about a Manhattan restaurant:
To sum up, we'll defer to restaurateur Danny Meyer's sage advice.
Click through the below gallery for a look at brave restaurants that stayed open during Hurricane Sandy.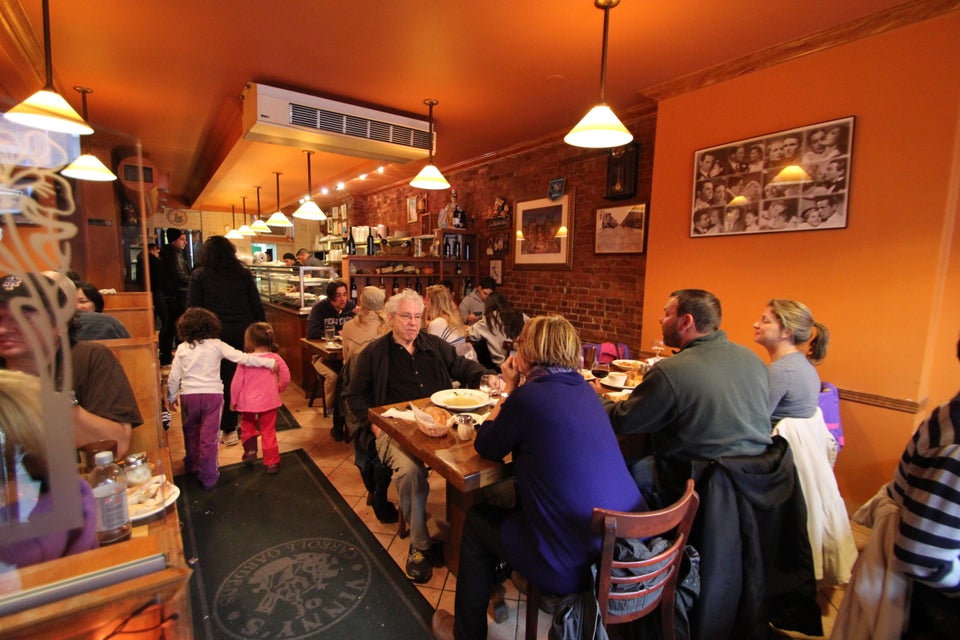 Restaurants That Braved Hurricane Sandy
*************************
The Huffington Post is eager for insights from our community, especially people with experience in power, infrastructure and engineering, on the adequacy of emergency preparation in advance of Hurricane Sandy, and the degree to which past disasters have informed adequate planning and construction. Please send a note to sandytips@huffingtonpost.com with insights and suggestions for the important questions that need to be asked of relevant private sector and government officials, and point us toward stories that need to be pursued.
Related