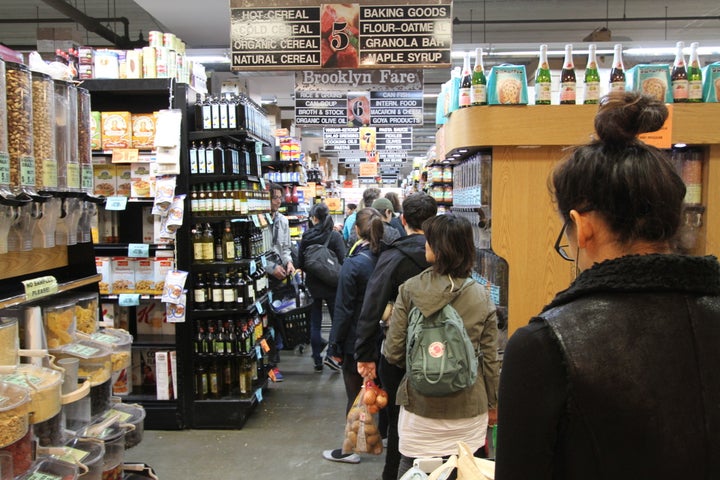 Hours before Hurricane Sandy was predicted to hit New York City, stores in the five boroughs were slammed by tidal waves of shoppers scrambling to scoop up any last-minute provisions from the depleted shelves.
At Trader Joe's in Brooklyn, shoppers ransacked the frozen food section, grabbing bags of Mandarin orange chicken and boxes of cheese enchiladas by the armful.
"I don't really understand," said Jo Pate, 34, who has worked at the store since June. "If the power goes out, no one will be able to cook this stuff."
New Yorkers have rarely looked as confused as many of them did Sunday afternoon, waiting anxiously in lines that wrapped around blocks to get into pharmacies, hardware stores and supermarkets. Faced with the prospects of flooding and blackouts, everyone was attempting to prepare for the worst -- though no one seemed to quite know how.
In addition to staples like bottled water, bread and canned soup, popular choices at Trader Joe's included frozen pizza, cookies, brussels sprouts and peanut butter (one of the most popular hurricane items, according to a cashier). Shoppers even emptied out a display of pumpkins and gourds, prepared for the Halloween weekend. "We're just grabbing stuff and throwing it in the basket," said Kenny Ron, 45. "It's whatever's available at this point."
Eying the mob at Trader Joe's, 29-year-old Alabama native Casey Frew said: "You can tell that people don't deal with hurricanes that often here. This is how people act when it snows in Alabama."
Hurricane Sandy devastated the Bahamas and Haiti earlier this week, then headed northwest on a rare collision course with the mid-Atlantic seaboard. Officials in eight states, including New York, declared states of emergency in advance of heavy rains and winds starting early Monday morning. In New York City, Mayor Michael Bloomberg ordered mandatory evacuations of low-lying coastal neighborhoods and canceled public transit service for the duration of the storm -- just over a year after doing so in anticipation of Hurricane Irene, which ended up being less severe than expected.
Frew, who moved to New York from New Orleans just two months ago, said that he planned to use goat meat stored in his freezer to make curry for dinner Sunday before the storm hit. He was visiting Trader Joe's in the hopes of finding water and sandwich ingredients. By the time he arrived at 4:30 p.m., the store was already sold out, but he wasn't all that worried.
"The storm's only going to last two days. I don't think anyone's going to starve," he said.
The one thing everyone agreed on was that they needed water. After large, basic jugs of Poland Spring sold out, some shoppers decided to take the opportunity to try fancier brands and flavors. Elliot Piperno, 73, bought several bottles of San Pellegrino to complement the plastic bags of tap water he had prepared for himself at home.
Others, deterred by high prices, avoided water altogether. Javier Gomez-Lavin, 23, brought home two gallons of white tea from a Duane Reade on the Upper East Side after he discovered that all brands of water, except for Voss -- an artisanal Norwegian variety that was retailing for $8.99 per six pack -- were sold out.
Many shoppers said they were planning to spend more than their regular grocery budgets. "I'm a deal shopper no matter what, even with groceries," said Amanda Ross, 30, who was stocking up at Brooklyn Fare, an upscale grocery store a few blocks north of Trader Joe's. "But today I'm not looking at the prices."
Still others found that the shopping frenzy dampened their appetites. Rafael Pucho, 60, left Brooklyn Fare without the apple pie he came to track down. "Did you see that line?" he said. "I think people are hitting the panic button."
Check out photos of New Yorkers shopping for hurricane supplies, taken by Jay Dockendorf for The Huffington Post: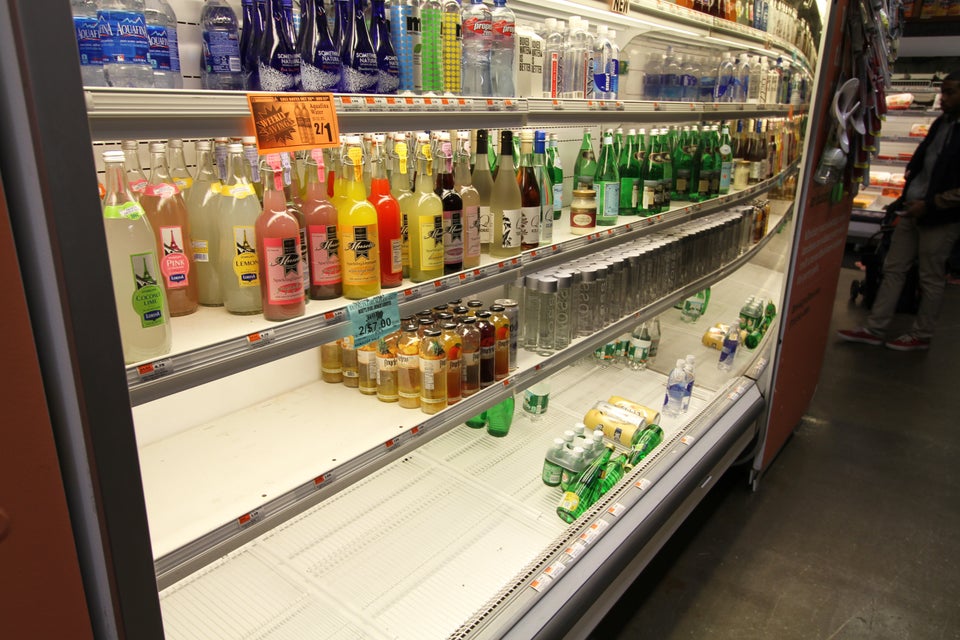 New York City Residents Raid Grocery Stores
Popular in the Community