 Even with a week to watch and model the projected outcomes of the hurricane dubbed Sandy, which joined two other wintery weather systems late yesterday to become the hybrid super-storm now squatting over central Pennsylvania, the historic event has meteorologists marvelling at its sheer size, strength and behavior.
The storm, now called a post-tropical cyclone, slammed into coastal New Jersey Monday evening, shoving catastrophic volumes of ocean water up over flood barriers and deep into coastal communities -- including New York City, which saw a 13-foot storm surge devour parts of lower Manhattan, inundate subway tunnels and flood office buildings, among them the lobby of the New York Daily News. New Jersey's Atlantic City was experiencing dangerously high floodwaters into Tuesday morning, and officials were calling it the worst storm in the city's history.
But unlike Hurricane Irene -- which devastated the East Coast in August of last year and caused some $16 billion in damages, chiefly from inland flooding arising from that storm's prodigious rainfall -- the current storm's most powerful artillery derives from its record low pressure, sustained Category 1 hurricane winds (nominally between 74 mph and 95 mph), and its sheer size, which stretched some 1,000 miles in diameter as it swept up the East Coast. These factors, along with the timing of the high tide -- and, perhaps, new meteorological variables arising from a warming planet -- combined to deliver the worst damages to low-lying coastal areas.
Various reports have put the U.S. death toll due to the storm as high as 33, as of this writing, which doesn't even factor in the scores killed in the Caribbean.
"Sandy's barometric pressure at landfall was 946 millibars, tying the Great Long Island Express Hurricane of 1938 as the most powerful storm ever to hit the Northeast U.S. north of Cape Hatteras, N.C.," noted Jeff Masters, the co-founder and director of meteorology at Weather Underground, in a blog post late Monday evening. "New York City experienced its worst hurricane since its founding in 1624, as Sandy's 9-foot storm surge rode in on top of a high tide to bring water levels to 13.88 feet at The Battery, smashing the record 11.2-foot water level recorded during the great hurricane of 1821. Damage from Superstorm Sandy will likely be in the tens of billions, making the storm one of the five most expensive disasters in U.S. history."
In terms of sheer kinetic energy -- a measure of the windspeed integrated over how wide an area the winds are blowing -- the super-storm also shattered records going back to at least 1969, said Masters, a former "hurricane hunter" with the National Oceanic and Atmospheric Administration, in a phone call with The Huffington Post Tuesday morning.
"That includes Katrina, Andrew, Wilma -- all the Category 5 storms -- Sandy had them beat," Masters said. "If you take the size of it -- it was so vast and it had winds blowing over such a wide area of ocean -- it put a tremendous volume of ocean water in motion and carried it with it as it moved northwards. And guess what? When that water hit land, it had nowhere to go but on the land and generate a record storm surge."
Add to that the moon phase, which happened to have the ocean at high tide, and sea levels that have risen more than 7 inches over the course of the 20th-century, Masters said, and the makings for an epic storm surge were more or less in place. "I wasn't surprised that it generated a record storm surge, because it had that record amount of energy," Masters said. "But it was a surprise to me that it smashed a record by such a wide margin."
Rain is still pummeling many areas, but Sandy appears to have a lower precipitation payload than Irene, which arrived in August last year when ocean temperatures were at their peak. In late October, meteorologists note, the oceans aren't quite as warm and therefore can't evaporate as much moisture into the air, which means less moisture is available for heavy rains. Meanwhile, Irene arrived on the heels of weeks of heavy rains that had already saturated the soil and lifted river levels to near-flood stage. Such was not the case with Sandy, Masters noted. "River levels were below average, soils were drier than average, so we're not seeing as much river flooding."
That said, the storm is still lingering dangerously over Pennsylvania, moving at roughly 10 miles an hour, with sustained winds of 45 mph, according to the National Weather Service. With models predicting a northward turn across Western New York and into Canada toward the end of the week, the ultimate toll of the storm will likely not be known for some time. But experts have suggested that a variety factors -- including several that suggest climate change may be playing a role in the storm -- are conspiring to make "Frankenstorms" like this one a more clear and present danger than they had been in the past.
As Andrew Freeman at the website Climate Central noted last week -- even as Hurricane Sandy was still gathering strength in the Caribbean -- it is rather uncommon for hurricanes with Sandy's origins to move inland into the U.S. this late in the year. "Normally, hurricanes that form in Sandy's location do head seaward, particularly in October, when strong cold fronts moving off the East Coast tend to sweep tropical weather systems away from the mainland," Freeman said. "In fact, there may only have been a couple of cases in the historical record dating back to the 19th century when a hurricane took a track in October similar to the one Sandy may ultimately follow."
Sandy followed the path it did in part because an unusual high pressure system has been parked over Greenland. That system is acting like a block, preventing anything from pushing northward through it, including Sandy, which instead took a devastating westward turn into New Jersey and onward into Pennsylvania.
Meanwhile, the jet stream -- the steady, eastward-moving air current that undulates around the Northern Hemisphere, including across Canada and the U.S., and which would normally sweep storms along -- has been losing speed. In some areas, the drop-off has been as much as 14 percent, according to Jennifer Francis, a research professor at the Institute of Marine and Coastal Sciences at Rutgers University. That loss of speed, Francis recently noted, could lead to storms in the East appearing to get stuck, not unlike what is now happening to Sandy over Pennsylvania.
"There is evidence that Arctic sea ice loss might be responsible for that sort of behavior of the jet stream," Masters said. "Whether it was the case for this particular block, we don't know. Our sea ice losses are a relatively new phenomenon, and we don't have a lot of years of data to study. But there certainly is a lot of potential for climate change to affect a storm like this."
As of 11:00 a.m. Tuesday, the National Weather Service reported that the storm had slowed in forward motion and that it would continue on a westward track through the afternoon before heading north later tonight, entering Canada by Wednesday. "Due to strong and persistent northerly winds," the service noted in its latest bulletin, "coastal flooding along portions of the Great Lakes is possible."
Said Masters: "I hope this hurricane season is over."
*************************
The Huffington Post is eager for insights from our community, especially people with experience in power, infrastructure and engineering, on the adequacy of emergency preparation in advance of Hurricane Sandy, and the degree to which past disasters have informed adequate planning and construction. Please send a note to sandytips@huffingtonpost.com with insights and suggestions for the important questions that need to be asked of relevant private sector and government officials, and point us toward stories that need to be pursued.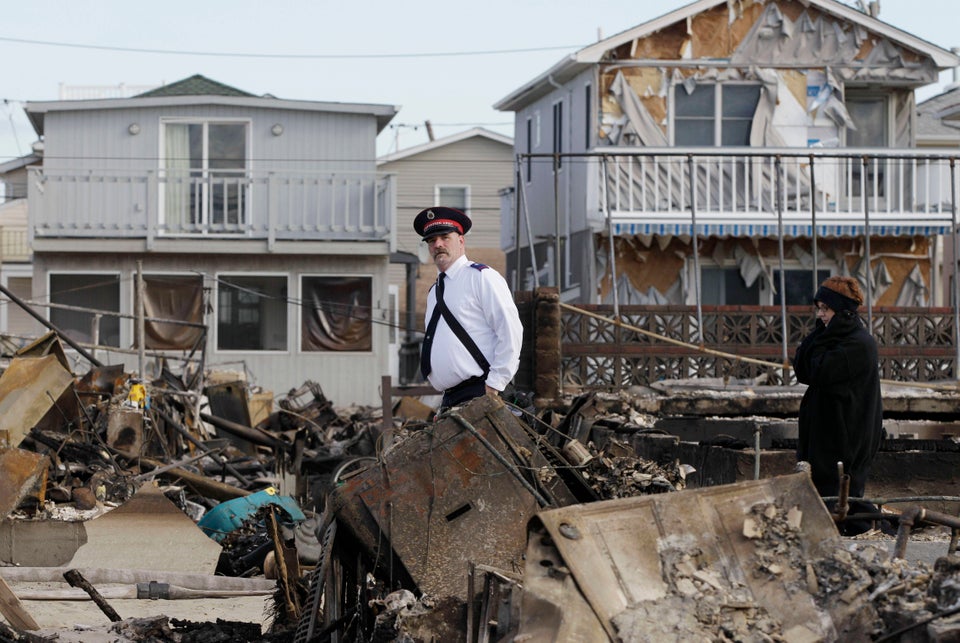 Hurricane Sandy
Popular in the Community