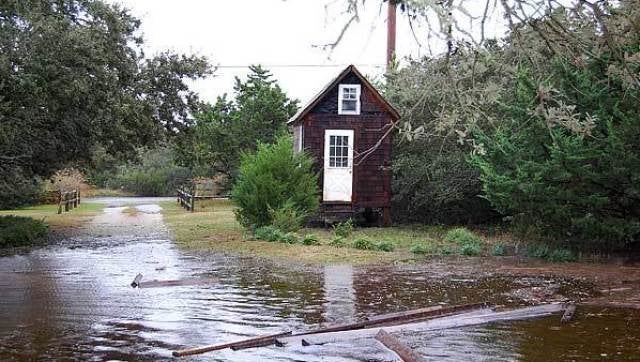 There are definitely strong opinions about the idea of tiny homes. Most people can't even imagine comfortably living in one, let alone the thought of it surviving a natural disaster. But located on the Outer Banks in North Carolina stands a 96-square-foot home that has fought off the devastating wrath of Hurricane Sandy.
Built freely out of found materials, the Scrap House, as its owner Ted Fort refers to it, withheld 55-60 MPH winds with an estimated six feet of water without leaks, flooding or exterior damage. "As far as I can tell, there is [no damage] whatsoever. The house has proved to be remarkably resiliant," said Fort.
And while this may be surprising to many people, for Fort it was not. One reason he says the house was able to survive the hurricane was its location. "The road onto the island was damaged, and some houses were harmed, but relatively little catastrophic damage occured," said Fort.
But region isn't the only reason.
The house was built with hurricanes in mind when Fort and his three classmates decided to erect it as a school project. At the time, the then high school students "over engineered" the house by doubling and tripling the width of wall studs and attaching the rafters to the walls using hurricane ties. "Due to the size of the structure, it does not technically need to be built to code,' said Fort. "However, we built it beyond code wherever possible."
According to Fort, Hurricane Sandy is the fourth or fifth storm the little house has survived including Hurricane Irene. And although he doesn't live in the house (he's currently a college student) he does strongly encourage the building of tiny homes. For those who are interested, he recommends paying extremely close attention to detail and speaking with as many tiny home owners as possible -- including Ted!