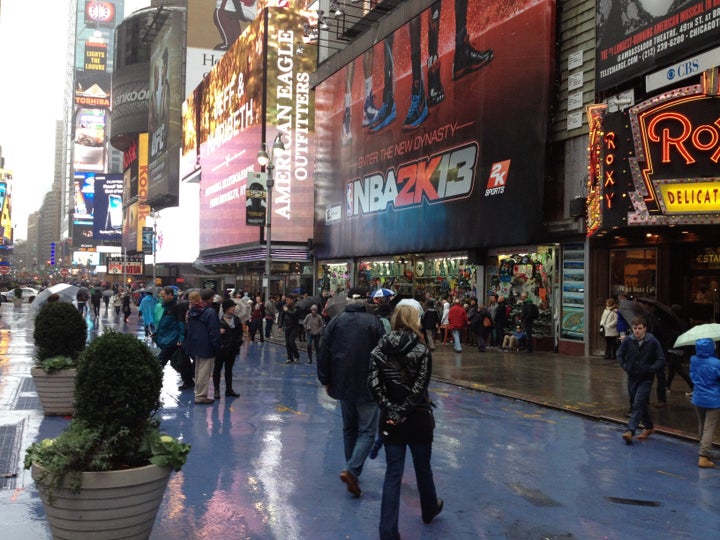 Living in Manila, Philippines, Martin Gaw is used to hurricanes. He has seen hurricanes and typhoons that lasted four days, during which water levels were waist-deep. But he didn't expect to spend his fall vacation in New York City bunkered down at the JW Marriott on Central Park South, watching the incoming Hurricane Sandy through the lobby windows.
Now, instead of going to a museum, a Broadway play or visiting the 9/11 memorial, Gaw is paying about $800 a night for his family to sit in their hotel and watch weather updates.
"I'm disappointed in a way," Gaw said. "But I'm thinking of the safety of my family."
"We came to New York expecting there to be so much to do," said Katy Sisson, 22, of Brighton, England, who spent Monday morning walking around Times Square in the wind and rain. "We feel a bit screwed over."
On Monday, many popular tourists attractions were closed, including all museums, major department stores, Broadway shows, the Statue of Liberty, Empire State Building and World Trade Center memorial. But with their plans interrupted, tourists also couldn't leave, as all flights out of New York City were cancelled.
Sisson was not the only one to brave the elements in an attempt to do some sightseeing. Around noon on Monday, Times Square was nearly as bustling as it is on a normal day, even though most shops and restaurants were shuttered. Those that did remain open -- Levi's, Billabong, Sbarro, and Travelex, among others -- were packed, sometimes overflowing with lines out the door.
Garo Nalbandian, 21, a sales associate at Levi's, said the company called up all its cashiers living in Manhattan around midnight Sunday to ask them to come and work at the lucrative Time Square location on Monday and Tuesday. "All of the tourists are coming here because there's nowhere else open," Nalbandian said. "I don't mind because I wanted the shift. They'll pay for my taxi back home once we close."
Even Sunglass Hut at Broadway and 48th Street -- an unexpected destination on the day of a hurricane -- had a line of people waiting to enter, nearly all of them from abroad. "We're not afraid of the hurricane," said Helide Blowr, 55, of Rio de Janeiro, Brazil, who hoped to check out some Ray Bans.
Many tourists were of the opinion that the American media has been overhyping the storm. "Here, it is the same news on repeat," said Gaw, noting that, in the Philippines, stores and offices stay open and there aren't minute-by-minute news reports or transportation shutdowns. "American media is overblown. It's too much information," he said.
Pierre Dillenburg, who would have preferred to return home to Luxembourg, had his Tuesday night flight cancelled.
Dillenburg had to forego restaurant reservations as well as plans to visit the Museum of Modern Art. He had tickets to see "The Book of Mormon" on Broadway, but that was cancelled as well. "Now there's nothing to do but read, sleep and watch TV," he said.
Those basic activities can come at a steep price. Harold Bauer and Marianne Mayer from Vienna, Austria, are paying about $500 a night at the Central Park South Marriott. "That's a lot of money for us," he said. "That money could be used for a week's holiday somewhere else, but here, it's just for one night of sleeping."
The storm is costing Emily Kaplan from Newport Coast, Calif., about $5,000. She came to New York City on Sunday with her six kids, ages 3 to 12, and was supposed to leave Tuesday, in time for Halloween. Instead, she had to extend her reservation at the Plaza Hotel until Friday and go to Rite Aid to pick up whatever costumes she could find for her kids.
But Kaplan isn't concerned about the costs or about being cooped up with six kids. "I have given them many lectures about their attitude, telling them there are people without power or a place to stay," she said. "We are living here with every option, in the lap of luxury, in one of the best hotels in the world. It's far from suffering."
Check out photos of shoppers in Times Square on Monday :
PHOTO GALLERY
Tourists Shop In Times Square Hours Before Hurricane Sandy
Calling all HuffPost superfans!
Sign up for membership to become a founding member and help shape HuffPost's next chapter
BEFORE YOU GO