 * Floods knock out Verizon's West Street central office
* AT&T, T-Mobile USA, Sprint suffer service problems
* Comcast, Verizon Wireless assessing the situation
NEW YORK, Oct 30 (Reuters) - Power outages and flooding caused by Hurricane Sandy disrupted telecommunications services in Northeastern states on Tuesday, resulting in spotty coverage for cellphones, television, home telephones and Internet services.
While all the region's telecom service providers were having problems, Verizon Communications, which serves many of the states in the hurricane's path, appeared to have suffered some of the worst damage from the storm.
The New York-based company said the storm caused flooding at three Verizon central offices that hold telecom equipment in Lower Manhattan as well as sites in Queens and Long Island.
Its downtown headquarters, which was put out of action 11 years ago by the September 11 attacks, had three feet of water in the lobby at one point. Because of flooding, all its telecom equipment at that office, which serves much of Wall Street and downtown consumers, was knocked out of service.
The company said it was working on pumping out the water in the hope that it could restart its back-up power generators in the facility as commercial power services were not yet restored the morning after the big storm hit.
"The bullseye of the impact is the metro area," said spokesman William Kula, adding that restoring service for the city's financial district was a top priority for Verizon.
Telecom disruptions affect electronic trading as well as corporate operators. The Chief Operating Officer of the New York Stock Exchange, which does not expect to open again until Wednesday, said "lots of telecom infrastructure is down" and that the NYSE was working with big firms to ensure they were doing testing of their systems.
Verizon did not give an estimate as to how many businesses and consumers were affected. Two of three Manhattan central offices were partially flooded and operating minimal services.
Customers served by the damaged central offices will experience "a loss of all services" including TV, Internet, and traditional telephone services, Kula said. Some customers may experience intermittent busy signals for non-emergency calls.
Verizon said its engineers were working on assessing the damage from the early hours. Outside of New York, the company warned that it was also having some trouble.
"Verizon is discovering that many poles and power lines/Verizon cables are down throughout the region due to heavy winds and falling trees," the company said in a statement.
Verizon Wireless, AT&T Inc, Sprint Nextel, T-Mobile USA said they were dealing with wireless service problems in the hurricane region. Cable operators Cablevision Systems Corp, Comcast Corp and Time Warner Cable also said they were having service problems.
"I think everybody's equipment's going to be damaged, including cellphone towers," Stifel Nicolaus analyst Christopher King said from his Verizon Wireless cellphone in Baltimore.
"Particularly for Verizon, they're clearly going to have the most damage on the wireline side because its pretty much all of their territory (where the storm hit)," King said.
Sprint Nextel, the No. 3 U.S. mobile provider said it was seeing outages at some cell sites because of the power outages across all the states in Sandy's path including New York, New Jersey, Connecticut, Pennsylvania, Washington DC, Maryland, North Virginia and New England.
"(Repair crews) have started on some critical areas but they haven't been able to get to everywhere they need to be," spokeswoman Crystal Davis said. She noted that 80 of the company's stores would reopen at noon. Sprint had closed about 180 stores ahead of the storm.
T-Mobile USA said that "customers may be experiencing service disruptions or an inability to access service in some areas, especially those that were hardest hit by the storm."
People complained of outages to their cable telephone, Internet and television services from providers including Comcast, Cablevision and Verizon in New Jersey, Connecticut, and New York.
Cablevision said it was experiencing widespread service interruptions primarily related to loss of power. The company said it is working to restore services.
Comcast, whose headquarters is in Philadelphia and serves East Coast states, said that for the majority of customers, "Comcast service should be restored as power comes back on to their homes."
Cellphone service was spotty for top wireless providers Verizon Wireless, AT&T Inc and T-Mobile USA, a unit of Deutsche Telekom, according to some customers.
Verizon Wireless, a venture of Verizon Communications and Vodafone Group, said on Tuesday afternoon that customers may be experiencing service issues and that about 94 percent of its cell sites were up and running.
AT&T said it was experiencing some issues in areas heavily affected by the storm. By Tuesday morning spokesman Mark Siegel said AT&T was in the initial stages of on-the-ground assessment and that it expected "crews will be working around the clock to restore service."
Several Time Warner Cable customers in Brooklyn said that their Internet, television and phone services stopped working Monday night but were back again by Tuesday morning.
Time Warner Cable said that while it has not seen any major damage to its infrastructure, its customers who do no have electricity do not have cable services.
Millions of people in the eastern United States awoke on Tuesday to flooded homes, fallen trees and widespread power outages caused by Sandy, which swamped New York City's subway system and submerged streets in Manhattan's financial district.
At least 30 people were reported killed in the United States by one of the biggest storms to ever hit the country. Sandy dropped just below hurricane status before making landfall on Monday night in New Jersey.

Support HuffPost
The Stakes Have Never Been Higher
Related
Before You Go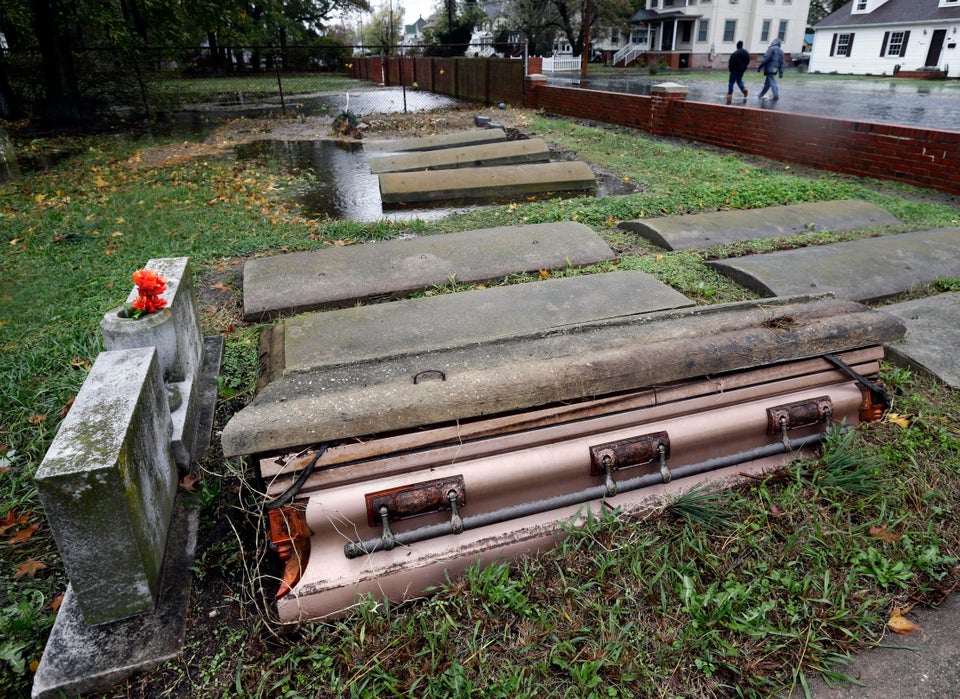 Hurricane Sandy
Popular in the Community