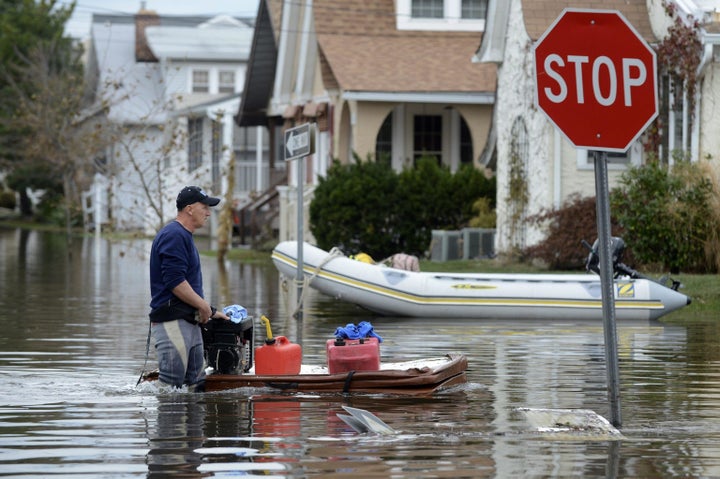 Two years ago, during a trip to New York City, I visited a startling exhibit at the Museum of Modern Art (MoMA). Called "Rising Currents," the project pulled together teams of architects and engineers with a single mission: create a compelling vision for how New York could become resilient to the future impacts of climate change, specifically the sea level rise and storm surge that will occur over the coming decades. The exhibit showed that by facing future climate risks with proactive planning, we can produce the inspiring cities of tomorrow.
As I anxiously watched news coverage of Superstorm Sandy slamming into Gotham this week, it was clear that tomorrow had arrived a little early.

The basics of Sandy's relationship with climate change are simple enough. Atlantic hurricanes during the fall are nothing new; this is near the end of the traditional hurricane season. But Superstorm Sandy was no ordinary hurricane and was influenced by two important factors linked to human-caused global warming:
First, like giving steroids to an athlete, higher sea surface temperatures caused by global warming add more energy to hurricanes (October sea surface temperatures in the Atlantic Ocean near the United States are among the warmest on record). Second, a growing body of evidence shows that the loss of Arctic sea ice is affecting the jet stream and pressure systems like the one that pushed Sandy inland to New York and New Jersey, rather than allowing it to move out to sea as such storms normally would. (I wrote about the winter wobble of the jet stream last month.)
But the scientific nuance is less important than the window on the future that Sandy has given us. The combination of sea level rise and storm surge, which we've seen over the last few days, is precisely what scientists say the northeastern United States will face more and more of thanks to climate change.
A federal advisory committee consisting of experts from around the country plans to release in early December a public review draft of the next National Climate Assessment (NCA) report, the most comprehensive summary in more than a decade of the impacts of climate disruption on the United States. Some of the NCA's underlying technical reports already are available. The draft report on the Northeastern United States reads like a forecast for Superstorm Sandy: "extreme coastal storm events including storm surge, coupled with accelerated sea level rise represent the highest potential impact scenario." Welcome to the future.
As we mourn our losses and rebuild from the devastation of Sandy, it's tempting to look to this future with fear and sadness. While understandable, this would be a big mistake. The MoMA's "Rising Currents" exhibit was inspiring and beautiful. Focusing on lower Manhattan between Canal Street and Battery Park, an area that Sandy put underwater, the MoMA team showed that Manhattan could safely withstand such a storm. Rather than a flooded wasteland with sandbags and huge seawalls, they created a growing, vibrant urban destination filled with increased green space, permeable pavement, and a new network of coastal wetland parks.
Visionary approaches to preparing for our changing climate are not just the stuff of hypothetical experiments. In the real world, cities are beginning to take on this challenge. Chicago is a good example, with solid plans in place. But thanks to shrinking budgets and competing priorities, climate change is often seen as a future problem that we can deal with later. Of course, when the future suddenly arrives, things can change quickly.
Just ask Burlington, Vt. The state saw its wettest spring on record in 2011 and while still reeling from that was hit in August by one of last year's record-setting extreme storms -- Hurricane Irene. Burlington was inundated with 15 inches of rain in one weekend. It led to the worst flooding in the state in 83 years and one of the worst weather-related disasters in the state's history. Facing this new reality, this year Burlington's government leaders and citizens pushed forward a new Climate Action Plan.
And citizens everywhere are beginning to demand more from their local leaders including activists in 1,800 cities and towns across America that have asked their city officials to prepare for climate change and join the Earth Hour City Challenge.
But on the whole, the climate silence in America, and especially at the national level, is leaving cities and communities dangerously unprepared.
"Rising Currents" showed what we could accomplish if we unleashed our full creative powers to fight back against global warming. But before we can bring our energies to solving this challenge, we need to completely accept that human-climate change is happening and that it will challenge us, scare us and force us to use our best efforts to push back. To fully face this reality, we must break our silence around climate change and have an adult conversation in America about the problems ahead.
For the 50 million of us who stood in the path of Sandy and the rest who watched its devastation, isn't it time to ask our leaders how we can avoid a future where Frankenstorms like Sandy become the new normal?
Any reasonable answer to this question will have two parts: (1) We need common-sense strategies to prepare our communities to withstand a future with rising seas and with storms, droughts and wildfires on steroids; and (2) We must quickly harness American ingenuity to build a world powered by carbon-free energy that will stop pumping steroids into our climate system and lessen future risks.

We must do both and Sandy has reminded us that there's no time to lose. The future is here, a little early.
Calling all HuffPost superfans!
Sign up for membership to become a founding member and help shape HuffPost's next chapter