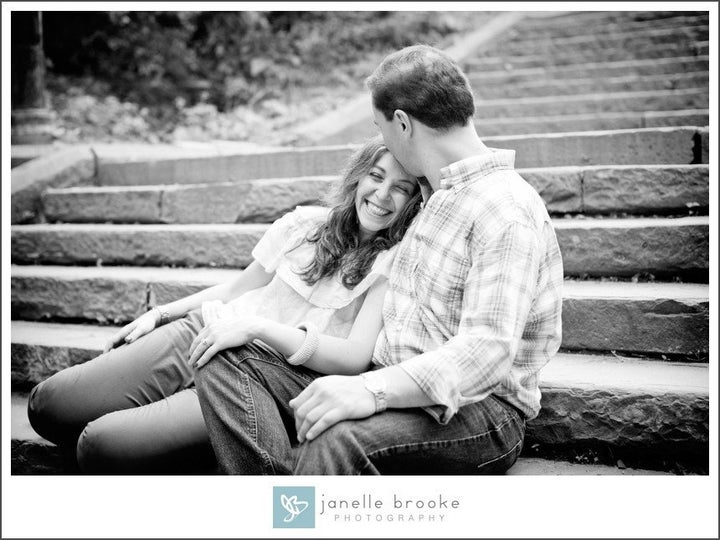 Shelby Ebert and Adam Moser are a New York City couple whose Saturday wedding has been disrupted by Hurricane Sandy. Ebert, 29, a development officer and event planner at a non-profit organization, and Moser, 30, a defense attorney, had planned to tie the knot Nov. 3 on Long Island in a black tie affair. The couple's wedding venue is still standing and they plan to go through with their nuptials, but things will not be going according to plan. Here, Ebert tells their story to HuffPost Weddings' Stephanie Hallett.
Adam and I met about four years ago. My maid of honor, who has been my best friend since we were three, introduced the two of us. Her grandfather had passed away and [Adam and I] were both paying a shiva call at the same time. I was training for the New York City marathon with a group that raises money for blood cancer and Adam had just started training for his very first marathon too. We were talking about the experience, and what we had in common -- his sister is a childhood leukemia survivor and I lost a friend to leukemia when I was in high school -- so we bonded over a couple of different things. I actually ended up running his first marathon with him because his training partner screwed up her knee; we crossed the finish line and we've been doing these things together ever since. In fact, we'll be running the New York City marathon on our one-year wedding anniversary [next year].
Last summer, we were busy almost every single weekend [by that time we were living together]. Adam basically forced me to block out one free weekend and said we would make dinner together. As I was walking up the stairs to our apartment, I smelled a really strong scent. It was right after Hurricane Irene and we had bought a lot of candles, so I assumed he had burnt dinner and had lit some to get rid of the smell. Actually, he had created a trail of scented candles and my favorite candy into our apartment. The door to our bedroom was closed. When I opened it he was there on one knee, wearing a suit, with a diamond ring, and he said, "will you marry me?" We wound up going to Le Bernardin for dinner, and then the following morning we woke up and he told me to pack a bag. From there, he whisked me away to the Hamptons, and we stayed at this incredible bed and breakfast. The next day we went to this butterfly conservatory. The friend who passed away in high school is somebody who I've always spoken about being in my bridal party and her favorite thing was butterflies, so we went there because we wanted to feel like she was part of it. On the last night of the trip, we walked into a restaurant and both of our families were there waiting for us -- all of the nieces and nephews and cousins. Every single minute of the trip I was smiling, I couldn't sleep because I was so happy. It was truly the greatest weekend of my life.
As I was watching the weather reports this week, I was anxious. There were points when I was in complete despair. Adam's Dad was in Florida, the airports were cancelling flights, and we didn't know if he would be able to get up here. One of Adam's groomsmen is a firefighter, and he was sent out to Breezy Point and other areas with incredible devastation. We couldn't reach a number of our vendors, one by one our family members were losing power -- we didn't know what was going to happen.
We were cooped up in our apartment in Midtown Manhattan Sunday night through Tuesday. It was intense because we didn't know if we were going to have a venue, or if guests would be able to get to the wedding. At the same time, there were momemnts of absolute levity. We spent about 20 to 30 minutes last night just laughing at the absurdity of everything. A week and a half ago, we sat down at dinner and said, 'oh my God, everything's done. We've planned everything! Everything's finished, we did it ahead of time, the checklist is complete.' We've had a bunch of friends who have gotten married who said, 'Oh, the week before the wedding is so stressful,' and we're like, 'We don't know what you're talking about!' And then to watch it all unravel before our eyes... We had to laugh. On Wednesday morning we found out that our venue was still standing and had power. We hung up the phone and cheered and hugged and cried because we knew that as long as we had a place to get married, we would do it. Even if we were using an iPod, wearing jeans, and drinking beer out of cans, we would have a wedding. At that point we had heard from most of our friends and family and we knew they were safe. We knew we would still be able to marry each other and celebrate.
Our wedding is happening Saturday at the Royalton Mansion on Long Island. Initially we had planned a "black tie-preferred" event, but now we've told people, 'Wear whatever you have, we'll take you however you are.' About 60 of our out-of-town guests were supposed to stay at the Garden City Hotel on Long Island, but it lost power. Right now we still don't have a place to stay for the weekend. I have my wedding dress. We are missing a couple of tuxedos for the groomsmen, and one of my bridesmaids can't get her dress because it's at a tailor in the building where the crane collapsed in New York City, and the entire block has been evacuated until early next week. I'm lucky because my bridesmaids are wearing black so I basically said to her, 'If you have a black dress just throw it on, it makes no difference.'
Adam also doesn't have his wedding band because it is locked at a jeweler who has no power. We are either going to find somebody in our wedding party who has the same ring size, or, I kid you not, we are going to make a ring out of tin foil. We spoke to the Rabbi and she said she'll marry him in that if we have to and that's the end of it.
Right now I feel exhausted. But overall, I feel really lucky. When the shit started hitting the fan I said to Adam: 'I just want to marry you. If we get married in jeans and sneakers because we don't have our outfits, or if our friends come in sweatpants because they've been evacuated from Hoboken -- which is the case -- it doesn't make a difference.' We're just happy that our friends and family are safe.
Click through the slideshow below to see photos of the couple.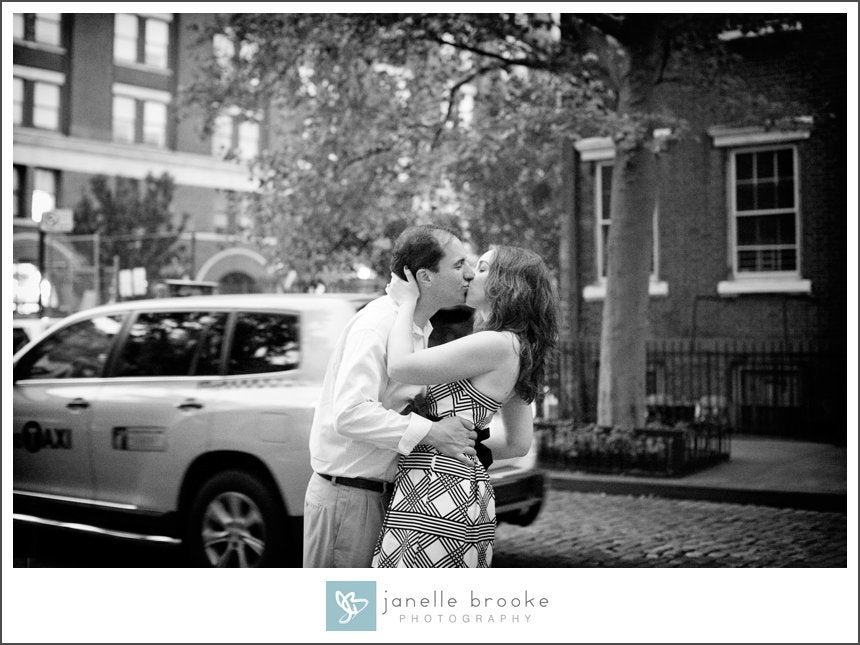 Marrying Despite Sandy Devastation