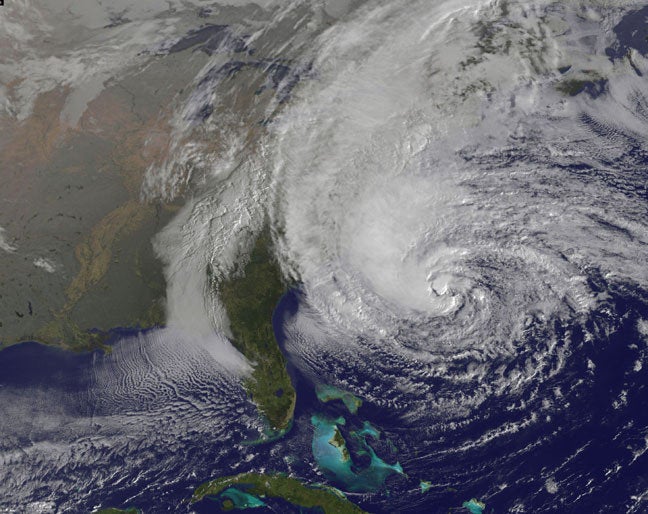 While I trust you will be absolutely fine in your college dorm room these next few days with Hurricane Sandy heading toward shore, I cannot help but worry. You may be 22 years old, but my instinct to protect you and your sister will remain undiminished throughout my life. Today it is the calm before the storm and we are prepared here at home. Unlike every other storm, this is the first time you have not been with us when the forecast has turned grim. A large swath of the eastern part of the country is in harm's way and that includes you, dear. So, just in case you have not already thought of these things, please humor me -- you are good at it -- and keep reading:
Today, take care of whatever might be impossible tomorrow if you lose power there. Here are a few basics: see if you can find the flashlight we sent you with freshman year, get some fresh batteries, fill up your car and try to park it away from trees, hit the cash machine, charge your phone and computer, pick up a case of water and some comfort food that doesn't require cooking. Check on any friends whose housing situations might be more vulnerable than yours, as it is at times like this that we need to be there for each other.
I know you hate me hovering and find it insulting to your maturity/manhood for me to tell you what to do. (I get that and hated my parents fretting about me, too.) Just in case you have the TV tuned to ESPN on this football Sunday rather than the Weather Channel, let me pass on something that I heard the radio weatherman announce this morning: "In his 33 years on the job he had never seen anything like this storm." Strong statement. Seems all the sophisticated computer models can only do so much to predict how Mother Nature will really show herself this time.
In addition to your absence from our family's safe nest, it is the uncertainty of this storm that has me on edge. During all these years of being your mom I have, admittedly, worried too much about silly things, but this is not one of those. Motherhood and worry walk hand in hand like twin sisters and that will never change. Sorry.
Look on the bright side: Maybe school will be cancelled and you can catch up on your sleep and school work. Your sister would love a "snow day" and as long as everyone's safe, I would, too.
Take care (you know I mean it this time!)
Calling all HuffPost superfans!
Sign up for membership to become a founding member and help shape HuffPost's next chapter