 Co-authored with Lydia Ball
Stories of luck are mainly what we have as we all recover from Sandy. A neighbor, trudging through waist deep water with her dogs "swimming for their lives," thinking that she might never make it the next half mile to dry ground, was rescued almost magically by two men in survival suits. Another friend, on 22nd Street in New York City, was almost drowned in his own art studio when the tidal surge burst through his door, washing him to the back of the studio and submerging him. A fire sparked by floodwater-shorted electrical wires destroyed almost 100 homes. Thousands remain without power. Indeed, thousands remain without homes. Many are hurting terribly.
But the intensity of the storm wasn't just bad luck. This storm wasn't caused by climate change. But climate change intensifies weather. And it intensifies hurricanes.
The damage, also, wasn't just bad luck. We love to live close to the shore. We filled many wetlands that once took the brunt of surges and overflow. We have built our homes, our businesses and our public buildings right up to the edge of the tumultuous sea that we all so dearly love.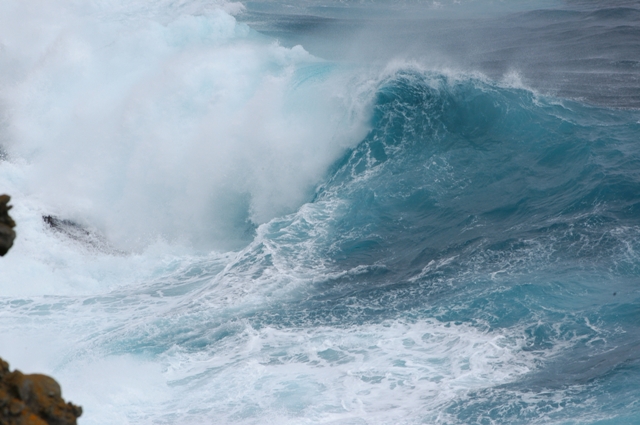 Photo by Carl Safina.
Should those affected rebuild with help from the federal government? Or should this storm be the game-changer?
Last July, President Obama signed a $105 billion bill that made changes to the National Flood Insurance program. This bill requires the Federal Emergency Management Agency (FEMA), which administers the National Flood Insurance program, to update floodplain maps and adjust federal flood insurance premiums to reflect real risks.
Additionally, the new law seeks to remove vacation homes and repeat claims from federal insurance protections. Liberal officials support these measures because they acknowledge the trends of climate change. Conservatives support the law as it cuts federal spending. This is a good start, but Hurricane Sandy reminded us that we must keep reforming the federal flood insurance in order to fully deal with climate change.
Since its creation in 1968, the National Flood Insurance program has offered lower rates than private sector insurance companies, to encourage development of coastal and flood-prone areas. The private sector offers either high premiums or simply refuses coverage in many of these areas. As climate change effects are felt, Americans must adapt, to avoid large-scale tragedies. By encouraging people to live in flood-prone areas, federal insurance encourages risky development at taxpayers' expense.
Federal flood insurance, at this point, should be used to relocate rather than to rebuild. Otherwise we are going to run into the same issues again and again. If we choose to live in a flood-prone area, we get private flood insurance or simply take our chances and prepare for the worst.
Some government officials would like the Federal Emergency Management Agency to buy private sector reinsurance, which could possibly help shift the federal flood insurance away from the public and into the private sector. When the latest transportation bill was signed, the Federal Emergency Management Agency was $18 billion in debt. Sandy has raised this number even closer to the debt cap of $20.8 billion. It is time to end this loser.
Federal dollars and federal flood insurance should ensure that people who live in flood-prone areas don't rebuild in the same location. Of course, this can be done with compassion, assisting those currently insured in relocating away from floodplains.
Sandy may be a "freak occurrence." But we should expect more freak occurrences. Weather is no longer typical. Choices are no longer easy.
Calling all HuffPost superfans!
Sign up for membership to become a founding member and help shape HuffPost's next chapter