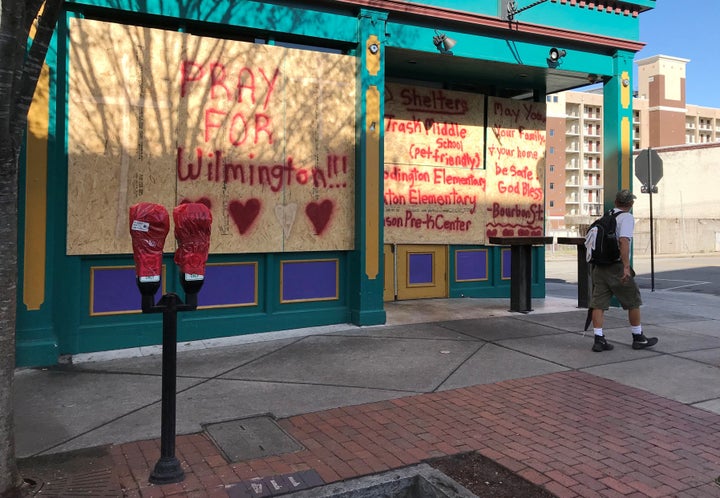 In Wilmington, North Carolina, Robert Childs went to Home Depot to get supplies to board up the windows on his home before he fled the city for Atlanta in advance of Hurricane Florence.
"During the storm, everything gets disrupted," said Childs, a drug policy consultant at the North Carolina Harm Reduction Coalition. "It's about getting everyone to preplan as much as possible."
The path of Hurricane Florence covers a region already beset with opioid addiction. North Carolina, in particular, saw a 22 percent increase in drug overdoses between 2016 and 2017, with an expected death toll of 2,515, according to the U.S. Centers for Disease Control and Prevention's provisional estimates.
While preparation is crucial for everyone in the path of Hurricane Florence, which is expected to make landfall Friday, people with drug addiction have an additional set of considerations to plan for.
If they're in treatment, they need to make sure they can get sufficient medication to last them through the storm, or they risk withdrawal and ultimately a potential relapse.
If they're actively using drugs, extra supplies, like clean needles and the overdose reversal drug naloxone, can prevent overdoses and lower the risk of spreading infectious disease through sharing needles.
Studies done after previous hurricanes have found that people who used drugs shared needles during the storm and that some individuals undergoing addiction treatment relapsed to street drugs. Additionally, shelters in Florida reported drug overdoses during Hurricanes Matthew and Irma.
"If you're in withdrawal, you're going to make a desperate call," Childs said. "You may then turn to street drugs or be forced to go through a detox process that you didn't want."
As of Thursday, the National Hurricane Center predicted a "life-threatening storm surge" along the North and South Carolina coasts and "catastrophic flash flooding and prolonged significant river flooding" over portions of the Carolinas and Appalachians.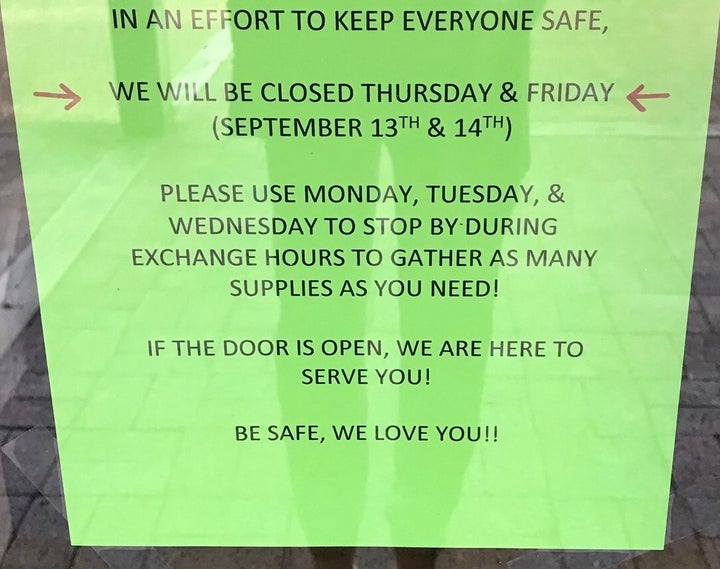 What the Carolinas are doing to prepare
Medication treatment for addiction, which includes methadone and buprenorphine, is highly regulated. But North Carolina's opioid treatment authority has temporarily loosened those strict rules, with guidance from the federal government, as part of the state's emergency plan, said Smith Worth, a program manager in North Carolina's Department of Health and Human Services.
Many people on methadone and buprenorphine visit a clinic for daily doses of their medication. So, the state is allowing what's known as guest dosing, where patients can receive medication at another licensed opioid treatment program in the central registry if their facility closes or if they have to evacuate to another city.
The second measure of the state's response plan is to allow treatment facilities to offer take-home doses of medication that patients can pick up in advance of the storm.
North Carolina's 70 opioid treatment programs service 20,000 patients, who receive daily medication, and Worth said the state had approved between four days and six days of take-home medication for patients in areas of great risk.
"We strongly encouraged them to grant these exceptions, to the degree the medical director deems necessary and appropriate," Worth said of the loosened medication restrictions. "We don't want patients out on the road when they don't need to be."
Colonial Management Group, which operates addiction treatment centers across the country, was offering take-home medication and guest dosing at 14 of its locations that authorities expect the storm to affect. Jessica Matthews, the regional vice president for Colonial Management Group, said that affected clinics were averaging about four days of take-home medicine. She added that facilities expected to be in the direct line of the storm, like the clinic in Wilmington, offer up to six take-home days.
"This isn't new to us," Matthews said. "We're based out of Florida, and that gets hit by hurricanes quite often."
Ed Ohlinger, regional operations director for North Carolina and Virginia's opioid treatment programs at Acadia Healthcare, said that all of the 10 clinics under his purview would be open for at least an hour or two every day for the duration of the storm to serve high-risk patients not approved for take-home medication. Hotel rooms were reserved for staff and nurses near those treatment centers, he said.
Kenny House, the vice president of clinical services at Coastal Horizons in Wilmington was also offering six take-home days of medication.
"Emergency scenarios tend to put a lot of stress on everybody. We try to make sure we don't add to that stress," House said. He added that Coastal Horizons distributed a lot of Narcan, the overdose reversal antidote Wednesday, to make sure patients had it in case they, a friend or a loved one overdosed during the storm.
Worth was similarly trying to avert worst-case scenarios. "We encouraged shelters to make sure they have Narcan available for those individuals who may still be active users," she said. "We learned some lessons from Florida and Texas," she said, referring to overdoses that happened in shelters that didn't have Narcan on hand during Hurricanes Matthew and Harvey.
Organizations like the North Carolina Harm Reduction Coalition's Wilmington location were similarly ramping up efforts to distribute supplies, like fentanyl testing strips, naloxone and clean needles, to active drug users before closing on Thursday.
"Everyone who came in got at least six naloxone kits," said Bernadette Calicchio, who works at the coalition.
Meanwhile, Hillary Brown at the Steady Collective in Asheville, North Carolina, another harm reduction organization, said that she'd been advising homeless individuals who came in for supplies to move their tent encampments away from the river, which floods during regular rainstorms. And in South Carolina, Marc Burrows, who runs a mobile needle exchange in Greenville, said he had plenty of supplies on hand, including Narcan kits, clean needles, cookers, cotton filters, cotton swabs, tourniquets, mini bottles of bleach and thousands of condoms, should people fleeing the coast come inland.
Previous hurricanes left people with addiction in dire positions
It remains to be seen if the precautions in place for Hurricane Florence will keep people who use drugs safe from relapse, overdose or withdrawal. During Hurricanes Katrina and Sandy, for example, people who used drugs shared needles, and some of those in treatment missed their medication or relapsed and started using street drugs.
A study of people who injected drugs, conducted after Hurricane Sandy hit New York City in 2012, found that during the week after the hurricane, 60 percent of interviewees experienced withdrawal and 27 percent shared injecting equipment with someone they normally would not share with. The storm also disrupted opioid maintenance therapy and HIV treatment, with 70 percent of those interviewed reporting that they couldn't get sufficient doses of medication and 43 percent of HIV-positive people reporting missing doses.
Enrique Pouget, an epidemiologist at the National Development and Research Institutes and lead author of the Sandy study pointed out that natural disasters are inherently unpredictable.
"Nobody thinks it's going to knock out the clinic," Pouget said.
"People who use drugs need help in emergencies just like everybody else does," he added. "You have people suffering the same stresses that everybody else is suffering, but on top of all those stresses they are suffering withdrawal."
Popular in the Community