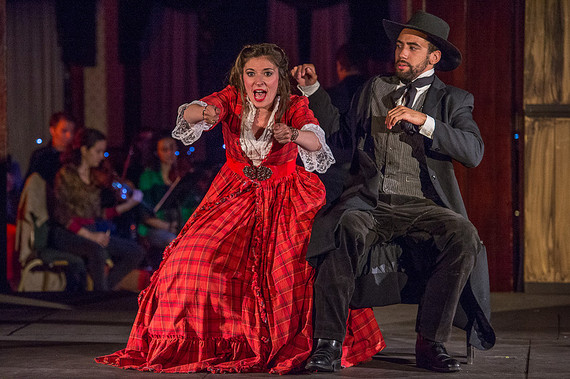 Nick LaGesse and Bevin Hill, The Merry Widow, Courtesy POP
My ass hurt by the end. There, I said it. I had forgotten my cushion and with my back injury it hurt. That's the only thing negative that comes to mind when thinking about Pacific Opera Project's rootin' tootin' rendition of The Merry Widow, eh, The Merry Wider' at the Ebell Club in Highland Park.
Josh Shaw, creative director, has been on a six season quest to make Opera accessible and hip again to one and all, while keeping ticket prices at $30 or below if he can. That means donors.
"It's like the old days of Opera in some ways," he told me as he opened the Ebell Club of Highland Park for that night's production. "We still have to go find patrons, so I can keep the prices affordable. It takes a lot of my day but it's worth it every time a show opens."
And opening they have been, to bigger and bigger audiences and bigger acclaim. This time Shaw has set the Opera in the Old West; not space, or outside or any number of shenanigans he thinks of to recreate and reinvigorate these pieces for a new generation.
"The Merry Widow" does just that, having much too much fun in the old west, part slapstick, part Western, it harkens to films of old. There's a small town, money, intrigue, money, a widow with money, a railroad, railroad men, a few women of the night, a sexy Sheriff, all singing the works of Franz Lehar with new English Libretto by Josh and Kelly Shaw all under the direction of Stephen Karr. You're at the Mayor of Goldless' house, and he wants to make sure no railroad men get a hold of the widow or her money.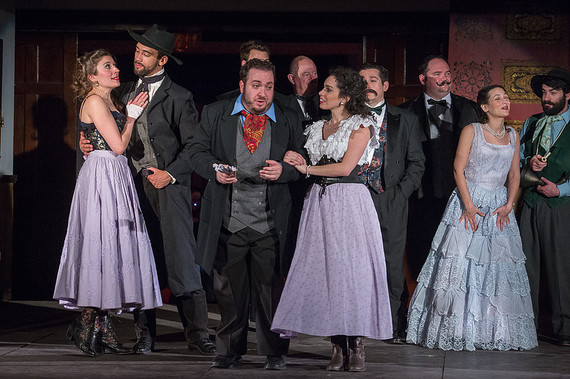 Scott Levin and Alba Cancel with ensemble
Scott Levin's mayor really brought me back to Laurel and Hardy, Hope and Crosby, even the Three Stooges for fun. He's an exceptional singer, they all are, but the comedy played well, too. Nick LaGesse was wonderful eye and ear candy as the real love of the Widow, the philandering Sheriff. Alba Cancel as the mayor's wife with her own agenda looked sparkling in Maggie Green's inventive costumes for the Wild West, again her voice soaring. Bevin Hill as the widow must endure all the advances and does so with grace while singing sublimely. And a shout out to a hard working and fabulous chorus and supporting cast that does everything from Can Can to Waltz (choreographed amazingly by Amy Lawrence), all while singing their faces off. In fact, Pacific Opera Project has been attracting bigger names, bigger talent and launching bigger productions. And other's have noticed.
"Yes, I do notice that other larger Operas are now staging things this way here, and I'm flattered," Shaw continued. "We are building something people want to be involved in for the experience and the thrill of working in a new way, reinterpreting these classics. We have a great deal of fun, and it appears to be showing as our numbers only increase."
The Merry Widow ends Saturday so hurry. And look for more inventive projects from POP, just bring a cushion. To hear the interview with Josh Shaw from The Karel Cast see below.
Magic is taking center stage today through March 13th at the Pantages Theatre in Los Angeles with the Broadway hit "The Illusionists. This nonstop assault on all the senses is not for the feint of heart but is sure to make one's race. I haven't had this much fun in a theatre in a long time, just unbridled fun. Each of the illusionists has their own style, and it makes for an incredibly entertaining evening as a whole.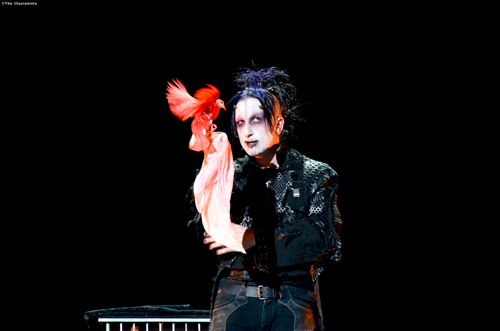 Dan Sperry from TV's contest fame is the Anti-Copnjuror; think Marilyn Manson meets Houdini. I was able to catch up with him at the Segerstrom Center for the Arts in Orange County.
"We're trying to bring back a little magic, a little wonder with this tour," he started. "It started as a one time thing, in Australia. It seemed like a fun week. Afterwards we thought, OK, let's do this as a tour, and we haven't stopped since," he added.
Indeed, it's a qualified hit. You Ho-Jin is the Manipulator; Jeff Hobson, The Trickster, Jonathan Goodwin, The Daredevil; James More, The Deceptionist; Adam Trent, The Futurist and Raymond Crowe is the Unusualist.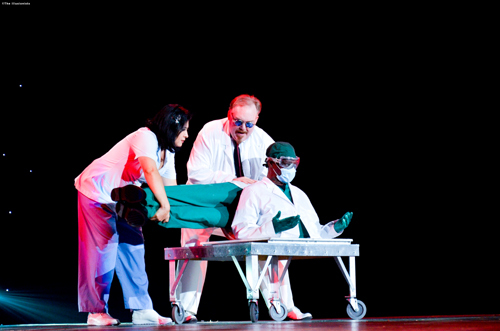 The Illusionists At the Hollywood Pantages
"We each have our thing, our act, but to be able to weave parts of each together in to a larger whole has been really rewarding," Sperry added.
And while watching him work a razor blade through his arm may not be for everyone, he amazes, they all do, every moment they are on stage, each in their own way. Don't miss this one visit Hollywood Pantages Theatre for more.
To hear this or other interviews get the FREE Karel Cast App, subscribe in Spreaker to the Podcast or simply go to the most incredible website on all the planet, save this one, ReallyKarel
REAL LIFE. REAL NEWS. REAL VOICES.
Help us tell more of the stories that matter from voices that too often remain unheard.