A piggy-tailed toddler stood on her tiptoes in front of the Disney souvenir stand, brandishing a magic wand. Reaching out with the blinking plastic star, she smacked a stuffed mouse and giggled.
"Bippity... boppity... BOO!"
Before said mouse could turn into a horse, I grabbed her by a poufy-sleeved arm.
"Hurry up, Rapunzel! Cinderella isn't gonna wait!"
I swept her unto my hip and pressed forward.
Later, at Animal Kingdom, our family paused at the leopard exhibit. The cat was less than 30 yards away, stretching and yawning from its perch on a boulder. Addie stared. She placed her little hands against the glass, leaned forward and just stood there, frozen.
After a minute or two, she looked over her shoulder and smiled.
"Meeeeeow!" She licked her hand. "Meeeeeow-meow-meoooow!" She pawed her spit-covered hand across her face and purred.
I checked my watch. FIve minutes 'til The Lion King.
"Alright, Kitty Cat! Time to go! Simba isn't gonna wait!"
Into the stroller she went with a hiss.
Let me tell you, Simba was cool. And Cinderella? She was pretty great, too. But that night, swiping through albums in my hotel bed, a single picture brought tears to my eyes.
It was a thumbnail of my little Rapunzel, poofy-sleeves and tennis shoes, marching independently toward a magical adventure of her own making.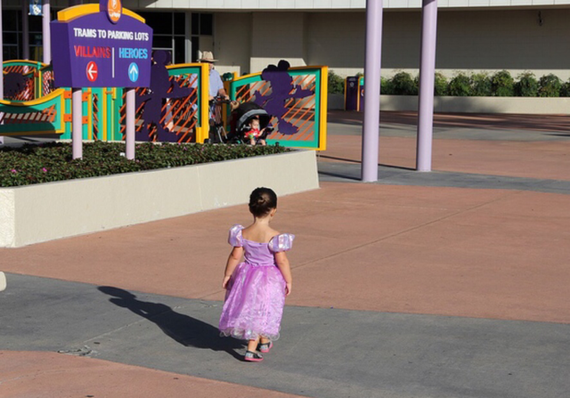 My eyes grew blurry and words just popped in my head. Words that every parent, every adult, every human thinks throughout our lives.
I wish time would just slow down.
We've all heard that "time flies when you're having fun." And it's true, of course. But you know what?
Time also flies when you're in a hurry.
As parents, we do our best to plan for memorable moments. To create and capture the perfect photo opps. We watch as the baby fat fades and the school years pass, and we want to make it all count.
Every second. Every moment.
But why are we trying so hard?
Life is going to happen, regardless of our best-laid plans. And the most magical of moments are rarely the ones we have scheduled.
They happen when Baby figures out a new word and his eyes twinkle with excitement. When Little Girl's imagination transforms her into a kitty, or a fairy, or a princess. Moments of discovery and giggles and adorably devious schemes. Of puddle-splashing and crayon artwork and scraped-knee adventures.
And these moments, these spontaneous and beautiful memories, may happen when our cameras aren't ready. They happen right before school, when we are running late and the lunches aren't packed.
And if we aren't careful, they may happen when we are distracted by the next place we are "supposed to be."
Parenthood is a packed calendar, and that's OK. The weather is warming up and soon the children will be out of schools. So I expect we all will benefit from some planned adventure.
But in the midst of the back-and-forth, the parties and pick ups, the play dates and "pencil me ins," I think I'm going to lose the stress. Let it go, if you will.
Because after spending a Disney vacation with my sweet little Rapunzel, I have learned that we will get there. Eventually.
And in the meantime, I want relish in the unplanned magic that is my child's everyday life.